I made a tumblr post about it on my sex tumblr,
buttsexuality
and figured the guys in this forum might find it useful.
This can't be used for playing, but for getting yourself aroused/engorged it can be awesome. And you can pack with it!
Here's a link to the tutorial on my blog.
Need: At least 2 condoms (one may need to be longer), a snakebite kit, and water/gel.
Make a cock with a condom using the water-filled packer method (without balls). You could do gel-filled too; I prefer water. Basically, fill a condom up with water to the desired dick size and tie it off. Then unroll the second condom (it might need to be a larger one if the water condom is really full). Put one of the snakebite kit suction cups (the yellow things in the picture below) in the end of the condom, with the open part pointed to the end of the condom. Push the tip of the condom into the suction cup's opening and try to keep out as much air as possible as you can while you (somehow) flop the water-filled condom into the condom alongside the suction cup. Tie it off and you have a connectible dick!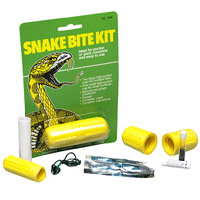 The suction cups act like clit-sized penis pumps. There are different sizes, but they all work for me as mine isn't big. You unsheath your clit from your labia, squeeze the snakebite thing, and let it latch on. It pulls blood to your clit and engorges it. If done consistently, it can lengthen your clit a bit. It feels pretty good (to me), but be aware that it may get to be too much. If you feel too stretched or pulled, definitely give it a break. And of course, with a heavy dick hanging off of the snakebite, the suction won't be enough to keep it on when upright. While sitting or laying down, though, it feels nice to have on and can be tugged lightly. I like to wear boxers/shorts over it so that it gets a bit of support and stays attached, so I can move around a bit.
Here's a picture of my finished product (with another condom added on the other direction):