Summary:
Cock cologne is a spray to re-freshen those who aren't the freshest down there before you give your oral exam. It only comes in a 2 oz bottle that only sprays a fine mist. Luckily the pump comes off for easy pouring. This spray tastes and smell is much better than going down blindly.
Pros:
Effective and appealing bottle!
Cons:
Spray pump and only 2 oz.
Product: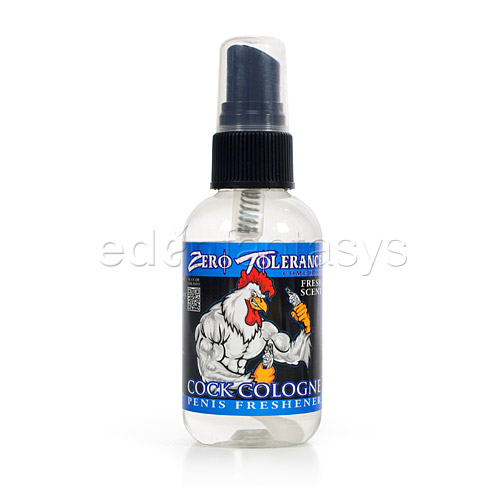 Use:
As many cock lover's know, their owners sometimes have hygiene issues. That is why I am happy to tell you about this exciting product called cock cologne. This is the perfect item to spray on the skanky balls to wash away that sweaty ball smell. With just a few sprays their junk will be smelling brand new. Sure after you use it the cock and balls will taste like hair detangular, but that is better then that 3 day old odor.
Consistency:
It comes in a spray bottle, but that damn pump only sprays out a fine mist, so I take off the pump top and just dump the bottle on there. You can never have too much cock fresher! The cock cologne is virtually water in a bottle that does tend to leave the cock somewhat sticky, but I never thought to rinse the spray off.
Taste/Smell:
I really don't care what it smells or taste like as long as it helps mask that smell. Luckily, it ended up smelling like Aloe Vera. It does end up tasting like hair detangular, but that is better than the previous option.
Performance
Well I passed my oral exam because he finished before I did. The spray was effective in masking them skanky balls, but it needed to rinsed off. (Silly me!) I can see this spray coming in handy for a long time, but I will need to purchase more, since that pump only says a fine mist and there is only 2oz.
Reminder:
Those with allergies to an ingredient will want to stay away from this spray. Since this could result in blue balls that are on fire.
Ingredients: Purified Water (Aqua), Aloe Barbadensis Leaf, Fragrance, PPG-26, Buteth-26, Hydrogenated Castor Oil, Sodium Benzoate, Potassium Sorbate
***This is a gag review, please don't take offense to it.