I was looking on amazon today, looking for something new to add to my kindle. I ended up in self help/ sexual abuse section.
I found this AMAZING book called Invisible Girls: The Truth About Sexual Abuse--A Book for Teen Girls, Young Women, and Everyone Who Cares About Them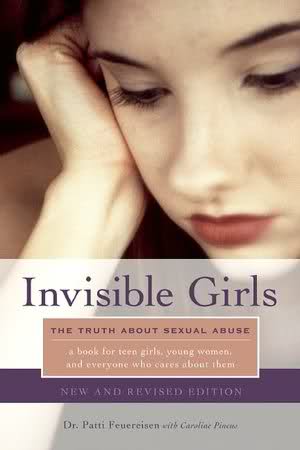 I'm only a few pages into the book and I'm already tearing up. The books starts off by talking about opening up and talking to someone. It talks about how if you don't, how it can ruin your life.
I started thinking to myself....
I haven't told everyone in my real life knows about it (my boyfriend and therapist knows). I still have NOT told my parents. The abuse came from my birth father.
I don't know why I didn't tell her about it, even know at 22 the thought of telling her scares me, but I feel its something that needs to be done, so that I feel better. But I worry about her, I worry she will blame herself.
I have decided that I want to tell her. My thing is, I don't know how to tell her. I was thinking of writing her a letter spilling out everything. I was also thinking should I call and tell her. I personally think maybe writing her would be best.
So, my question to you guys is, do I tell her? I've come this far, should I just leave it alone? My mother has NO contact with my birth father, so it isn't like he's around. I don't know what to do, but I would like to have figured out something.
I'm sorry if I posted this in the wrong area.