Has anyone used rechargeable N-type batteries with success? I want to order this toy for my girlfriend:
link
but of course it uses watch batteries, which I absolutely can't stand. They are expensive for the time they actually provide, plus I hate the waste factor. What I would like to do is use a N-type bullet we already have in place of the watch battery powered vibrator provided. But then there is still the problem of using N batteries, at $2 a piece or whatever they cost. What I would like is a more cost effective and less wasteful solution.
So a quick google search found this:
link
Most of the things on that page are no longer available, but the important part, the rechargeable N-type battery, is. Here's a link:
link
I already have an energizer recharger that I use for all our household AA/AAA needs, and the only thing I will need to make these N-type batteries recharge in it is a small piece of rod to make the length of the N-type battery the same as a AA, so that the the rod + battery completes the circuit with the charger itself. An example of what I'm talking about can be seen here: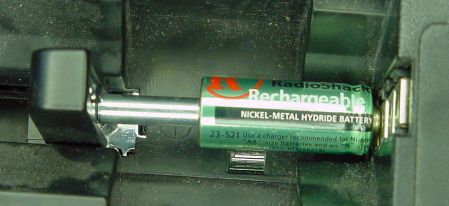 Picture is taken from the robotroom link provided above.
I ordered the batteries tonight, but won't have a chance to test them until mid-May. I'm hoping others find this information useful in the meantime, and will report back with what I find out. Sorry for the rather technical post in a forum about vibrators, but less money in batteries means more money for sex toys to torture my girlfriend with. Have fun!