Bottle Of Lickable Fun!
Looking for something to spice it up? Something that is fun and simple? Heart's Desire massage game is for you! It's simple, fun, and is sure to bring you and your lover close!
Published:
Pros:
travel friendly, simple and fun, smells wonderful, tastes great.
Cons:
slight after taste, questionable ingredients.
Week nights can be very boring in my household. I have the kids all day and my hubby gets off late. By the time he gets home, all we really want to do is lay down and rest. That can get boring and leaves you wanting more. I was excited to give Heart's Desire massage game a go!
It's a cute game that will make foreplay fun and bring you closer to your partner for some laughs. At first my hubby wasn't into it, but after a little teasing, he was ready to try it as well. It's a great way to get in the mood and have fun at the same time.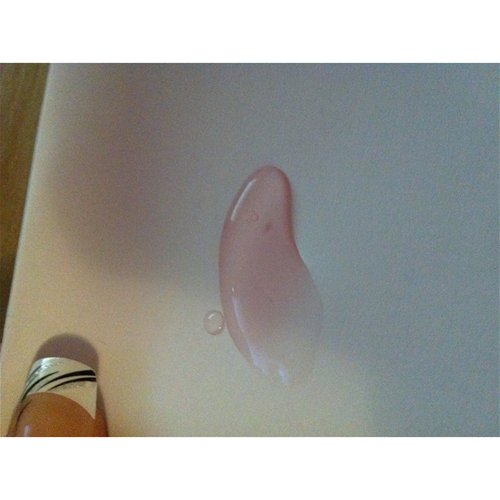 The bottle is oval shaped and stands about 4 inches tall. The cotton candy flavored liquid is pink in color, but does not stain. The dice are inside the bottle, meaning you don't have to worry about losing any of the parts. The liquid is very thin and will run if you use too much. If it dries on your skin, the slight cotton candy scent will linger, but it does not leave any residue.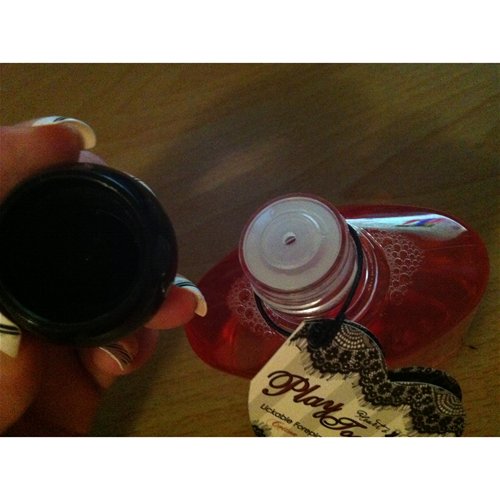 The bottle has a simple screw off cap that is pretty sturdy. it's easy to take on and off and does not leak. There is actually a piece on the inside of the cap that goes in the top hole on the bottle that helps prevent leakage! You can turn the bottle upside down and you won't have to worry about any of the liquid spilling out unless you squeeze the bottle. There will be an initial drip as you are turning the bottle over, but that isn't guaranteed to happen every time. There were times I turned the bottle upside down and did not experience this so it may depend on how fast or slow you turn it.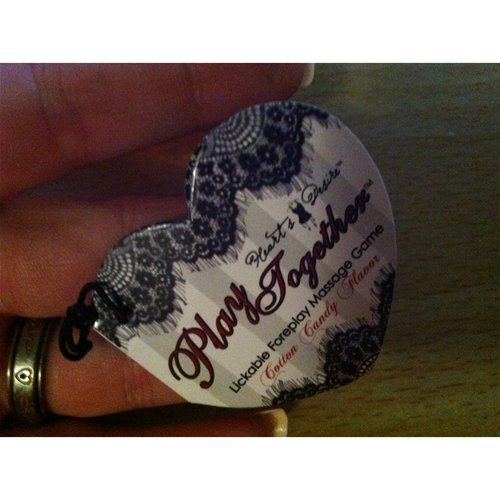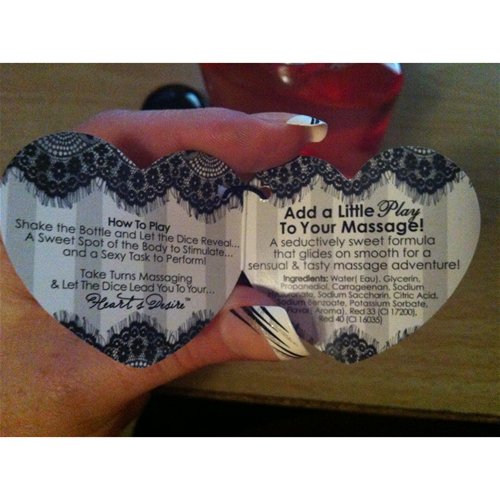 There is a heart shaped tag hanging from the neck of the bottle that gives you directions, which are pretty obvious, and the ingredients.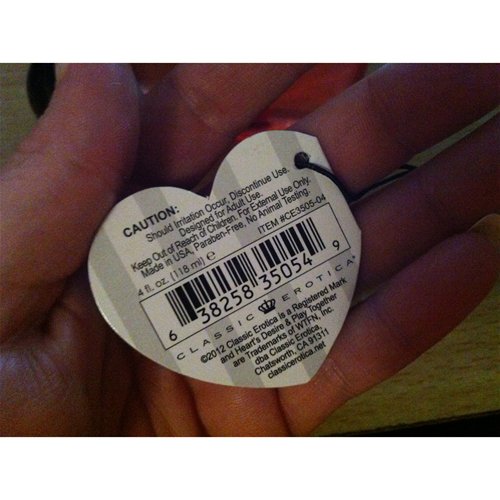 The back of the tag states that you should "discontinue use if irritation occurs. It's designed for adult use. Keep our of reach of children, for external use only, made in USA, paraben- Free, No animal testing."
Basically you shake the bottle and set it down. You wait for the dice inside the bottle to settle and read what each of the dice say. One dice has body parts and the other has actions that you and your partner should perform. It's pretty simple, but can be so much fun! The oil isn't really a massage oil and shouldn't be used solely for that purpose. You use a little of the oil with each task you perform.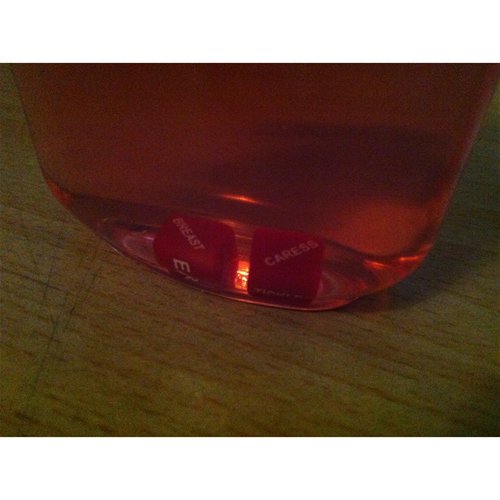 dice actions
The dice inside are small enough to be shaken up in the bottle. They are red in color with white lettering. They are very easily read through the bottle.The actions on the dice are as follows:
1st- massage, tickle, kiss, squeeze, caress, and ?
2nd- Thigh, ear, lips, neck, breast, and ?
You can get all kinds of combinations. I love the ?? combination because it takes my partner by total surprise and you can do anything you heart desires. I also like the caress neck combination because my neck is my go to spot. It turns me on instantly and really gets things moving.
Some of the combinations are a little out there. "Squeeze neck" Or "Squeeze ear" probably aren't going to get the same reaction as "squeeze breast" or "squeeze thigh"
flavor/scent
The oil is flavored nicely. It has a cotton candy flavor. To me , it has a slight twist of strawberry flavor as well, but it is labeled as cotton candy, so we will leave it as that. Either way, it is pleasant. There is a slight aftertaste, but not much at all. It smells like cotton candy, which is not overpowering at all.
Ingredients
Te ingredients list: water, glycerin, propanediol, carrageenan, sodium hyaluronate, sodium saccharin, citric acid, sodium benzoate, potassium sorbate, flavor, red33, red 40.
I'm not quite fond of the red dyes. It's not a big deal, but I try to avoid them when I can. Glucerin can also irritate some individuals so I would do a small test area before jumping in for a night of fun.
At $11.99 you can't go wrong. This game will bring so much fun to your relationship and is sure to bring you close! On top of that, The bottle will last you a long time! We have used it 5-6 times and you can barely tell any liquid is missing at all! So not only is it fun, it's a long lasting investment!
Experience
I can't remember the last time I have had this much fun with my hubby. We both had so much fun and have made this a weekly activity. It gives us time to wind down, relax, and appreciate each other. We have also tried to use a blindfold with it so that you wouldn't know what your partner was going to do until they did it. It increased the suspense and added some excitement to it. I really enjoyed being blindfolded as my hubby licked, massaged, and touched his way across my body.
Follow-up commentary
1 month after original review
My hubby and I continue to use this to help keep things interesting. We have found it to be fun. While it isn't something we use all the time, we do enjoy using it every now and then.
This product was provided free of charge to the reviewer. This review is in compliance with the FTC guidelines.

Thank you for viewing
Heart's Desire massage game
– adult game review page!