Decorative Accessory More than Party Time fun
This is a beautifully designed accessory that allows toy lovers to publicly display a piece of who they are without being vulgar however a far as using it as intended I do not believe many people will find it practical
Published:
Pros:
Beautiful Design, Nice packaging, Fun Idea
Cons:
Not enough slips to keep it interesting, should focus on either group or partner play not both
What JimmyJane says we should use it for and what I think they are using it for are two different things. It has 2 intended purposes 1)to be a game of Spin the Bottle with ideas for what to do rather than just kiss (if you dare to use it with more than 2 people) and 2) a way to have fun with your partner maybe pull out a new one every night for a week of Adventures.

However given its lack of usefulness in that area I see it as more of a marketing tool and fun accessory for Sex toy fans. As much as some of our toys may resemble art we cannot exactly keep them out on display however this bottle allows us to share a part of who we are for public consumption with out coming off as inappropriate
The rules are easy and clearly found on the box: SPIN, READ, OBEY, REPEAT
Spin--> The bottle
Read--> A slip of paper you pull out from inside the bottle
Obey--> Do what the slip says
Repeat--> But only for 7 spins unless you repeat the cards because it only comes with 7. Personally to be practical I would say 10-16 slips would be needed.

The slips have the following instructions---> And my thoughts on those slips
1)On the count of 3 have your partner shout out and action while you shout out a part of the body--> Could be fun but aren't their dice for this?
2)Remind your partner of the last bad thing they did to you and have them tell you about it from their perspective--> Cannot be done with a group
3) Spend 5 minutes in the closet with your partner --> I was playing 7 minutes in heaven at 16 who decided to downgrade me to 5?
4) Go into the closet by yourself put on a costume come out and introduce yourself to your partner with a new name and identity--> Maybe fun...
5)Start a pillow fight randomly and without warning..no pillows tickle them ---> How can it be without warning if you just pulled the stick?
6)Stan face to face with your partner and press your bodies together for one minute no talking--> What's the fun in that?
7) See how many details u can remember about the 3rd time that you kissed. How about other thirds? Think of something you've only done twice and round it out with a third time --> cannot be done in a group unless you swing...
It is a really beautiful design. It comes in a simple sleek package and the bottle itself is sleek white ceramic with a white cork. Says spin me on the front and Jimmy Jane on the back. It is beautiful yet discrete enough to keep out which I will. It could easily be given as a gift. Only thing I wish is that it came with the Spin Me Tag that it is pictured with in the packaging.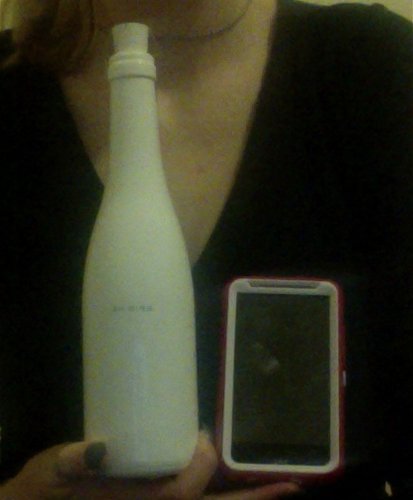 Follow-up commentary
3 months after original review
I'll be honestly I've only used this twice with my partner for 2 reasons. 1) he said he'd use it with me so I could write my follow up and 2) we both hate it. It serves the same purpose for us as dice, and the dice are far more bed friendly, they also don't rip. I've lost two strips due to the fact they got more rough play than they bargined for. Perhaps if they were laminated that would alleviate this problem, but I think this has too many problems that need alleviating that it just isn't worth it. It's a fun things to have on the shelf. People ask about it, but if I hadn't gotten it for free for a review, I wouldn't have gotten it at all.
This product was provided free of charge to the reviewer. This review is in compliance with the FTC guidelines.

Thank you for viewing
Spin me
– adult game review page!