Diamond Ring Cup, I Fill You Up
Let's have a party! This cute novelty from Kheper Games ensures you always have a shot glass handy, and makes a cute accessory to boot. Perfect for bachelorette parties or a girls night out.
Published:
Pros:
Cute, adjustable, inexpensive, great party favor.
Cons:
Won't last long, doesn't hold much liquid.
If you're looking for a fun accessory for a bachelorette party, girls night out or other event, or just like quirky jewelry, this plastic diamond ring may be right up your alley! It looks a little like a Ring Pop, but instead of being candy, it has a flip top lid that you can open to fill the ring with a shot of your favorite booze!
The ring comes packaged in a little plastic bag with a cardboard top. (Sorry for the slightly blurry pics! Had to use my phone's camera for this one.)
This was actually a little bit smaller than I pictured it from seeing it online, but I checked the ring against the "actual size" photo, and found it's pretty spot on. I guess I was thinking shot glass size, which would be bigger (more on that in a bit.) The ring measures 2.5" tall in total, with the diamond part being a little bit shy of 2". The actual ring part is about ¾" in diameter. The shot glass section is 1.5" across at the widest part. The whole thing is made of plastic of various thicknesses.
The design is pretty simple. You've got a thick plastic ring that's open on one side, which lets it accommodate a range of finger thicknesses. The diamond-shaped cup attached to the ring has a lid that flips open so you can fill it with the beverage of your choice. As you can see in the pics, it's not really the pretty blue crystalline color it appears to be in the official photos; it's a much more muted seafoam type of color. The hinge seems to be a little flimsy, since it's made of a thin bit of plastic. I can see it snapping off pretty quickly, but then again this ring wasn't really made for long term use.
This was a little too small on my size 7 ring finger at first. The ring is adjustable, but the opening was pinching my finger. Oww.
I was worried that if I tried to physically stretch the ring hole (not as dirty as it sounds), the plastic would break. Instead, I slipped the ring onto a mascara tube that's about the same thickness as my finger, and left it there for about half an hour. When I pulled it off, it was stretched to fit much more comfortably!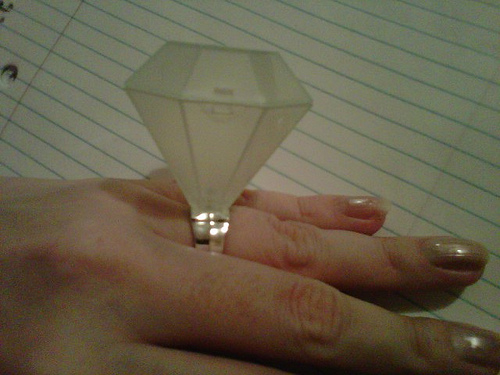 Victory!
After trying it on again, I just left it out without wrapping it back around the tube, and when I tried it on about an hour later it was back to its original smallness, so if you over-stretch your ring, just leaving it alone for a while should bring it back to a smaller size.
Experience
Just for you guys, I went to the trouble of testing this thing out. Tough job, but someone has to do it.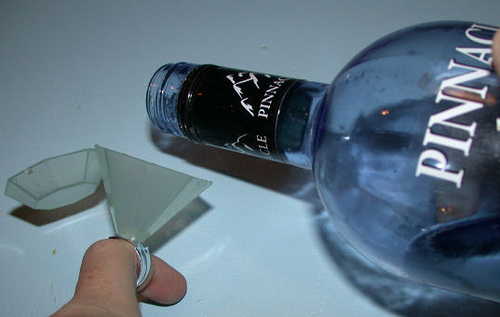 Even though this is a "shot glass", it doesn't actually hold a full shot. According to my measuring spoons, it holds about 1/2 Tbsp. or 1/4 oz. Size comparison
If you pull a full ring's worth of liquid into a regular shot glass, here's what you get: My ring had some dirt inside when it arrived, so I gave it a good washing out beore trying to drink from it. I'd suggest washing this in hot water and dish soap to keep it clean. It might survive the dishwasher, but I wouldn't risk it.
You can get creative with how you use this ring. You can obviously just use it as a fun, quirky accessory or as a party favor, but I'm sure with some imagination you could come up with other uses. Create a "Bachelor" TV show drinking game and sip from your ring every time a contestant cries or talks about being there for the right reasons.
I was sad to see that the hinge is too weak and unreliable to trust, since it would be fun to put other things in the ring when wearing it. For instance, if the latch actually worked better, it would be a handy spot to keep some cash, or you could fill it with candy! As it is, though, I wouldn't put anything in here that you would mind losing, after just a few uses while reviewing it, the latch on mine is already really tough to keep closed.
Overall, this is totally worth a few dollars, even if you only get a few uses out of it.
This content is the opinion of the submitting contributor and is not endorsed by EdenFantasys.com

Thank you for viewing
Bachelorette's shot glass wedding ring
– gags review page!