Don't play bridge with Grandma
Okay, maybe you can play these with your Grandma is she has a cool sense of humor. These playing cards are not for the young, but are very much playable and offer a conversation piece for adults. They're bound to make a reaction, to say the least.
Published:
Pros:
54 different pictures, Playable.
Cons:
Not everyone can play with these, not discreet.
Dirty Playing Cards, Mwar?
Yes, so what? The Black Ice Hardcore Playing Cards are just that. These cards are not designed to titillate the senses or get the imagination going. These cards are here in all their glory (if hardcore in the labeling wasn't warning enough). These are not the cards you use when playing Bridge with Grandma (then again, I'd be all for it as a granny so long as my grandkids are old enough. Let's just rephrase it to most grandmas).
These cards are standard playing cards in the respects that matter. There are 54 cards: 13 of each of the 4 suits plus 2 jokers. So any game played with standard playing cards can be played with this deck. Also, the cards are not repetitious. Sometimes, with printed cards like this, you'll get the same picture on each number card. This deck has a different picture for every card, which is nice.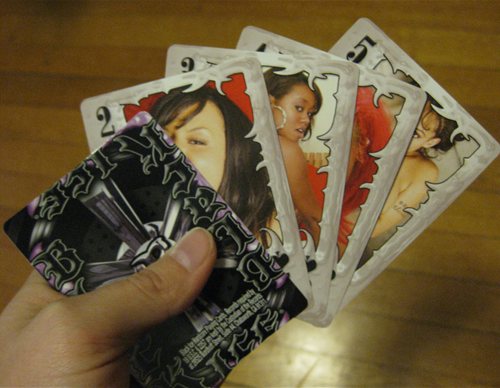 The finishing on the cards is glossy, which probably strengthens the cards a bit and make them easy to wipe water or tea off if you spill anything. If you look at them in the light, you'll see small striations on the cards. This is probably part of the manufacturing process.
Who may like these cards?
Everyone's different, so don't use this list as a definitive (and don't blame me if you get in trouble!). College students will probably get a kick out of these cards, for entertainment and laughs. Nerds may analyze the cards and get introspective about it. Your extroverted, "out there" best friend's go away party is a good place to gift these cards. They're also something to use and remember at a bachelor/bachelorette party.
Overall, just use your judgement on who you might play these cards with. Only you know your friends and family members best.
Is there anything wrong with these cards?
There is nothing wrong with these cards per say. One thing I noticed, though, is that most of the actresses on the cards are very light skinned and more anglo-saxon in appearance. That's fine, but I found it interesting that "Black Ice Playing Cards," don't have that many ebony skinned actresses. It seems to defeat the purpose a bit in advertising. Then again, this could have something to do with porn viewing preferences since porn is made in response to what viewers want.
If any players don't like seeing cumshots, then this deck isn't for them. There are plenty of these cards in the deck. Oral and vaginal penetration are shown on the cards, hence my censorship with my thumb.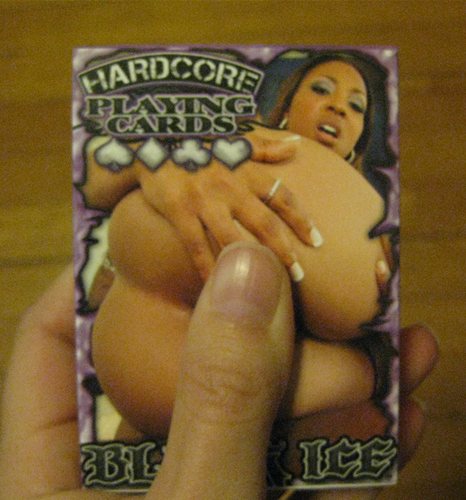 The depictions are either PIV sex, oral sex, or a cumshot. There are primarily heterosexual pictures in the cards with a few showing female-on-female interaction. The only fluids present are semen, oil, and saliva. There's not BDSM or other kinks really depicted in these cards. Overall, if you're okay with seeing penetration, the cards are tame.
Any final thoughts?
Not really. These cards are okay. Some cards have nicer pictures than others. Some actresses are more convincing than others. The cards serve their function and can create a laugh or two. It's best to keep this deck away from the other, standard decks, especially if you have children around. These cards are not discreet; the cover has a hardcore image on it.
Experience
During the Black Friday clearance sale, I decided to throw these into my order. My reasoning was, "why not?" When they got in, I was at home with my partner and one of my housemates (everyone in the house knows of my Eden activities, and almost everyone is an active member). I took out the cards, and they gathered behind me to view the cards.

We found them... interesting. We found some of the actresses off-putting. It was not because of their looks as much as their expressions. My partner was not fond of all the cumshots, since that isn't his thing. We also all commented on how most of the actresses were very anglo in appearance. What can I say? We science geeks like to analyze porn (and like materials) sometimes. It actually led to some interesting conversations that wouldn't have been had otherwise.

Will we play with these? We have, and only at parties after a few drinks. If we wish to play a serious game of cards or want to be competitive, we still prefer standard playing cards.
This content is the opinion of the submitting contributor and is not endorsed by EdenFantasys.com

Thank you for viewing
Black ice hardcore playing cards
– adult game review page!