Everyone Will Want to Know About These VROOMs
The EdenFantasys t-shirt has its good points and its bad points. The sizing seems to be about that of the average men's t-shirts. While the design is fun, it could be placed a little higher up. The fabric, while very soft and stretchy, is extremely clingy feeling and has a strange wet feel against skin.
Published:
Pros:
fun design, unisex cut, good price, good sizing, soft and stretchy
Cons:
material is clingy, design placement
I love wearing t-shirts. I would have to say I have more t-shirts than any other type of clothing. When I noticed EdenFantasys started carrying t-shirts, I just had to have one.
My shirt did not come wrapped in anything. It was in the bottom of the box underneath the rest of my order and some packing paper. This may be an issue if there is a liquid bottle that isn't wrapped included in the box, since the bottle may break or work itself open and spill all over the shirt. Fortunately, my lube bottle came packaged in a Ziploc-like bag.
I ordered a size medium shirt. I wasn't really sure what size would actually fit me, so I figured a little too big would be better than a little too small. It turns out this is indeed a little too big on me. I typically wear a size medium in junior's or in t-shirts and a size small in misses. If I wear a men's t-shirt, size small fits. The EdenFantasys t-shirt measures about 26 inches in length, from shoulder to bottom hem. This is a few inches longer than most of my women's t-shirts, but it is about the same length as some of my men's shirts. The chest is about 42 inches around. The top of the sleeve measures 7 1/2 inches long from shoulder line to the hem line. The sleeves are longer like they usually are on men's t-shirts, which is great because I hate cap-sleeves. Since this is a unisex shirt, it isn't fitted, meaning it does not curve in or out at the waist and hips. It's pretty loose-fitting. Pictured below is me wearing one of my favorite t-shirts, size medium and cut for a female figure next to the EdenFantasys t-shirt, for comparison.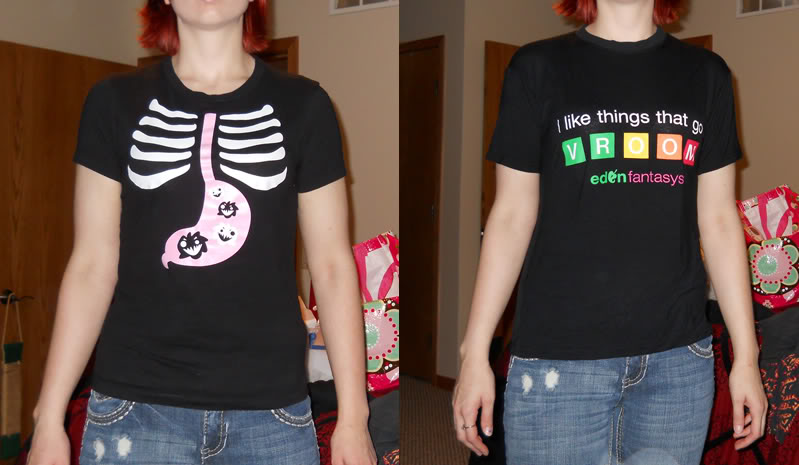 As far as the t-shirt's quality goes, this is ok. It's preshrunk, so it won't shrink after being washed and dried. It's made out of 100% cotton. The fabric is extremely stretchy and seems to return to its original shape after having been stretched. It seems a little more see-through than the typical cotton t-shirt, especially if it is stretched out pretty far. I don't particularly care for the feel of the fabric, though. It's not like the typical t-shirt, which is soft, not so stretchy, and hangs comfortably. This material is very clingy, way too soft, and constantly feels like it is wet. I left this in the dryer an additional 20 minutes, and it still came out feeling wet. Because of this, I don't feel very comfortable wearing the shirt.
The design on the front has "I like things that go" in plain white text, with "VROOM" below it in colored boxes. Underneath that is the EdenFantasys logo. I feel the design's placement could be better. It looks to be just a little too low. I do feel the design is cute and fun. I honestly don't think very many people in my area would understand this at all, or would go home to look up EdenFantasys. Personally, I feel most comfortable wearing this at home, either alone or with a small group of friends.
This shirt only has one small tag on it in the collar, which only has the size on it. There is no care information on it anywhere. I washed mine in cold water with other dark clothing. I also made sure to turn it inside out so the graphic didn't get damaged. I used my normal laundry detergent, Purex.
Overall, I feel this is a good start for EdenFantasys t-shirts. The fabric could be changed for something that is more comfortable and flattering. The design placement is a little off, but moving it up maybe an inch and a half or so would place it better. I'd love to see men's and women's t-shirts for sale, rather than just a unisex one, especially since I like my t-shirts to be a little closer fitting.
Follow-up commentary
3 months after original review
The novelty of owning an EdenFantasys t-shirt has pretty much worn off. I don't ever wear this shirt, just because I don't like how it feels on my skin. I think the fit is a little poor for me to wear it, too. I'd like it if EF dropped whatever company they used to make these shirts and went with a different one, and released both men's and women's shirts with the design.
This content is the opinion of the submitting contributor and is not endorsed by EdenFantasys.com

Thank you for viewing
EdenFantasys t-shirt
– gags review page!