Grow Your Own Dildo
I waited and waited for my little penis to grow! This little 1" shape will grow to be so much larger than its original size. Just place it in water and watch it grow!
Published:
Pros:
FUN!, Cheap, Easy to Use, Reusable
Cons:
Takes longer than described, Does not get as big as described.
Alright, so you can't actually grow a functional dildo, but it is fun to pretend!
As a kid, I used to go the Chicago Shedd Aquarium, Lincoln Park Zoo, and the Field Museum a lot. I always got a souvenir (Alright, I'll admit it. I was a bit spoiled lol) and one of my favorite things to get were these little shapes of animals or rockets that would expand with water. I loved the excitement of it getting larger (as I do with other more adult things now...haha). While looking for even more gag gifts and bachelorette goodies (3 more of my girlies just got engaged!), I saw this. I had to get it for myself even though I had no intention of giving them to the girls. I wanted some back to childhood fun of my own...but with an adult twist!
Okay, so for those of you who never got to experience these as a kid-it is a small hard shape that feels like plastic. This one is a penis with balls, but I have seen them be many different objects. The picture shows a pink penis, but mine was beige when it arrived (slightly disappointing). When you place it in water, it will gradually soap it up like a sponge and get larger.
The item arrived in a fun, but simple package with whimsical and funny writing:
GROWING PECKER! Just Add Water!
Watch it grow 100 times its size
Ages 18-100
I took the little penis out. It is only a little over an inch tall to start. it is hard and feels like plastic. The mini dong actually has a lot of detail. I was kind of impressed! I read the instructions to ensure the best results. Basically all I had to do was fill my bathroom sink with plenty of water and plop the sucker in. The package says that you will notice it growing within a few hours and by 12 hours it will be 100 times its size.
This is how big it was going in (my boyfriend's hand for comparison):
Experience
With it setting in the water. I waited...and waited...and waited. It did take about 3 hours before I saw any growth. For the first 6 hours it didn't grow much at all. Then it started blooming. It didn't grow as fast as the package said ti would though. It also didn't get as big. It may have gotten as long, but for sure not as wide. I waited a full 48 hours! I wanted this to get as big as my childhood ones that filled the sink, but it just wasn't happening.
This was the final result: It got to about 5" or so in length.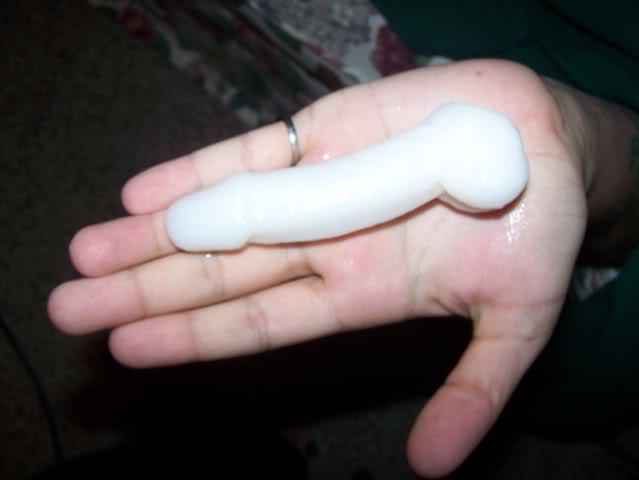 Even though it did not get as large as I had hoped, it was a lot of fun for my boyfriend to check in on our growing penis. It produced a lot of laughs and it was fun to play with when it was done. The texture is really interesting. It was cool that no matter how hard we squeezed, no water came out. You can actually reuse this guy too! Just keep him out of water and he will shrink back down. This takes even longer though. it has been 3 full days since I have taken mine out and it is still a a good 2 inches longer than it was at start. I plan on using it again to show a friend for fun. Plus my boyfriend and I have a theory that it will get even bigger next time. We can only hope right?!
Follow-up commentary
2 months after original review
This was a great buy. It was a lot of fun and cheap. It actually went back to ALMOST original size. It lost a bit of detailing, but I grew it three more times before I decided to toss it. I'll probably buy more of these in the future as gag gifts :)
This content is the opinion of the submitting contributor and is not endorsed by EdenFantasys.com

Thank you for viewing
Grow - a - pecker
– gags review page!