It's.. SMILING.. at me..
The Pecker Cookie Cutter set is definitely an awesome gag gift. You can either bake a friend some weird cookies, or give them cookie cutters to make their own weird cookies. They are made of plastic, though, so they aren't as sharp as a metal cutter and can't be used to shape food while it is cooking.
Published:
Pros:
inexpensive, great gag gift
Cons:
metal cutters would be easier to work with
I love making Christmas cookies every year. Last year my cut out cookies were mostly sheep and camels from a nativity scene cookie cutter set my mom has. This year, I decided to throw some penis cookies in to the pile as well.
These cookie cutters are huge. I did not really expect them to be this big. The packaging they came in was so big, it was smashed from being jammed into an apparently too small priority box. The packaging is just a piece of cardboard with pictures of penis shaped cookies on it, with plastic over it to hold the cookie cutters. It's not really any good to keep the cookie cutters in, since it has to be ripped open and pretty much destroyed to get the cutters out.
In the set are three cookie cutters. The largest is 11 inches long, the medium sized one is 9 inches long, and the smallest is 7 inches long. They are made of a cheap purple plastic that is not very sturdy. The plastic bends very easily, to the point that I was afraid to really wash them the way I do with other dishes. Instead they got some soaking in hot, soapy water and a little bit of gentle rubbing with a sponge. The packaging says nothing about them being dishwasher safe and I did not try washing them in mine.
I only used the smallest cutter, which is still a LOT bigger than the average cookie cutter. It makes cookies that are about the size of two or three regular cookies. For dough, I used two different mixes: sugar cookie and gingerbread. These cutters are shaped to make straight penises, but after my boyfriend remarked on some other cookie cutters he had seen, which made limp looking penises, I curved a couple of them before putting them in the oven.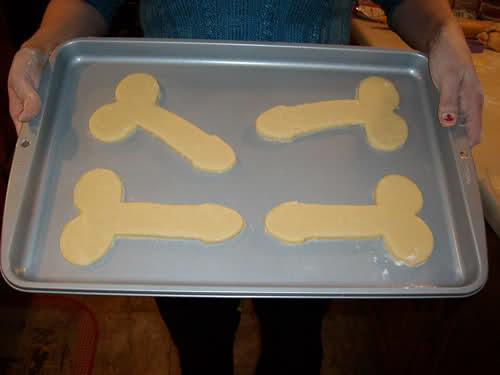 My first batch turned out awful and broken because I didn't roll the dough out thin enough. Several of those broke across the base of the penis, separating it from the ball part of the cookies. I think those were about 1/4 of an inch thick when I rolled them out.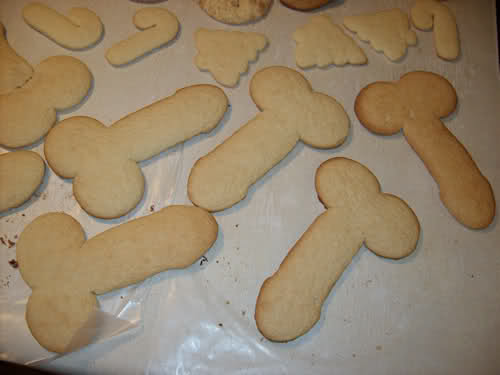 After that batch, I rolled the dough thinner, probably at about 1/5 of an inch. Those cookies turned out much better and held their shape without bulging or getting wrinkly looking. For all of the cookies, though, I noticed we had to both use spatulas to get them off the cookie sheets. One is just not big enough to get the cookie off the pan and onto the waxed paper. It would probably take like three spatulas to get cookies made with the larger cutters out of the pan.
I would think these cookie cutters could also be used for a ton of other stuff, like Jell-O jigglers, cakes, pancakes, chocolates, maybe even something like fudge, which you'd probably need to line the cutter with some aluminum foil so it holds the fudge. Pretty much any kind of soft food that has been cooked and can hold its form on its own can be cut after being cooked, since these could melt if they are used while cooking.
These don't have the greatest cutting edge, since the bottom edge is pretty thick. Metal cutters definitely would have been awesome, since those would be much sharper and could be used in an oven or on a frying pan without worry of melting them.
Overall, I'd say these would make a great gag gift or some funny cookies. My boyfriend and I decided a friend of ours is getting mostly penis shaped Christmas cookies from us. He's a huge fan of sprinkles, so we absolutely coated some of these with sprinkles and frosting, so he would just have to eat these.
Experience
We decorated probably some of the most disturbing cookies ever. Our penises have little marshmallow "babies" all over them, blue balls, smiley faces, veins, strange purple gumdrop diseases, and in one case, a smiling cyclops face.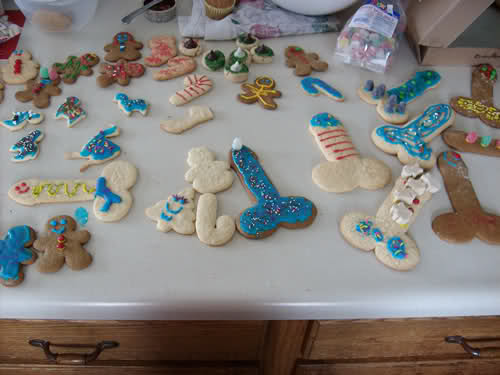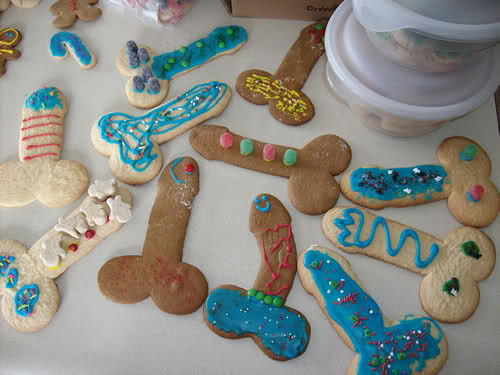 Follow-up commentary
3 months after original review
This have held up fine, though I have not made any more cookies since Christmas. My biggest issue with these is their actual appearance. If I keep them in my kitchen, someone looking for a spoon or something is bound to eventually stumble across them. I really don't want my mom to go around telling EVERYONE she knows that I have penis shaped cookie cutters, which is something she definitely would do. So I keep them in my dresser drawer with some other miscellaneous things. They get caught on the top of the drawer a lot and have almost been broken twice. Thankfully these are sturdier than they look and feel.
This content is the opinion of the submitting contributor and is not endorsed by EdenFantasys.com

Thank you for viewing
Pecker cookie cutter
– gags review page!