Kind of Dirty Fortune Cookies
These x-rated fortune cookies are a pretty good gag, especially if they are given without any indication of containing a dirty fortune. Unfortunately, EF had these for $7.99 for 6, which is a very expensive cookie. The box I received was stale and there is no indication on the box as to a production date or best by date. The phrases on the slips of paper inside the cookies aren't exactly fortunes, nor are they x-rated. They're closer to PG-13 or R-rated funny lines.
Published:
Pros:
good gag
Cons:
stale, very expensive, not really x-rated
I've had the X-rated fortune cookies on my wish list for quite a while. Mainly, I had them there because they're somewhat amusing and I do occasionally need small items to put me up past the $59 to get free shipping. With a recent order, I needed something around this price to put me over $59, so I added these to my cart.
The fortune cookies come in a white cartoonish takeout box. The box is folded, rather than glued, together so it is a bit poorly held together. The front shows an Asian man serving a blonde woman one of the dirty fortune cookies. She looks pretty shocked and her face is all red. Below this image, it says, "The perfect way to break the rice." One side of the box has a Chinese dragon on it. The back lists some "Oriental dishes" that these will work well with. One such meal is "Wai Tu Yung" with a caption of "Not available on school nights." These are mostly semi-dirty phrases written out to look like Oriental meals. The other side has the nutrition facts and ingredients. The bottom of the box states that these are made by Pipedreams and are made in the USA. The packaging is printed in China. These are sold as a novelty only. These are produced by Peking Noodle Company of Los Angeles, CA.
Here's a picture of the nutrition facts table. Each cookie contains a lot of carbs and a lot of calories for just one.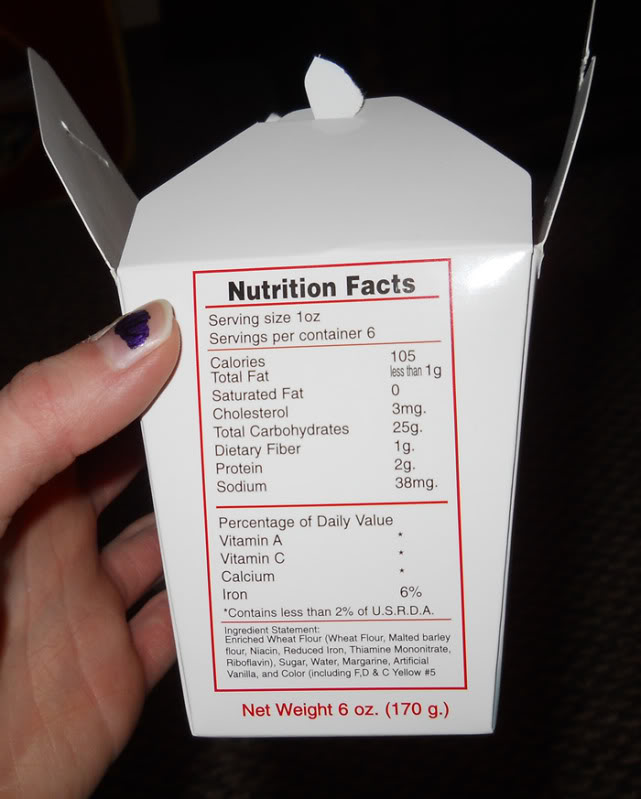 These do contain wheat flour, sugar, and added food coloring, which some people may have sensitivities to. I would avoid these if you know you have any issues with those ingredients. If you've eaten other fortune cookies and came out just fine, you should be okay with these.
Each box contains 6 cookies. The cookies are individually wrapped in plastic that state Peking Fortune Cookie. They are the same size as the average fortune cookie available in stores or at Chinese restaurants. They measure about 2 inches by 2 inches and approximately an inch and a half tall.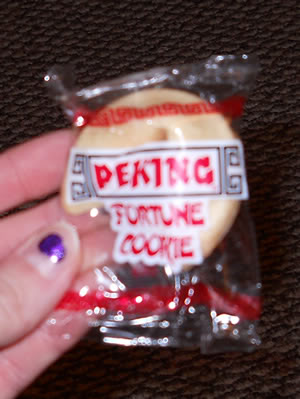 The taste and texture of these is exactly the same as other fortune cookies. They are hard, crack in half with very little crumbs, and have a lightly sweet flavor to them. They are smooth in texture. Unfortunately, my fortune cookies ended up being a bit stale, so they were a bit off tasting, too.
Inside of each cookie is a small "fortune." I was expecting some absolutely filthy ones, since these are supposed to be X-rated fortune cookies. Unfortunately, they end up closer to PG-13. Each fortune is printed on a small slip of paper. This paper isn't like that of typical fortune cookies, it's a slick, shiny paper. There aren't any fortune numbers on the back, which was a bit disappointing.
Here are some of the fortunes I have received in my cookies. I did not receive any duplicates in my box, however buying multiple boxes may result in duplicates.
"Double your pleasure, double your fun - date twins."
"If you got laid last night - Smile!"
I had a somewhat amusing one that I was saving for my review, but it seems to have gotten lost. It went something along the lines of, "Everyone's afraid of big cats, but they do need a little pussy every now and then."
These aren't particularly fortunes, just funny and somewhat dirty lines. I don't think they deserve the title of X-rated, though.
I think these fortune cookies are okay, but I probably won't be buying them anymore unless I have an adult party. As it is, just for me and a couple of friends to enjoy, the novelty wore off after one box. These are also much more expensive than typical fortune cookies. My local Wal-mart carries a 12 pack of Chow Mein brand cookies for $2.00. I looked these cookies up online and was able to find other sites selling the exact same cookies for a lot lower, too. One site had them for $2.50. EdenFantasys had them for $7.99 before they discontinued them, which is a huge markup.
Experience
I understand these have been discontinued from EF. I can honestly understand them being discontinued. I doubt I am the only person to receive a stale box, since these do not have an expiration/production date on them and cannot be checked for freshness. I would recommend checking out a different brand of fortune cookies, as they may have the date printed on them. Simply searching "x-rated fortune cookies" on Google comes up with other sites selling different products.
Follow-up commentary
2 months after original review
I guess I still kind of like these cookies. If I could re-rate them, I'd still give them 3 out of 5 stars. I still have a few cookies to finish off, unfortunately I don't really want to eat them. I'm considering buying them or something similar around Christmas to throw in the goody boxes I give my friends and family, which usually contain a random assortment of stuff.
This content is the opinion of the submitting contributor and is not endorsed by EdenFantasys.com

Thank you for viewing
Fortune cookies
– gags review page!