Mediocre Boobies
We all have different preferences. I'm a huge candy junkie, so these boobies didn't live up to my expectations, but I still managed to eat the whole box. Would I buy to eat again? No. Would I recommend for a gift? Definitely!
Published:
Pros:
Cute looking, 3 flavors, 3 colors, cute packaging, large quantity.
Cons:
Not the best taste, but edible.
The Gummy Titties (will explain the name change from the product soon) are some pretty tasty boobs. While these aren't the best in taste, they are edible! I'm a huge candy/junk food junkie though, so that could alter my opinion a little :P
The Gummy Titties are just edible candy. You can use them many as a gag joke for a bachelor or bachelorette party (therefore making them for men or women) you can mail them to a friend randomly and get a good laugh, or you can just have something to snack on. They're also good to entertain your grandma with. Mine laughed when I showed her what I got! The uses of anything edible AND funny are endless, really.
One last use for them? They could make you gain weight, haha. I'm an eat-the-bag-of-candy-in-one-sitting type of girl. These boobies come in at 102 calories per serving with 5 servings in the box. That's 510 calories. That's a lot for candy to me, but that doesn't stop me :)
Ingredients: (pretty much all sugar)
Glucose Syrup
Sugar
Modified Corn Starch
Citric Acid Artificial Flavors,
Gelatin
Carnauba Wax
Artificial colors
- Blue 1
- Red 40
- Yellow 5 &6
There are:
0g Fat
20mg Sodium
22g Carbs
15g Sugar
1g Protein (that counts right?)
There's 5.3 oz of candy in the box. The box was actually a lot bigger than I expected it to be. I put it beside a pop can and it measured right up to it!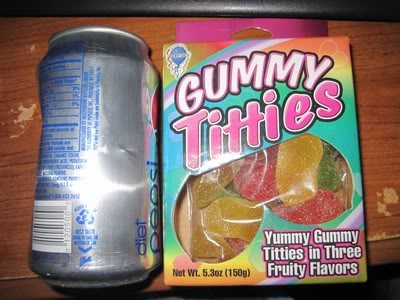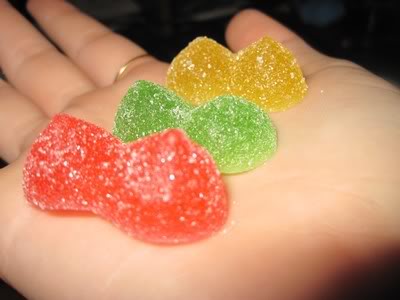 These boobies have a grainy texture. As you can see, these candies are different from the stock picture posted. I was actually surprised when I can to find the product on here to review and seen that everything is different. (See: second picture above) The packaging is completely different along with the texture of the candy. Not a big deal, but they should update the picture. Some may like soft, chewy gummy candy while others may not be able to stand the grainy sugar on these. They are also very.. thick? When you bite into these, they definitely have a bite. They aren't as "thin" as a normally gummy worm/bear, but they aren't sticky/chewy.
As you can also see, these candies aren't completely defined boobs, but they do resemble them. So while they box OBVIOUSLY isn't discreet for traveling or to leave sitting out, you could more than likely taking the candy out of the box (which comes in a little baggy) and just carrying that around with you. You may get questioned if someone sees the shape of the candy, but most people probably wouldn't notice.
There are red, green, and yellow - all coming in different flavors. The red has a light strawberry smell with a light strawberry flavor, but there's also that 'eh' taste that comes with it. It's almost like there is too much candy syrup in it. The green doesn't have smell, but does have a candied apple taste. Again, a light candied syrup taste, but not as strong. (My boyfriend is laughing at me when I smell/taste the few that I saved for when I would be writing this.. meanie!) And the yellow, again no smell, but they taste like peachs. Have you ever had
Peach Rings
? That's EXACTLY what they taste like, no kidding. Overall, they are edible, but they're not something I could sit and snack on all in one sitting. (Although I did manage to eat them all with my candy craving) However, these aren't something I'd buy to eat again, but would buy for a gag gift!
Experience
I'm sure there are better candy boobies out there, but these candies do the job. They taste reasonable, are great for getting a laugh out of someone during some type of party, and are a great gag gift.
This content is the opinion of the submitting contributor and is not endorsed by EdenFantasys.com

Thank you for viewing
Gummy boobs
– edible treat review page!