Unisex?! Um, Not So Much!
The shirt is OKAY. It's marked unisex, but the sizes are not, and neither is the saying on the shirt or the style. If you get it as a free gift with purchase, fine. If you're looking to purchase this shirt to show off your Eden Pride, then I suggest waiting until they come out with something better.
Published:
Pros:
-available as a free gift right now with purchase
-material quality is excellent
Cons:
-not true to size
-only one logo (no options)
-NOT unisex
-no care tag on shirt
I received this shirt as a free gift with my purchase, I chose the XL shirt because I planned on giving it to my boyfriend. He typically wears a size large in men's shirts, so I chose the XL size just to be sure. I knew he wouldn't wear this in public when I ordered it, but I figured it would be a nice comfy shirt for around the house and to sleep in. I also presumed that when he wasn't wearing it to sleep in, I would. I tend to use his shirts to sleep in as they are baggy and comfortable on me. In female sized shirts, I typically wear a size large (sometimes an extra large depending on the make).
Before ordering the shirt, I thought to myself "how many men will actually wear this shirt?". I find the logo on the shirt is quite feminine, and the saying on the shirt "I like things that go vroom" seems to be orientated more towards females. Sure men can have "vroom" toys, but it is more likely that women have them than men.
Anyways, I received the shirt with my order and opened it up. It was just wrapped in a plastic bag with no instructions/etc on the bag. I unfolded the shirt and it appeared to be the appropriate size for my boyfriend, I was excited.
My boyfriend ended up trying it on, and it was disturbingly tight. An XL shirt should be baggy on him, but as you can see in the picture below, there is no "baggyness". Most shirts that he has are also a much thinner material, this shirt is quite thick and the material is tough. That means a few things:
1. It is not going to be as stretchy as you may want the shirt to be.
2. It will feel constricting.
3. It will be a lot warmer than most regular t-shirts.
4. It is less likely to get ripped/torn because of the tough material.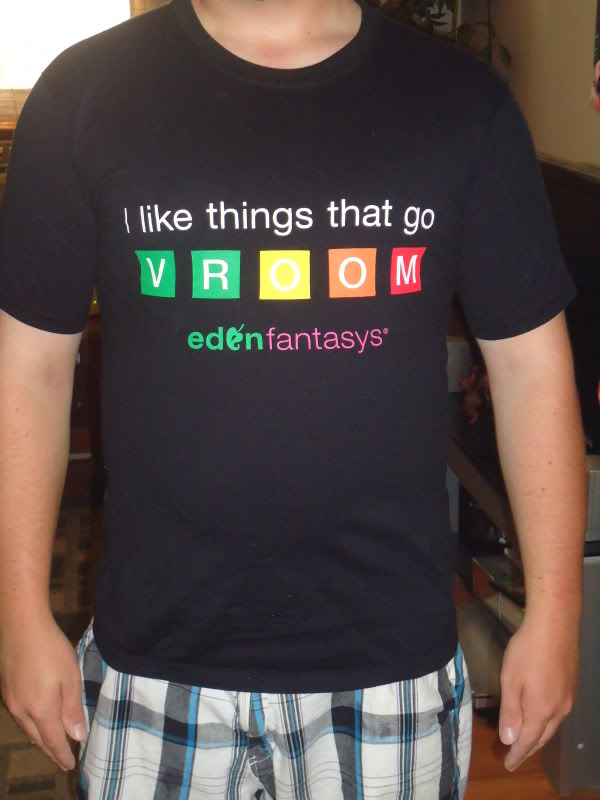 So then I decided to try it on (you can see the picture below). As I stated above, I am a L-XL in female shirts, and they usually leave me room to breath and move around in. The shirt was not comfortable to me at all. When I wear a t-shirt, I want baggyness. I wear t-shirts to lounge around in, I want comfort. Not only did I find the arm sleeves a bit too tight, but the neck line was too high for my liking. Even I felt very constricted in this shirt and for a size XL, I shouldn't have.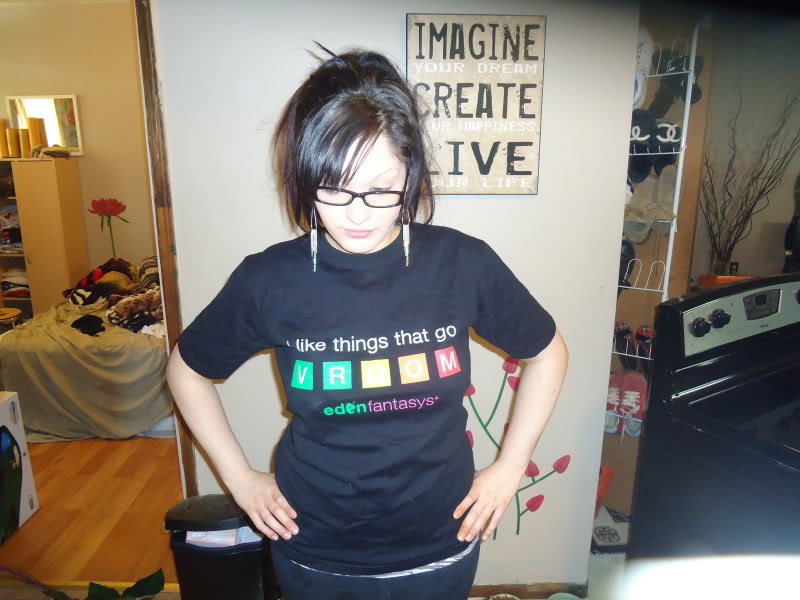 As for the design/style/etc of the shirt, it is definitely more suitable for me than for my boyfriend but I still don't really enjoy it. If I ever were to wear this shirt out in public, I think many people would be confused about the saying "I like things that go VROOM". If I was unaware of what EdenFantasys was, I would assume the shirt was talking about cars. Perhaps that is just my take, but I think a better caption could have been chosen.
The colours of the shirt logo are nice and bright which is appealing to the eye. Unfortunately there is no tag in the shirt that has the care instructions for washing, drying, etc. Since I will just wear this shirt inside our apartment, we will just wash it with our regular clothes because if it does fade, it doesn't matter to us. If you are unlike us and want to be more careful with the shirt, I suggest washing it in cold water the first time and turning the shirt inside out when being washed/dried.
Experience
I was quite disappointed that the XL did not fit my boyfriend. It did fit me, however I do not like the constricted feeling while wearing a t-shirt. This will be a shirt I wear when I have absolutely nothing else to wear.

Both me and my boyfriend agreed that the shirt deserves a 3 out of 5. We decided to give it a 3 instead of a 2 just because the material is thick and good quality. He feels that it should not be labelled a unisex shirt with the sizing being so off and I have to agree with him. I'd include though that it really is restricting, and that is important to note before you place your order. Most people (not all) prefer t-shirts to have some breathing room, don't expect any with this shirt.

I feel that for a shirt to truly be unisex, the sizing needs to be true-to-size (which it is not as I mentioned above), the colours should be neutral (and they are not as you can see in the photos), and perhaps have a better caption that would be understood by the general public, and is geared to suit most men and woman equally.

I have made another order since this review, and chose a larger size. When I receive it, I will give an update if the quality is less heavy/thick, and if the sizing seems to be more accurate when ordering a larger size.
Follow-up commentary
13 days after original review
My boyfriend and I placed an order and decided to try out the size 3XL to see if it was any better. The size 3XL was a much thinner material than the size XL that I had written the review on. My boyfriend prefers the lighter material compared to the thicker XL shirt. It also fits him the way he likes his shirts (baggy). I found the 3XL to be "okay". The material is thinner which I like, but I found it to be clingy to my body which I am not thrilled about. The neckline is still quite high on the 3XL, even with the material being a lot thinner.

As for the XL that the review was written about, it has sat in my dresser drawer and has not been worn since. I may end up wearing it when I have absolutely nothing else to wear.. but even then, I may just walk around naked so I don't have to feel restricted by the tightness of the shirt.
This content is the opinion of the submitting contributor and is not endorsed by EdenFantasys.com

Thank you for viewing
EdenFantasys t-shirt
– party costume review page!