1 Size fits most???
If your looking to train your ass for larger sized toys, look to the Triple Ripple. The graduated bulges work great for for easing the sphincters up to the next size. There is just enough room in between each bulge to relax so you can take only what you want. The surface is super slick and with some lube slides like silicone lube on steel. The base is more than enough to keep it safe and makes a great hand hold for thrusting.
Published:
Pros:
Stimulating shape, Slick surface, FULL feeling, Does not attract dust/hair.
Cons:
As a plug it fails, Not the best material for a butt toy.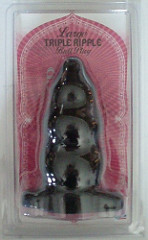 Before I get to the review, I just have to explain the title. I have been reviewing toys for a little over a year and a half, never have I laughed so hard when reading a package. You see, when you get the Triple Ripple it comes in a clam shell type package with the toy displayed for all to see (make note if gift giving), after you pick your jaw off the floor (Due to the size) you will see some writing off to the right of the toy. I did a double take, and then fell over laughing. Since words do not always do justice, I took a picture.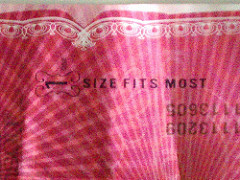 What a riot!
In case you did not look at the dimensions, this is one big plug/probe. The first tapered bulge comes in at 1 3/4" (5 1/2" cir). That right there limits this toy to mostly advanced users, "1 size fits most", ya right! Anyway, the second bulge jumps up to 2 1/4" diameter (7 1/4" cir.) with the last bulge stretching your ass to 2 7/16" diameter (7 3/4" cir.). For those that may have a hard time visualizing the size, it's about the size of a pop can, only a little bit taller at 5 3/4". Of that you can insert 5". The base is plenty safe at 3 7/8" long by 2 3/8" wide. Due to the size of the base (And design, see below) it is not the best for long term wear.
The Triple Ripple Royal, made by Doc Johnson, is made out of dual density PVC that has Sil-A-Gel added. This means that it is Anti-bacterial, latex and cadmium free and contains no Phthalate. Of course it does have the typical smell associated with Sil-A-Gel, I am happy to say that this one does not smell nearly as bad as others I have had. Big plus in my book.
You can feel a soft outer layer of the PVC with a firmer inner core. I can feel a 'gap' in between the two layers, this does not affect the use, and in fact I find it helps a little. There is that little bit of extra squish that helps with getting this big boy in.
I found a couple of other nice things about the dual layer. The inner core holds temps pretty good, this goes right along with the second thing; heat it up and it get softer, cool it down and it gets harder. So, if you are working up in size with this toy, heat it up in warm water to make insertion easier. Once you are comfortable with the size, try cooling it down to continue your stretching endeavors.
I have to say that calling this a plug is not really the best term to use. I think probe fits better. First and foremost, there is no neck to speak of at the base. The last bulge narrows down and then jumps back to meet with the base. Unless your sphincters are only 1/4" apart from each other, this plug will not stay in. Even with only the second bulge inserted my ass had a hard time keeping hold of it. Because of this I would call it a probe, in that it excels. Once my ass accommodates the size I can ride it with wild abandon and enjoy every minute of it.
PVC is porous and as such cannot be sanitized, so no sharing without a condom. You'll need the extra large variety to be safe and insure a good fit. I myself do not use condoms on it but I do wash with hot water and a toy cleaner before and after each use.
Water and silicone based lubes are fine to use but stay away from oil based; they will degrade the material. The Triple Ripple has a gloss finish; this is somewhat a double edge sword. One the one hand it glides smoothly but it does not "Hold" the lube all that well. I find applying lube to the anus and using a lube shooter to get plenty inside works best. Of course apply some to the toy as well, once I get going I find no need to reapply more. Another nice attribute of PVC, it does not attract dust and hairs like silicone does. Still, store it in its original package or in a pouch of some kind and keep it from contacting other materials.
Experience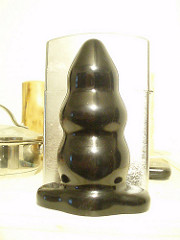 WOW this is one big toy; the pictures on site just do not do it justice. Even the 1:1 view or even Research's video does not prepare you for that moment when you open the EF box and first lay eyes on it. I must say, my asspussy quivered and my knees quaked a little. The diameter is not bigger than my Sexy Spades large when you consider the soft material will squish and all. I think it was more the overall size, length and diameter that got me.
Nevertheless, after a good cleaning out and warm up with a few other toys I slathered on the Maximus and got down to business. The first bulge enters nicely due to the tapered tip, no problems there. I used the Ryder for part of the warm up and I would say the Triple is easier to insert. Next up, the second bulge. This is at my limits as of right know but it entered with minimal effort. The flexibility of the dual layers helps a bunch. The last bulge proved to be the hardest, not just because of the size though. About the time my ass started to swallow that bulge, the base comes in contact with my butt cheeks. The only way I found to get it in further was to place my Eleven under the base and sit on it. This kind of forces the base to conform to my ass and allows the last bulge to slide in. If only there was an inch or two of neck, I bet it would then act more like a plug and stay in. I must say though, the stimulation of a good stretch and the pressure on my prostate was awesome. The pre-cum flowed and just a few strokes brought me to a great, body shaking climax.
After three uses, each time has been just as good as the first and it has been easier to get this bad boy in. I have my sight set on the Binford 9000, AKA the Hoss, so this plug/probe is doing what I want it to and I do so enjoy using it. Plus after getting it in it is a breeze to slide the Sexy Spades in if I want to wear something big long term.
Rating this toy is kind of hard. As a plug it fails, it just won't stay in. So for that I would say two or three stars. As a probe; it performs like a champ so five stars. My decision to give it five stars is based on my knowledge beforehand that it would not act like a plug, but rather I wanted something to use to help train my asspussy for larger toys.
This content is the opinion of the submitting contributor and is not endorsed by EdenFantasys.com

Thank you for viewing
Triple ripple royal
– sex toy review page!