A Pink Tulip You Won't Find in the Secret Garden
Like a tulip blooming in the spring, this toy stands out because of its simplistic, elegant and comfortable design. The cost is much better than its competitors and the possibility for extended wear makes this a toy that can last for many seasons to come.
Published:
Pros:
+ Affordable
+ Silicone material
+ Easy to insert
+ Can be worn for extended wear
Cons:
- Currently only available in two colors, black or pink
- Not a medium compared to other plugs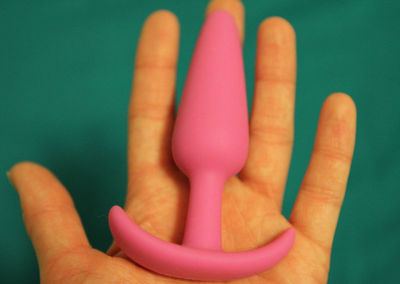 Why buy a butt plug?
The advantages of a butt plug for anal penetration are that the insertable length tends to be relatively short, it can be worn for an extended time (depending on the anal design), and there is a wide range in circumference sizes, not to mention a butt plug can be worn during sex for gentle double penetration.
In regards to the extended wear, I have worn this anal plug up to half an hour with no discomfort. There is also no discomfort sitting down because the curved handle is flush with my body. It didn't stick out at all for me so I am not concerned with anyone else knowing if I am wearing this under clothing.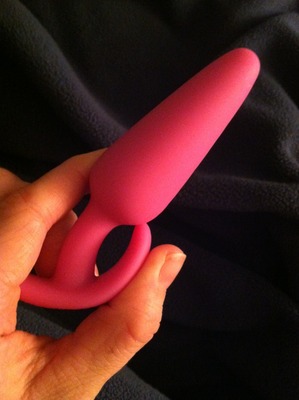 When I first touched this toy I was reminded of a tulip because it is very flexible and the texture was very soft with
a low amount of drag
. Because it is larger than a finger, if you have not tried any anal penetration I would advise trying the
smaller size
by Doc Johnson.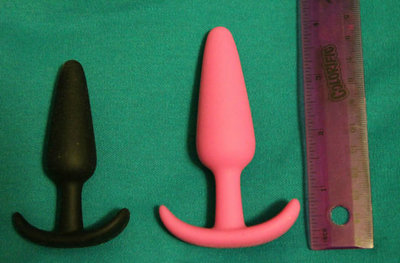 A relatively small plug
I chose this over something larger because I started with the
small plug
by Doc Johnson and I didn't want to push my comfort zone too much. Although I didn't find the Mood Naughty medium plug to be small, several of those who reviewed this anal plug would agree that it is not quite a medium compared to other anal toys available.
At its thickest near the neck it is 3 ¾ inches
and it tapers to almost 2 inches at the top. The Mood Naughty medium plug is twice as heavy (3.2 oz.) and an inch wider in circumference than the Mood Naughty small plug.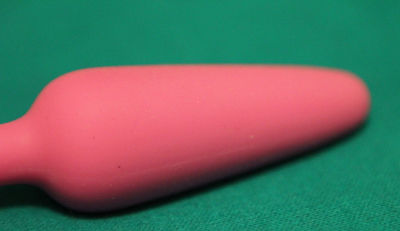 Insertion
The insertable length is 3 ½ inches of the total 4 inch length of the toy, with a half inch long neck. Because the head is tapered, the toy is easy to insert because it gradually increases in diameter. There is a slight seam along the sides, however I could not feel it internally. The neck's thinness lends itself to extended wear; I've found it is easy to stay in place because my muscles can "grab onto" the shape. Because the neck does have a lot of bend to it, I insert it by holding the bottom of the head. If you try to push it in by the handle it might move around a bit rather than maintaining its vector.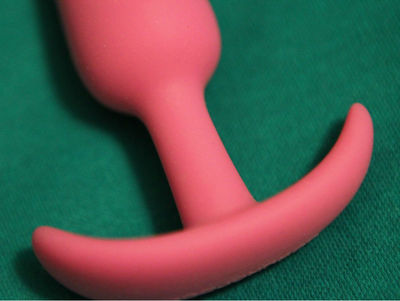 Handle
Unlike other anal plugs, the Mood Naughty plugs have
a distinct curved handle that is more appropriate for extended wear than thrusting
. Because the handle is 3 ¾ inches in total length, it might get in the way during double penetration by being longer than the
perineum
. One side of the handle is wider than the other; because there is no clear instruction from the company, I have made the assumption that the wider side should be pointed toward the genitalia with the narrower end between the cheeks; however I have worn it both ways without noticing a difference in comfort.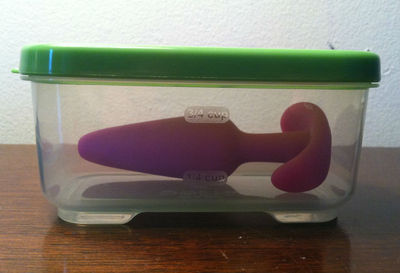 Material & Storage
Because I like to share my toys with my partner, I prefer non-porous toys. This matte-finished
silicone
anal plug fits that requirement. There are several options for cleaning including: 10% bleach solution, boiling for at least 3 min., the top-rack of a dishwasher, soap & water, or a toy cleaner. I prefer to use
Lelo's spray
for convenience.
My two cents
: Do NOT do a spot test with silicone. Stick with a water or oil lubricant and you can't go wrong. Since silicone is notorious for being a sexy lint roller, I was determined to find a solution. Although I am still researching options for my larger silicone toy (the Mistress) and future toys,
I did find this for my anal plugs
: two Rubbermaid containers for less than $7 which are microwave safe (for boiling).
Packaging
In my haste to move back into the apartment for the fall semester, I forgot to bring the box with me. However, I can confirm that it looks like the packaging in
Woman China's review
and
Select Zen's review
. The box is not discreet because the toy can be seen through the front. I do not use it for storage.
Experience
If I had more money at the time when I purchased this, I would have sprung for the Bootie or the Njoy small because the half inch increase in circumference was a bit much at first. Will the Mood naughty medium replace its smaller predecessor? As of now, no. I don't plan on buying the Mood Naughty large plug because I am ready for an anal toy with some curve to it.
Follow-up commentary
4 months after original review
After reading an article about flame-testing questionable silicone toys, I decided to look up the material of this plug on Doc Johnson's website. Turns out the material is TPE Silicone, not pure silicone. I bought this thinking it was pure silicone, and since it isn't I won't be using this further. If you don't mind that this isn't pure silicone, this could still be a good product for you.
This product was provided at a discounted price in exchange for an unbiased review. This review is in compliance with the FTC guidelines.

Thank you for viewing
Mood naughty medium plug
– butt plug review page!