Looking to start anal play but don't want to dirty your finger?
If you have never explored the fun of anal and are thinking of starting, but not too sure about sticking a finger up your own ass... this could be your alternative to a finger. And to those experienced? A great warm up toy! Everyone wins!!!
Published:
Pros:
comfortable for long term wear, beginner/warm up toy
Cons:
only comes in two colours, might be small for some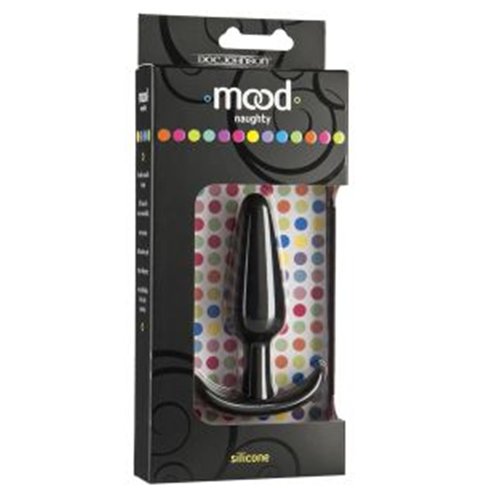 So. This little piece of black silicone goes into your bum. I am not sure how else to describe his purpose.
Let's get the technical details out of the way, he's four inches long with about three and a half inches insertable. With a maximum width of one inch at his widest point. My favourite part of the toy is not his long neck that makes long term wear so very comfortable. It's also not his squishy or bendy nature.
It's actually his flared base that makes this anal plug more preferable than Fun Factory's Bootie Anal Plug.
His base... well the only way to describe it is that it is a cartoon exclamation point missing the dot. Wearing the thicker edge pointed upwards or downwards, I found it just really comfortable sitting between my cheeks. There was no chafing, or discomfort.
Now, as many people have discovered, anal play can be such fun! But only if we play safe. That means, lube. Lube is your hieny's best friend. Add a couple of squirts to his tip, press against your anus and gently push taking it very slow. If you have never explored the fun of anal and are thinking of starting, but not too sure about sticking a finger up your own ass... this could be your alternative. He's easy to clean, just toss him in the sink, run him under some hot water, add some soap and voila! I've not noticed any scent or taste coming from him.
Mood Naughty is a great toy for beginners, or a toy to wear for a longerish period of time. His longer neck means there is less slippage and accidental slip outs. I've experienced this with my Moonshine Bum Plug and some of the glass anal probes I have. With his thin neck leading way to his bulge he does stay put. And for those of you with the Bootie Anal Plug? I find the Mood Naughty stays in place better than the Bootie.
And that is saying a lot.
He arrives in a black "modern" style of packaging with lots of multi-coloured polka dots visible. The toy itself can be seen through the plastic window. On the reverse side, there is almost a graph of polka dots telling you what he works well with. For example:
Features: flat base, flexible
Material: hypo-allergenic, silicone, non-phthalate, latex free
Cleaning: soap and water, dishwasher safe, boil safe
Lubricant: water based, oil based
This is not one of those packages that made me go "hummm I like it!!! And I'll keep you forever and ever!" it's one of those packages that makes me think, "where is my rubbish bin?" But I do really like how these Mood packages have this little chart on the back for those who might not be all that experienced in sex toy care.
If you leave your Mood Naughty out on the coffee table, I think everyone would know that his soul purpose in life is to bring your bum some form of enjoyment. So unless you live by yourself, I would suggest making sure you keep him stored away from other silicone toys for as we all know, silicone doesn't really like silicone toys or lube. So store him in a sock, store him in a pouch, store him where he will be kept away from lint.
Silicone toys seems to love lint almost as much as static.
Experience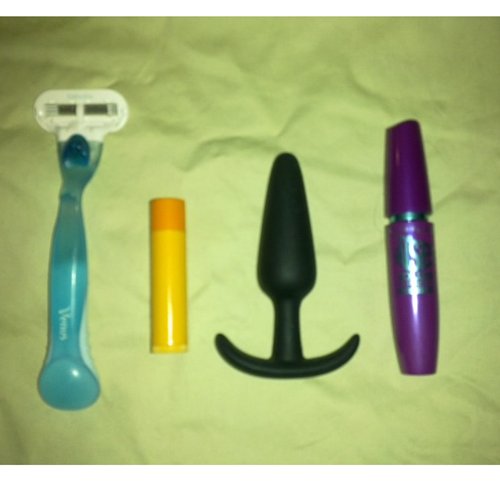 From left to right in the comparison photo, there is the Venus Razor with an original head, a tube of Burt's Bee's sunscreen lip balm, Mood Naughty, and a tube of Maybelline's Falsies.
Now I like a finger in my bum as much as the next girl, but sometimes I wish his fingers were elsewhere. In my opinion this is a great replacement. The Mood Naughty's thickest point is one inch. Many men's fingers are about one inch wide. I didn't really notice anything extra when I wore this and he entered me. I tried to ask him if he noticed a difference and all I got was a shrug.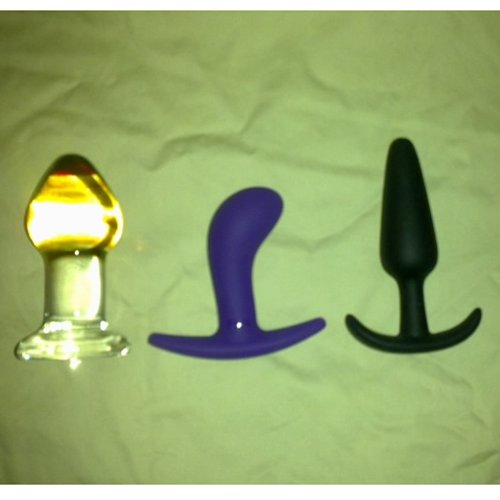 Left to right, Moonshine Butt Plug, Bootie Butt Plug and the Mood Naughty. These are all considered to be "beginner" to intermediate toys.
If I had to choose between the Mood Naughty and the Bootie for use during sex, I think I would have to pick the Bootie. I like the bold purple colour, and that curve in his head. My partner said he could feel the tip of it along the length of his penis when he thrust. He said that the curve in the Booties head provided just a little something extra for him. He prefers the hardness of an anal probe over all. We found that the Moonshine slips out a little too frequently for our liking.
For solo play or prolong wear, I do like the Mood Naughty better. He stays in much longer, and he is easier to insert.
I will be adding the Mood Naughty Large to my wish list. I just wish that the Mood Naughty came in other colours besides pink and black. Simply because I do like a little bit more of a stretch when using anal plugs and I feel that the Mood Naughty Medium provided just a little, but not as much as I enjoy.
If I were to be asked if I'd recommend the Mood Naughty Medium to people... I would say depends. For those that are experienced bum players, this would be a good warm up toy. To those new to the fun of bum play, his tapered tip is very easy slipping in.
Follow-up commentary
7 months after original review
I still like the Mood Naughty Medium Plug... but I clicked the "I don't like it anymore", simply because I have upgraded to the
Boosty
. I much prefer the curve of the Boosty over the straight Mood Naughty.
This product was provided free of charge to the reviewer. This review is in compliance with the FTC guidelines.

Thank you for viewing
Mood naughty medium plug
– butt plug review page!