It's like an Oompa Loompa for your heiny!
For me, I have been in the market for a silicone bum toy with humps and a curve and I've never found one I could see myself using. Then... Boosty came along and all I could think of was, "meet my bum! Meet my bum!" I was very surprised at how well he stayed in without needing me to push him back in. Over all, I am quite impressed with the craftsmanship!
Published:
Pros:
Very bumpy and SILICONE!!! Funky colour too!
Cons:
Changing the base to be a little tapered along the ends
All I have to say is... Oompa loompa wow-pa!!!
Are you ready for another review? As always... the important details first, so if you already know all the details from the product page, feel free to scroll on down!
I really like this bum guy. Not these important details first? Alright...
Use: It is a toy for you tuchus.
Material/Texture/Colour/Scent etc: Fun Factory's Medical Grade Silicone. The silicone is luxurious and feels so wonderful between my fingers. He is a little squishy but not squishy enough to alter his shape. He's got three humps like a llama would if he had humps, with a seam running all along the sides of the toy that cannot be felt during use. On the product page he is shown as a more brighter teal-blue colour, but he is more of a dull teal-turquoise in comparison. But true to Fun Factory's moto, it is still a fun colour. He is much too big to be put up my nose- and I did try- but all I got was nothing to write home about. And I refuse to eat him so I have no ides how he tastes.
Size: Four and a quarters in total length with three and a half inches (or less!!!) that go in your bottom. The Boosty's diametre is three quarters of an inch at his neck, and now it gets a little wonky trying to explain. The diametre of the toy is one and a half inches if you put the tape measure on an angle to measure the diametre of the first bulge. The second bulge is also one and half inches in diametre. But if you hold it flush with the table, it is actually just under two inches. And the top bulge is one inch in diametre.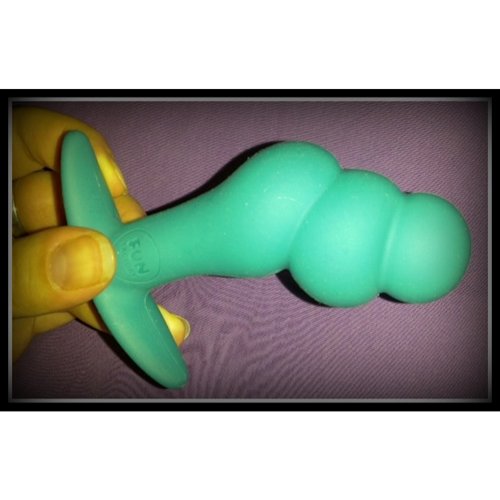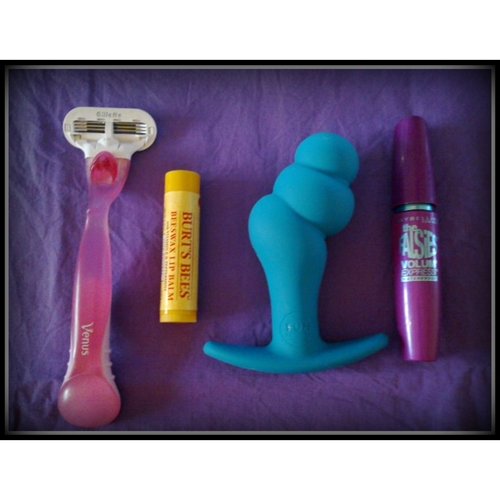 Type of base: Because Fun Factory is just an amazing and safe and comfortable company, they made the base flared. Exactly like their Bootie anal plug. Take a look at the picture; Bootie (purple), Boosty (Tealishy),
Mood Naughty Medium Plug
.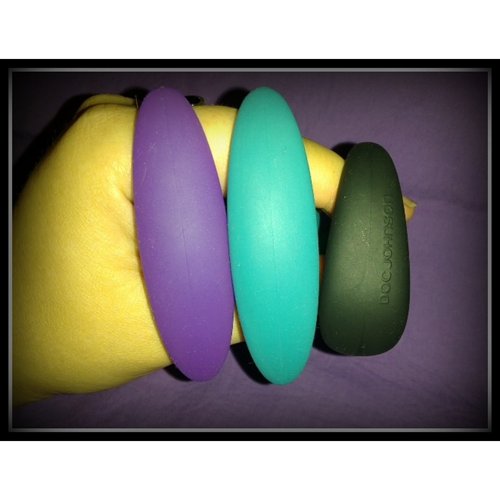 Packaging: I am so happy that Fun Factory changed it's packaging!!!! Whoops!! This is serious time! Not Womanish time! Sorry!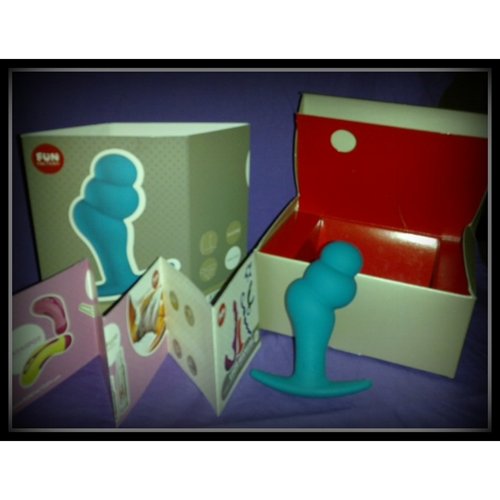 The outside box is not very discreet so I wouldn't suggest leaving it out and about. The inner box, is so cute and pretty and could be used for gifting. The Boosty is not something one would leave out and about willy nilly as it is something that would draw many questions.
Lube: Silicone toys should only be used with water based lube.
Cleaning: It's silicone baby! Whoops! Use and toss in the sink. Use soap or toy cleaner and wash it well. Let air dry then put away into your Toy Box. If you prefer a 10% bleach solution or boiling... both would work!
Level of use: It's complicated!!! I personally feel that a beginner could use this as the first bump is pretty small and can fit any level of user. The second bump is workable, but it would need some wiggle factor in an aroused state with oodles of lube if you are adventurous and enjoy that pain/pleasure stretch factor. If you do not? This would not be the best anal toy to start with.
Safety: Because this guy is designed for your tuchus, remember. Back to front is never ok. Front to back is honky dory! If you are going to share the Boosty with a partner, be safe!!!! Clean between partners or put a condom on him.
Experience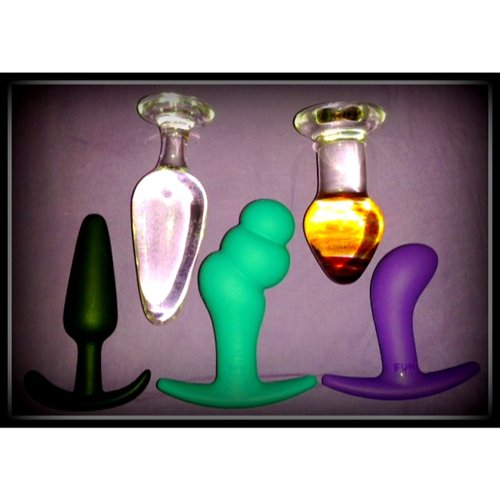 Top:
Icicles No.26
, Moonshine Bottom:
Mood Naughty Medium Plug
, Boosty, Booty.
When I saw the Boosty was coming to EF I jumped at getting one. I saw all the measurements saw all the pictures, and thought it wouldn't be all that bad!!! Then. It came in the mail and my first thought in my head was, "WOOZERS!!!" because he was a little bigger than I expected.
It took about a day to get over his size and give him a whirl. And I am glad I did!!! It took a little wiggling to get him fully inserted, but once I did... it was surprised how comfortable he was! He has that curve were if I had a prostate he'd feel fantastic, but since I have a g-spot, his head pushes right up against it, and when I use a toy? My g-spot sings with the added pressure! Then I sing! It's like a harmony in my pants!
I found him more enjoyable than the Moonshine or the Icicles because he has a little more give. And they are all about one and a half inches in diametre.
I wore him for about three or four hours the first time I used him (used him with
Lelo moisturiser
) and loved walking around grocery shopping with him in. He was very comfortable to wear. I used him the next time with
Sliquid Orangic
and found that more lube was needed about twenty minutes later. The flared base didn't cause any discomfort wearing for a longer period of time, but... I still prefer the Mood Naughty Medium Plug base. And I didn't find that I had to sneak off to the bathroom to push him back in because of the shape of his neck being thinner and longer than all the bumps.
There has been some talk of the Boosty retaining that ass-smell, but I've not noticed it at all. I use
Lelo Toy Cleaner
or a Tea Tree Oil soap to clean my anal toys.
Actually, I was quite surprised that there was no sample packet of Toy Fluid in the packaging as I love the sample packages for when I go out for a weekend for they are small enough to toss in my purse.
I am going to give him a five star rating, even though I still prefer the Mood Naughty. I truly think Fun Factory really out did themselves in creating an alphabet-spot friendly toy in silicone WITH bumps! Usually I see silicone bum toys with bumps that are perfectly straight and I find them to be so uncomfortable. Seeing the curve in the Boosty made me want him even more.
This product was provided free of charge to the reviewer. This review is in compliance with the FTC guidelines.

Thank you for viewing
Boosty
– butt plug review page!