Screw toy cleaner... this is multi-purpose!
Let's face facts people. I'm tired of buying a product for this, and a product for that, and another product for something else. I like how I can use Lelo's Antibacterial Cleaning Spray for a few different purposes. I adore how this spray get's my toys squeaky clean. And I love how the lid stays where it is supposed to stay. On the bottle!!!
Published:
Pros:
Multi-purpose, elegant bottle, great lid
Cons:
not the best scent on the planet
Honestly!!! This stuff is multi-purpose!!
Well, yes. Actually, I have used this Lelo Antibacterial Cleaning Spray for quite a few different things rather than just a toy cleaner.
Read on and you'll find out!
Don't get me wrong. This toy cleaner is top notch. It has knocked the
Evolved Advanced Smart Cleaner
out of the bathroom for toy cleaners, and has also knocked my usual everyday toy soap off the top shelf. It has so far been a very wonderful new product by Lelo. And if you want to get even more down n' dirty? I much prefer this over the
EdenWipes
too.
And I am not really a Lelo fan.
But, I have become a Lelo-products-other-than-sex-toy-fan.
Let's get the nitty gritty out of the way...
What's in the bottle? Aqua (Water), Propylene Glycol, Phenoxyethanol, Decyl Glucoside, PEG-7 Glyceryl Cocoate, PEG-12 Dimethicone, Sucralose, Sorbitol, Zinc Gluconate, Zinc Acetate, Zinc Lactate, Chlorhexidine Gluconate, Citric Acid, Disodium EDTA, Benzalkonium Chloride
How much is in the bottle? About two fluid ounces, and when you spray it, it is a clear liquid.
Is this a spray n' wipe or a spray in rinse product? Technically this is a spray n' wait five seconds n' wipe with a soft lint-free towel. But I think that is a little on the gross side not washing all the lube and bodily fluids off, so I spray then I "n" wash with water. And to compare it to the Evolved Advanced Smart Clean and EdenWipes? I am not quite sure how to explain it... but my toys actually "feel" cleaner.
And I am one of those people who like to get all my toys squeaky clean.
What is special about the bottle? There are two "o" rings when you unscrew the cap making it highly unlikely that it would spill or have a leaking issue. The inner portion of the cap has some sort of silicone or strange plastic making it slip free and it actually requires a little effort to remove the lid. This is a spray top like almost every other toy spray or body spray type of bottle. Making this my new favourite bottle to travel with. I hate loosing my bottle lids in my suitcase!
What are my impressions about the bottle and packaging? It is a very "KISS" bottle. Simple, elegant and you can leave it anywhere. On the back are various languages about the directions and the ingredients. The box it came in was just a simple white box with some special features on the back. Special features such as; "Lelo's Antibacterial Cleaning Spray contains active anti-microbial ingredients proven to kill 99.9% of all germs, while the addition of zinc salts reduces any chance of irratation. Containing additional anti-viral and anti-fungual properties with a pH balanced formula, this easy-spray is the safest and most effective choice for all your toy cleaning needs."
What can I use this cleaner on? It is designed for your all your sex toy needs when it comes to cleaning. My Fairy Mini Wand loves this stuff!! I just spray it on, wipe around with a tissue, then take a wet towel and wipe again. My insertable toys as I mentioned before feels just more squeaky clean as well. But as for my secondary use of this spray... well... it is going to sound a little strange but, living in China is a little on the dirty side, and when you wear sandals, your toes and toe nails are exposed to lots of... well not so nice things especially when you have to use squatter toilets. This spray is really nice to use to spray on my feet especially around my toe nails before I sleep at night (yes, I do wash my feet each night, but this is that little extra oomph!). I've used it under my arm pits if I don't have time to shower before I go for a dinner (applying deodorant when you are already hot and sweaty from a days work just doesn't work and this seems to work).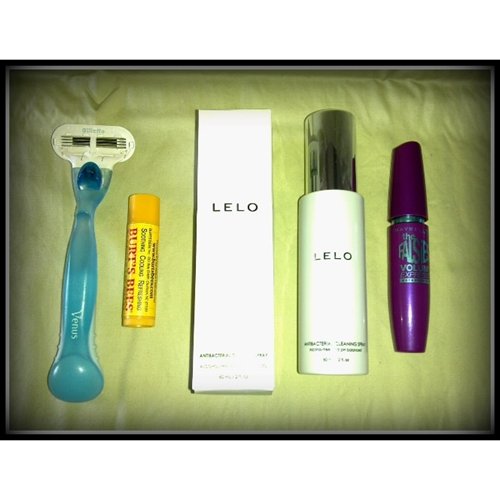 And as always... Venus Razor with an original head, tube of Burt's bee's Lip Balm, Lelo Packaging, Lelo Spray, Maybelline's Falsies Mascara.
Experience
Sorry to burst your bubbles, but I am not going to taste this stuff. Nor am I going to snort this.

I have decided to give this stuff a five out of five star rating. Simply because- sure. The scent kind of sucks, you get a waft of it when you spray it. But you are not going to wear this as a perfume. But what really has me giving this a five star, is that water is the first ingredient where the Evolved toy cleaner lists water as the last ingredient.

I have actually just placed an order for another bottle of the spray, and I've still oodles left in my original bottle. I do not want to be without, and I plan on taking the original bottle with me while I travel over the summer, the new bottle will stay at home for when I return.

Can you tell I like it?

As a side note; I bought this from a company in Shanghai along with some Lelo Personal Moisturizer. Both of these bottles/packages say, "Manufactured for Lelo in PRC" and PRC of course means, "People's Republic of China". I know many people have issues with buying items manufactured in China, so if this is an issue with you, please be aware of this.
Follow-up commentary
4 months after original review
The pump bottle is still fantastic!!! The product itself... well... once it was gone I was not very sad. It was a fantastic product and if it were not so pricey, I'd order some more.

This content is the opinion of the submitting contributor and is not endorsed by EdenFantasys.com

Thank you for viewing
Antibacterial toy cleaning spray
– toy cleanser review page!