Chic & Clean
Looking for a discreet toy cleaner? Lelo's antibacterial cleaning spray is the perfect solution. Simple yet classy packaging, easy to use and no need to rinse off after use, this toy cleaner is as simple and convenient as it gets. The packaging alone makes this a great gift option as well.
Published:
Pros:
Travel friendly, great gift, no need to rinse off, anti-bacterial, hypo-allergenic
Cons:
Household cleaner scent, contains Sucralose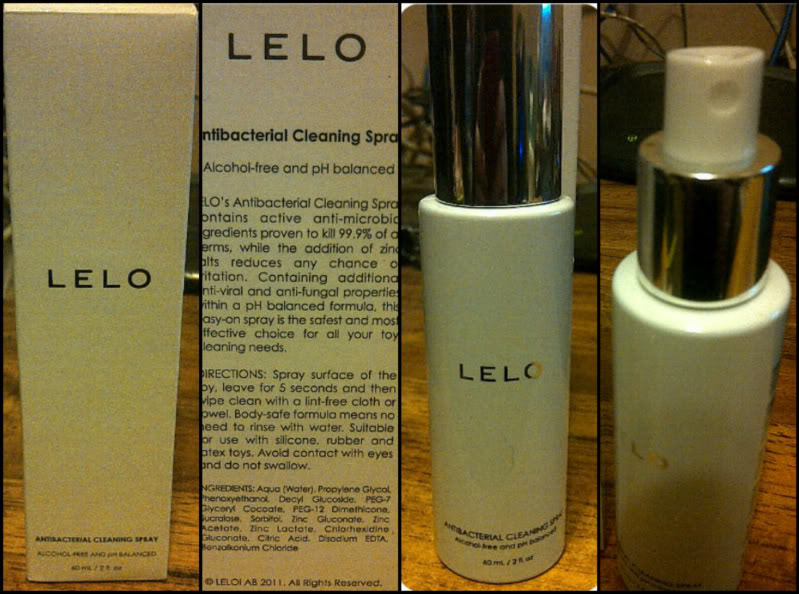 The latest from the company that's been known for high quality, luxury, rechargeable toys is an antibacterial cleaning spray. With Lelo having such sleek designs for their toys, I really wasn't surprised at the simple yet classy packaging for this cleaner, I was surprised that it's taken them this long to release their own cleaner!
Discreetly packaged in a shiny, white, thin, recyclable box, is a 2 oz bottle of toy cleaner. This antibacterial cleaning spray is only available in the 2 oz size. The front of the box features the company name in silver lettering and smaller lettering at the bottom stating that this product is an "antibacterial cleaning spray" and that it is alcohol free and pH balanced. The right side of the box features a picture of the bottle enclosed in the outer packaging. The left side of the box features a description of the product in 4 different languages.
The back of the box displays all of the information that you would want and need to know about this cleaner. Featured at the top of the back of the box is the Lelo name written in silver lettering with a detailed product description below that is as follows: Antibacterial Cleaning Spray. Alcohol-free and pH balanced. "Lelo's antibacterial cleaning spray contains active anti-microbial ingredients proven to kill 99.9% of all germs, while the addition of zinc salts reduces any chance of irritation. Containing additional anti-viral and anti-fungal properties within a pH balanced formula, this easy on spray is the safest and most effective choice for all of your toy cleaning needs."
Although this product description states that it will kill the majority of germs, please keep in mind that some materials are porous and cannot be completely sterilized so the safest way to keep things clean if you plan on sharing your toys is to also cover them with a condom or a toy cover, both are available on Eden.
Directions:
Spray surface of the toy, leave for 5 seconds and then wipe clean with a lint free cloth or towel. Body safe formula means no need to rinse with water. Suitable for use with silicone, rubber and latex toys. Avoid contact with eyes and do not swallow.
Ingredients:
The ingredients are listed as:
Aqua (Water)
Propylene Glycol
Phenoxyethanol
Decyl Glucoside
PEG-7 Glyceryl Cocoate
PEG-12 Dimethicone
Sucralose
Sorbitol
Zinc Gluconate
Zinc Acetate
Zinc Lactate
Chlorhexidine Gluconate
Citric Acid
Disodium EDTA
Benzalkonium Chloride
This cleaner is suitable for anyone who is looking for a cleaner that is both convenient and discreet. The white plastic bottle features the Lelo logo in silver lettering with "antibacterial cleaning spray" in finer black print at the bottom. The reverse side of the bottle does feature a product description in 5 languages, including English in fine black print on the reverse side, it's the same product description displayed on the outer packaging and it does state that it is safe to use on toys, which in my opinion is the only mention that would make this product less discreet.
The shiny white plastic bottle has a metallic silver cap that removes to reveal a nozzle that you press down to release cleaner. The cleaner releases as a sprayed mist which is nice because I found that with only 2 sprays, my toy was evenly covered in cleaner. I didn't have any issues with the nozzle jamming or being stubborn. After the mist was sprayed onto my toys, it didn't quite foam or lather up but it did turn from clear to white but that seemed to disappear as quickly as it appeared. I chose not to rinse my toy afterwards because as the description states, that isn't necessary and I experienced no irritation at all. It didn't leave my toy sticky, gummy, tacky and it also left no visible residue on the surface of my toy.
Since then, I do rinse it off after letting it sit on the toy and wiping it down because I really don't like the smell of this cleaner. The cleaner is clear in color but it smells like household cleaner and that's the only con that I have with this product. It smells slightly like any spray cleaner that you would use to clean glass around the house, it isn't an overpowering smell but I definitely wouldn't say that it's a light scent. The scent is noticeable enough to annoy me and I prefer to rinse the cleaner off after using it.
If there is any concern regarding sensitivities to this product, before trying it out on your toy I would recommend doing a spot test on your skin. I did this since my skin can be very sensitive and it did not irritate me at all and left no sticky residue on my skin either.
Experience
This works wonderfully as a toy cleaner and with the simple yet classy packaging, it's one that I would be happy to gift. Aside from the fine print stating what toys it's safe to use on, the packaging doesn't scream that it's anything sex related. The convenience of not having to rinse toys after misting them with this sanitizer seemed like such a great bonus but the off putting smell was enough for that convenience to no longer be an option for me. I'm sure the scent won't bother everyone, some may be like me and detest it while others may either like it or not mind it. If you don't mind the scent, spray this cleaner onto your toys, let it sit for 5 seconds and there's no need to rinse! The expiry date is printed on the bottom of the box and the bottom of the bottle. My bottle expires 7/14 so this cleaner has a decent shelf life and personally, mine will probably be used up or close to it by the time the expiry date rolls around.
Follow-up commentary
30 days after original review
I've started to like this more, the only reason I had rated it an initial 4 stars was due to the household cleaner smell that this toy cleaner has. Since then I have just decided to rinse it off after use and that problem has been eliminated. It's a wonderful cleaner and the best part it how discreet it is!
This product was provided free of charge to the reviewer. This review is in compliance with the FTC guidelines.

Thank you for viewing
Antibacterial toy cleaning spray
– toy cleanser review page!