Bring out your toys
The fast drying discreet cleaner by Lelo is the healthy choice for cleaning silicone, rubber, and latex toys. It prepares the toy for play by preventing the growth of bacteria and viruses and not causing any irritation to sensitive skin.
Published:
Pros:
Maintains the "acid mantle", Travel size
Cons:
Pump resistance
I am a chemistry major so this review will be scientifically robust; however this is not a scientific article.
pH balanced
The
"acid mantle"
is a term for the acidic
pH
of the body that is naturally maintained, e.g. the vagina ranges from 4 to 4.5. This protects the skin from bacteria and retains moisture by preventing the damage of the fatty tissue. By being pH balanced, Lelo's Anti-bacterial toy cleaning spray does not disrupt the "acid mantle". It is really important because the purpose of the cleaner is disinfecting against bacteria and viruses.
Scent
Yes, it smells like a cleaner. Is that enough for it to be a con for me? No. It's a cleaner that is specifically fragrance-free. That's ok because there are no irritating fragrance ingredients or the downside of an off-putting fragrance.
Size
The bottle is 4" long and 1 1/4" wide. It looks like it could be a small container of hair spray or body mist. At 3.2 oz, the cleaner is lighter than a deck of cards. I would love if it came in a larger size because I can already tell that I'll be going through it quickly. However, the size itself is not a con because I knew that I would be buying 2 fl. oz (60 mL) of quality toy cleaner.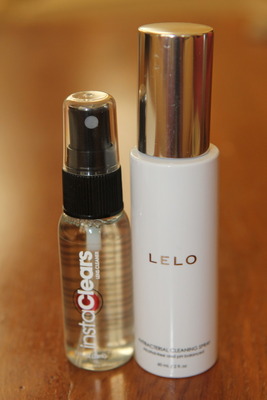 Comparison of instaClears lens cleaner (1.1 fl. oz) to Lelo toy cleaner (2 fl. oz)
Price
Buying the Lelo cleaner for me was an investment in a stable, anti-viral & anti-bacterial spray. Additionally it doesn't expire until July, 2015 (almost 3 years). As a luxury product, I expected high quality and a degree of discreetness in regards to the packaging and aesthetics. I would gift this product to the host of a play party, a bachelorette party, etc.
Ingredients
"Alcohol free"
is defined as free of the skin-drying class of alcohols: ethyl alcohol (ethanol); methanol; and isopropanol. However it does contain good chemically-defined alcohols, sorbitol and propylene glycol.
The main ingredient and base is water (aqua), stabilized by
sucralose
. I wouldn't agree with sucralose being a con because this product is not meant for ingestion and chemically it helps keep the product from expiring quickly. Zinc gluconate, zinc acetate, zinc lactate, are zinc salts meant to reduce irritation. The rest of the formula is comprised of chlorhexidine gluconate; phenoxyethanol; citric acid; disodium EDTA; decyl glucoside; PEG-7 glyceryl cocoate; PEG-12 dimethicone; and benzalkonium chloride.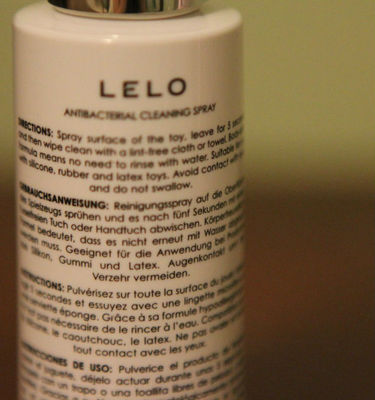 How to Use
If you are concerned with allergies, test out the spray on the back of your hand to see if there is any redness. The
directions
are printed rather small on the back of the bottle in five languages.
To clean the toy, spray and wait 5 seconds before wiping clean with a lint-free cloth or towel. I caution against spraying this in your eyes or swallowing it. The cleaner is "suitable for use with silicone, rubber, and latex toys" (
Lelo
). There is no mention of plastic, glass, and other non-porous materials. I haven't tried it out yet to prove otherwise.
This product does have multi-purpose potential as my mentor
Woman China
discovered in her
review
. I get the bang out of my buck by using the Lelo's cleaner to spray down my medical grade silicone
Mooncup
.
Pump
My only con was how much resistance there was to pumping the spray. It's an annoyance when cleaning on a regular basis. As a small perk, the pump does have a indented arrow that points in the direction of the spray; this could be handy in a low-light setting.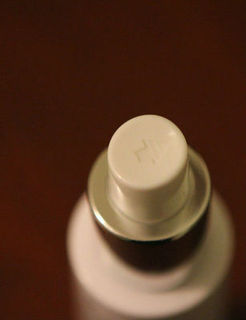 Experience
The first time I used Lelo's cleaner, my hands were too messy to, uh, be dexterous (-5 to DEX). So with the coordinated efforts of my forearms and teeth, I managed to take off the cap. Then I had the common sense to wash my hands. I doubt that anything less than direct puncturing-like pressure would leave marks. I am carefree tossing this into any bag without it leaking because the cap is snug and the bottle is durable.
To recap on the scent:
As mentioned in
Kate
's
review
, rinse the toy after spraying it if the scent bothers you.
Follow-up commentary
2 months after original review
I would use this product again with a caveat; I will only buy this product at a reduced (sale) price rather than full price. For only 2 oz., you are paying about $4.50 per ounce. That can add up, especially (like me) if you manage to accidentally pour most of the contents. Since I didn't get the chance to run out of the cleanser over the course of regular use, I don't know how much longer it would've lasted.

I've found that butt plugs require approximately 2-3 sprays and larger toys up to 7 sprays, usually because there is more lubricant associated with the latter. Perhaps it is worth the investment if you have: mostly anal toys, a non-waterproof vibrator, or a small toy collection (less than 5). Until the Before and After toy cleaner is back in stock, I am going to stick to my guns and continue using this product.

This content is the opinion of the submitting contributor and is not endorsed by EdenFantasys.com

Thank you for viewing
Antibacterial toy cleaning spray
– toy cleanser review page!