I'm a Lelo "lite" fan
Tried lots of lube and still cannot find one that makes your vagina happy? Try this really expensive lube by Lelo!!! And yes, it is ridiculously expensive. But if you are like me, and have spent a lot of money trying to find something that won't cause oodles of problems, make you smell or make you itch funny, this might be something that could work for you. I have fallen in love with it... but I hate the price.
Published:
Pros:
Fantastic product leaves your skin soft
Cons:
Ridiculously expensive bottle (but great product!!!)
Shhh!!! Don't tell anyone!! That I am not a Lelo toy fan. Their toys in my opinion are not worth it. I get their toys in my home, use them a few times, and then realise they weren't worth it. Now on the other hand, it all started with the
oil
. I got one, then I proceeded to buy all three. Then there was the
toy cleaner
where I just was not happy with just one bottle so I bought two. And god help me if I ever buy one of Lelo's candles.
Screw it. I'd just buy all three in the same order to make life easy.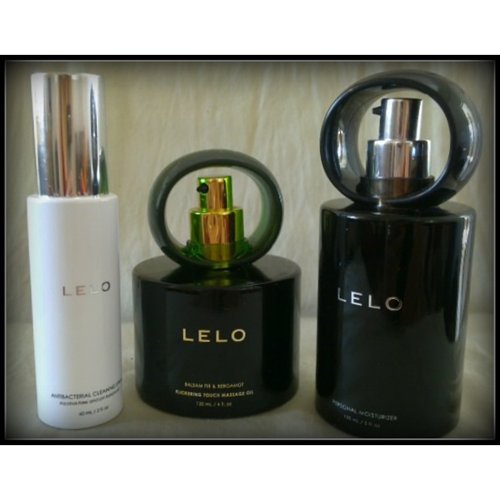 But heaven help me. I tried the lube.
I searched, trying all sorts of water based, paraben free and glycerine free lubes. But I live in the desert. It's wicked dry here. So
Sliquid
and
Probe
the healthiest choices in my opinion when it comes to lube just couldn't last in the dry climate. The only way those two worked for me as lubricants was if I had a jar of water beside me. Thrust, thrust, dip. Thrust, thrust and dip.
Now I am sorry to tell you, but that is just hilariously distracting and prevented me from achieving my goals!
Finally I settled on Fun Factory's "Toy Fluid" and that lube is fantastic!!! The only issue I found with Toy Fluid was the slight tingle-burn from the glycerine. Then after regular use, I noticed my natural lube started to get thicker and a not so familiar scent wafting up from my nether regions. It was then I realised I had to try something new otherwise I'd be forced to do the dance of thrust, thrust, dip for the rest of my life here in Inner Mongolia.
So I tried Lelo's lube. I bit the bullet and gave it a whirl. And I liked the big bottle so much I bought the little bottle too (it arrives on Wednesday!)
So what's inside: Water, Propylene Glycol, Hydroxyethylcellulose, Aloe Barbadenis Leaf Juice, Sodium Benzoate, Potassium Sorbate, Tetrasodium EDTA, Gurana Extract, Ginseng Extract, Avena Sativa Extract, Polysorbate-20, Aspartame, Polyquaternium-5, PEG-45M, Citric Acid.
How much is inside: 5fl.oz in the larger bottle and 2.5fl.oz (the 5fl.oz is the one in all the pictures).
How long does it last: usual masturbation sessions last between thirty minutes to an hour, and I apply lube practically as soon as I begin to play. And I do not need to reapply. This is one of those lubes that mix really well with my natural lube making the combined lube last even longer.
How do you feel afterwards: If I play in the morning after my shower alone or with a partner and I use lube, ladies you might know what I am talking about. All day long you feel, silky wet. If you shave, that moisture goes over your labia causing lots of itchies when you finally get home and get to air or bathe. But I do not find this with the Lelo Personal Moisturizer. I find that just a quick wipe with a tissue is more than enough to feel clean, and I run around, get dressed and mad dash out the door with no problems through the day or in the evening. I feel clean, dry, soft and just like I usually do.
Packaging/Dispensing of the Lube: A picture is worth a thousand words...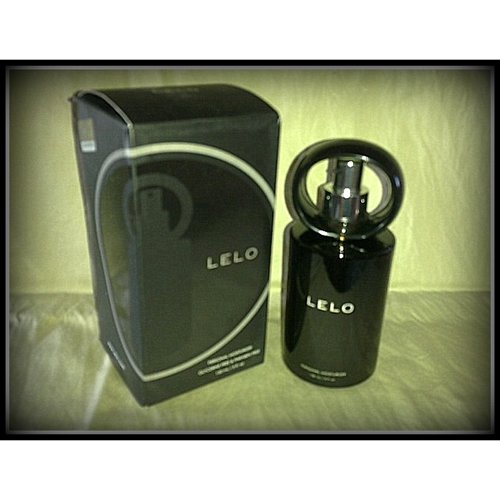 The bottle is made from glass, not plastic and has a pump lid. Which is so nice compared to the flip tops of other brands and products. It can be a little on the messy side if you are no paying attention. I find holding the bottle at about a 45degree angle works best for a no mess play. But the bottle is made from glass so it will be very slippery if you have lubed hands. I know my smaller Lelo Lube will be used for travelling and partner play, and the pump action bottle will be for my solo play time.
I spoil myself with pretty things!!! Who needs diamonds and pearls!!! Lube in glass bottles is all I need!!!
Ease of cleaning: It's really easy to clean my toys or me after using this lube. Cleaning me, just a tissue or a baby wipe is all I need, and cleaning my toys, I just clean them as I usually do. Lelo Toy Cleaner and hot water.
Using this lube: Just squirt it. This stuff is safe to be used with latex condoms and with all materials found in toys. I have yet to try this lube with a partner but as when I do, I'll write about it in the follow-up review.
Experience
Here you have it... Venus Razor with an original head on the left, a tube of Burts Bee's Lip Balm, the 5fl.oz glass bottle of Lelo Personal Moisturizer and a tube of Maybelline's Falsies Mascara.
Two more things before I run away, I do not notice any scent with this lube, and the taste is similar to the bitter vegetable at the local vegetable stand.
And lastly, there was a very good reason why I waited so long to buy this lube. It's friggen expensive!!! But I had to learn my own body, and what I liked and did not like about various lubes.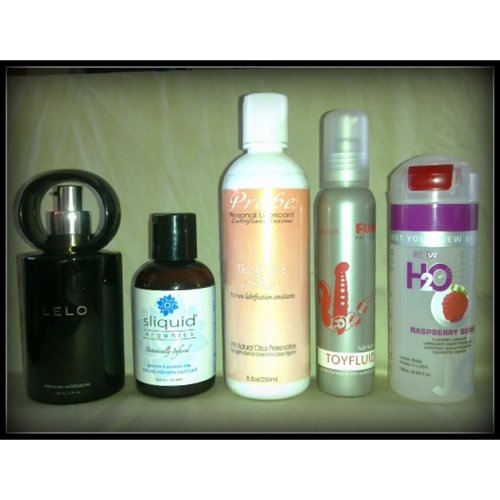 I had to learn that the System Jo products cause me have a yeast infection but makes my innards feel like silk. Toy Fluid burns a little and caused a not so pretty scent and changes in my natural lube. Probe is like mozzarella cheese on pizza all stringy it's great fun!!! But dries up too quickly. Sliquid is a phenomenal lube but it dries really really fast.
I lied. I have one more thing to tell you. The outter box said, "Manufactured for Lelo in PRC" and PRC of course means, "People's Republic of China". I know many people have issues with buying items manufactured in China, so if this is an issue with you, please be aware of this. But this could just be mine as I bought mine from a company in Shanghai.
Hope this helps you!
If you have any questions, please feel free to drop me a message or leave a comment here.
I rate this product five out of five stars. But if I could? I'd knock three stars off of Lelo's Rating just because there is no reason that this lube should be this expensive. No reason at all. It is like we are buying a really cool bottle for 25USD. Which is not worth it. Come on Lelo! Get a plastic bottle with a good pump spout, slap a twelve dollar price tag on it (or even fifteen) and you'd have taken over the lube world!!!
Follow-up commentary
1 month after original review
I am still in love with Lelo Personal Moisturiser.

AS I mentioned in the review, I've both the smaller squeeze style container and the bottle. I find I have kind of put the bottle to the side and forgot about it in favour of the squeeze one simply because it is just so much easier than the glass jar. The glass bottle gets slippery trying to take the lid off with lubed up hands and then pressing the dispenser down does take a little bit of work.

If you are thinking about getting this lube, unless you are wanting something beautiful, I'd suggest the plastic squeeze container for 12.99USD. Just so much easier.

But, that bottle is just so pretty and yes, I still love it!!! My favourite lube!


This content is the opinion of the submitting contributor and is not endorsed by EdenFantasys.com

Thank you for viewing
Personal moisturizer
– lubricant review page!