Middle of the Road
As far as lubricants go, this one is middle of the road. It's not great, it's not terrible. It does have a slight edge above other similar lubricants because it is paraben and glycerin free.
Published:
Pros:
Paraben and Glycerin free
Cons:
Sticky
Doesn't last long
I was delighted when I received a sample of Lelo's lubricant when I purchased my Mona 2. I'm always on the lookout for a good lubricant and really wanted to give this one a try and compare it to other lubricants.
I'm not going to go over the ingredients. You can get that from the product page. What I am going to tell you is how it compares to other lubricants, starting with this photo. You may have already seen this photo or one similar from me. It's good for comparing viscosity. I put the same amount of each lubricant on a dish and tilted it upwards for about 5-8 seconds. The fact that the lubricants are arranged from most runny to least runny wasn't planned. It was just serendipity.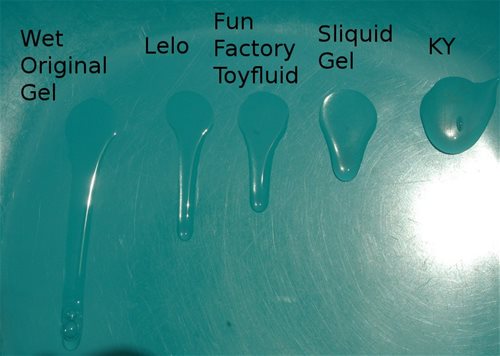 As you can see, the Lelo is a little more runny than the gels, but of course. They're gels. As far as liquids go, it's in the middle. But how long does it last? Comparing it to other liquids, I did the following test: I put a small amount of the Lelo lubricant in my palm and rubbed until it was gone. I repeated this with the other liquid lubricants. Keep in mind that in the moist atmosphere of the vagina, the lubricants will last longer. This is just to show how they compare to each other. Here are my findings:
Lelo: Sticky and soapy* after 30 seconds.
Very
sticky after 1 minute. Mostly gone and left a very sticky residue by 1:30.
Wet Gel: Reduced amount and soapy at 30 seconds. Lots of friction at 1 minute. Gone and leaving a slightly sticky residue by 1:30.
Fun Factory Toyfluid:
Very
soapy at 45 seconds. Sticky at 1 minute. Very sticky residue left at 1:30.
*By soapy I mean bubbly and slightly sticky. Think putting liquid hand soap onto dry hands and rubbing. Similar effect.
As you can see from this (probably very unscientific) test, the Lelo didn't really perform any better than other lubricants and left a sticky residue on my hands.
So, then of course I used it as intended. I mean, after I got done playing with it on plates and such. I used it with my Tantus Splash, and found that it didn't really blow me away. It was very runny and didn't last all that long. I found it's just not any better than other liquid lubricants. The only thing that puts this lubricant above others is the lack of parabens and glycerin, which of course is a plus for any lubricant.
This content is the opinion of the submitting contributor and is not endorsed by EdenFantasys.com

Thank you for viewing
Personal moisturizer
– lubricant review page!