I've all three... And I still don't have a favourite!!!!
OH MY GOODNESS where do I start? This is the best body oil/moisturiser and massage oil I've ever used in my life. They say the more natural you go, the better the results. I've never beleived it till I used this oil. The scents are light and enticing and never over powering. But be warned. You might not be able to stop at buying just one.
Published:
Pros:
AMAZING!!! not greasy, great for oily skin, light fragrance
Cons:
ummm... it comes in a too small container!!!! Utterly addicting.
Ok. I love this stuff, and I want to spill all telling you all the glorious details of each and every scent of the Lele Flickering Massage Oils. Cause yes. The biggest negative thing about this oil is that it is addicting and you might not be able to stop at just having one.
So! Technical details!!!!
Ingredients: Apricot kernel oil, grape seed oil, jojoba oil, perfume and 24 karat gold flakes. Naturally rich in vitamin E.
Constancy: thinner than olive oil
Size: 120mL or 4 fl. oz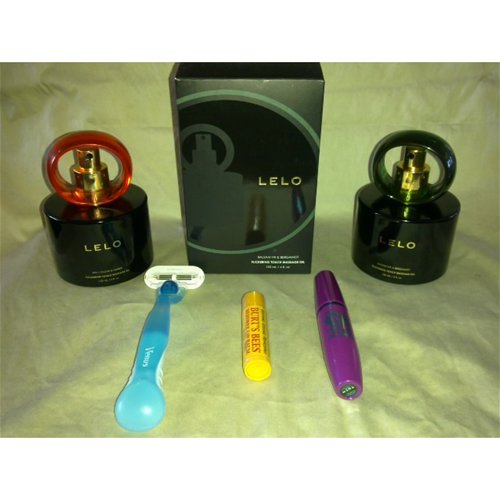 I know I can never tell just by looking at sizes, I need something to compare it too, so here you have a Venus razor with a regular head, Burt's Bee's Lip Chap, and a tube of Maybeline's Falsies Mascara. My apologies, but I loaned out the Lily & Musk to a friend the other day!
Three Scents: (borrowed from the Lelo website)
1) Fresh Lily & Musk: 'Perfectly balancing dark and light; deepen your desire with the fragrant bouquet of fresh lily contrasted against an earthy base of rich musk' The top notes are indeed floral, fresh out of the bottle and the initial application of the oil you can smell the lilies. The scent that remains is on the fresh earthy scent, not quite the scent of a fresh rain on earth, but something similar. Best used from Spring time to early Autumn due to it's summerishy floral scent. I did find that when I used it in the summer time, that I had less than the average mosquito bites compared to some of the other lotions I've used. I have found this one has the least amount of gold flecks.
2) Spicy Clove & Amber: 'Soft and seductive; loosen your inhibitions with the double dare of spicy clove atop a sensual bottom note of amber' This one made me homesick as I first used it just before Thanksgiving and made me think of home and the scent of my kitchen as I prepared our Thanksgiving and Christmas meals. It's definitely got a festive air to it! It reminds me of the old pumpkin pie spice for the top note, with a touch of sweet as the base. The longer you rub the oil into your skin, it seems the more the top and bottom notes combine. For me, I love fragrances and because of the unique combination of notes, I continue to return to this one when its cold. Best used around the holidays and in the winter time. This one has the most gold flecks.
3) Balsam Fir & Bergamot: 'A recipe for romance; arouse and awaken to the cool summery embrace of Italian bergamot with a cedar finish of balsam fir' Originally when I was thinking of buying this one, I thought it would have the fragrance similar to the scent of a fresh rain on a cedar grove. Let's just say it doesn't smell that way. Out of the three, it is the lightest and freshest scent of them all. Or as some might describe scents, the cleanest. The top note is almost a fresh and earthy sweetness with a base note of a more cedarishy/woodisy scent. But this one, because of its clean and freshest scent is great all year round. It's light and airy and simple enough for summer, and woodsy enough for winter as well. It's got about a medium amount of gold flecks.
A bottle should last you for about five months of daily use, or about a year of weekly back massages. I know that math doesn't work out well. But... it takes about eight drops (not pumps) to moisturise my whole arm, and about one and a half tablespoons for a proper thirty to forty minute back massage by a professional. Sure, you can get away with less oil if you massage it in all the way or don't have as long as a massage.
The coloured caps remove by simply pulling up, and you can either pump the oil into your hand, or twist the pump off, and pour it into a little dish so you don't run the risk of accidently dropping the glass bottle. For the thick black glass bottle is very slippery when it has oil on it.
When you apply the oil to your skin, your skin will absorb the natural oils so very quickly, leaving your skin feeling like skin really should feel like. Soft, clean and slightly scented. The gold flecks, are not like other body shimmers, or Burt's Bees Radiance Body Lotion, they are not so noticeable. They are more like the rest of the product are light and subtle. Never noticeable in direct light, but more noticeable in indirect lighting from a candle.
Experience
How do I love thee Leleo Flickering Touch Massage Oil? Let me count the ways!!

I've got very wonky skin. Oily in some areas, dry in others. I live in the deserts of China, and at the moment our humidity level is about 18% when where I used to live outside of Toronto was about 60% was the normal daily humidity level. I've tried so many different lotions, potions, changed my diet, you name it??? I've tried it to get my skin looking great.

Then I tried the Lily and Musk. It was the first time I had directly used oil on my skin. I had always thought that oily skin, you need to remove the oil to get clean skin. I went out on a limb and applied the Lelo oil. And by golly gee whiz wow wee!!! I was so happy I did! My skin in a matter of minutes, drank it up, leaving my skin feeling better than it had in ages!!! I applied it to my shins where I was driest, and was amazed that I was no longer itchy! So after using it for about a week I did some research and learnt that actually, oil on oily skin is one of the best things you could do!! Check out using olive oil and castor oil on your skin!!!

And then? Well then I bought the Spicy Clove and Amber, and then the Balsm Fir and Bergamot.

When I have worn this, and did some activity where I sweated, you know how sometimes lotions make you feel gross and even more sweaty? This stuff doesn't do that.

I don't think I should have to tell you that this is not something that goes inside you and not a lubricant, this is topical use only.

Ok. Ok. Ok. Everyone has mentioned it in all the reviews. They all say that this is a wee bit too pricey for such an amazing product. You know? I disagree. In this one instance, you are paying for what you get. I've heard people talk about Lelo products say "you pay for what you get". I've bought this product and the Isla from Lelo. Right now? They are batting 50-50. Everyone has spoken about the quality of Lelo items, but this is the first product I've had of theirs that makes me beleive it. And when I am out of each bottle? I do have plans to buy more!!!!!

And as for natural products? This one product has made me change my mind to go more natural in all my products I use on my body.

If you are on your lonesome, light some candles, fill the tub with your favourite bath salts. Soak, relax. Then lather yourself up!!! Or better yet? Have someone else lather you up!!!!!
Follow-up commentary
1 day after original review
I've had all three scents of Lelo's Flickering Touch Massage Oil. And to try to explain how amazing it is, I loaned Fresh Lily & Musk to a friend on Wednesday. I was ok with it as the bottle was almost empty (I could get maybe two or three more 40minute professional massages with it). I knew that I had to start thinking of getting a replacement bottle sooner rather than later.

Damnable friend.

She has decided to keep the rest of the bottle and has ordered all three scents for herself, and a replacement bottle for me as a thank-you for introducing this massage oil to her.

Ok, so she isn't quite so damnable, but I was hoping to use the purple one tomorrow! But I get a brand new bottle out of the deal.

Yes. It is that good.
This content is the opinion of the submitting contributor and is not endorsed by EdenFantasys.com

Thank you for viewing
Flickering touch massage oil
review page!