Yes!!! This is nice.
I am moving up and this one actually works for me! The Boosty is flexible and able to be moved back and forth to get inserted. It feels really good in place. I am able to have great sensations from the Bubbles. After you have explored a little I would suggest this one, use lots of lube and go slow. I have found that warming up with an orgasm or two definitely makes insertion of anal toys easier and I like the full sensations.
Published:
Pros:
Silicone
Cool Looking
Filling
Can be worn for extended periods of time
Cons:
Not for beginners
Boosty from Fun Factory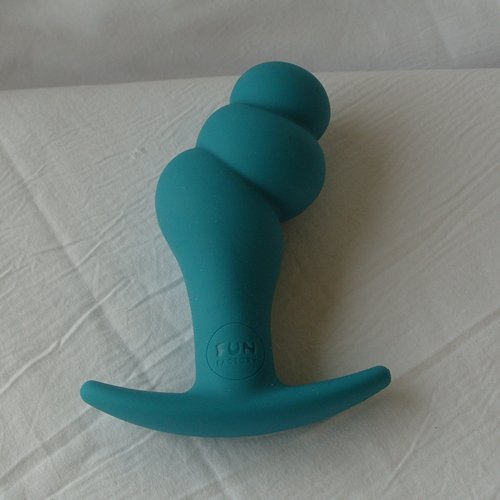 Use
Anal play fun for all! This isn't for beginners, give your self some time before getting this one. The silicone is much better than the glass as far as flexibility and ability to insert. Can be used for long term wear. Wear it for solo play or with intercourse! It has got the great flange so you don't have to worry about it going missing!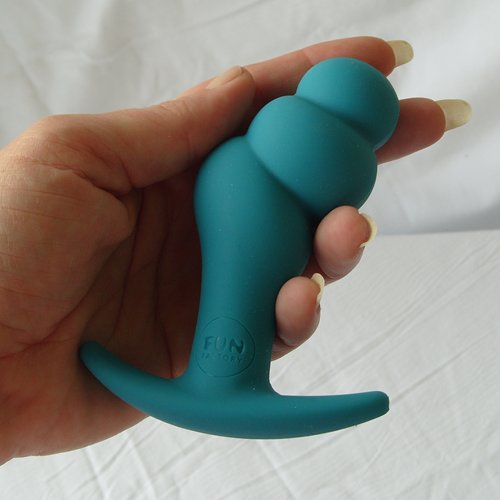 Material/Texture
Boosty is made form silicone, a 10 on the Eden safety scale. Food grade material, hypoallergenic, non porous, phthalates and Latex free. It is flexible and has give to it to make for easier insertion. It has the bubbles which lend to a nice type of popping sensation with insertion and removal. It feels good like the first times that you use the anal beads with the popping. Boosty has a soft feel to it, it isn't the sticky type of silicone. It does collect a small amount of lint and hair. It comes in the teal or black options. I didn't taste it and it doesn't give off any odors! It is completely smooth with the only textures being the two bulbs and the rounded top to the shaft.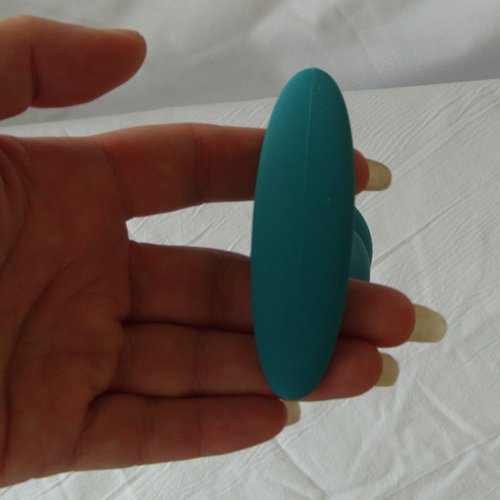 Size/Shape/Design
I wouldn't even know where to begin with the shape of boosty. It looks like an off kilter ice cream cone, that the ice cream is about to fall off the cone. Or, you could say that it has bubbles! Boosty is 4 ½ inches long with a 3 ½ inch insertable. Boosty has a diameter of 1 ½ inches in it's greatest. This is why the more advanced anal players would like this better than a newbie. He neck tapers down to a diameter of approximately 1 inch. The bubbles do lend for some movement and rocking from side to side for insertion. I am by no means experienced but I am moving up from my beginner status and this one works for me. Since it is flexible it doesn't seem to be such a hard task to insert. It stays in place nicely and doesn't seem to slip out like some of the straight ones do. The large flared base stops it from going to places unknown to non medical personnel. There is some drag to this toy, but you are going to be using lube anyway.
Care/Maintenance
Silicone is so easy to care for and since boosty doesn't have any motors you can throw this one in the dishwasher, boil it, wipe it down with a 10% bleach solution. You can use your toy sprays, anti bacterial soaps and water, and you Eden Wipes. The ridges where the bubbles meet aren't very deep and they are easily cleanable. Since it is silicone be sure to store away from your other silicones so they don't mate and ruin each other's finishes. Use only water based lubricants again so that your beloved toys don't get ruined.
Packaging
The fun factory has got neat packaging. I like the boxes and such because it seems like I am getting a gift. The outer sleeve has a picture of boosty on it and it slides off to the inner box with the fun factory logo on it and "your perfect moment" written on it. The inside of the inner box is red and Boosty is housed perfectly in the box. There is a flyer with info about fun factories other toys included. I thought that most of the fun factory toys came with a sample of lube but this one didn't.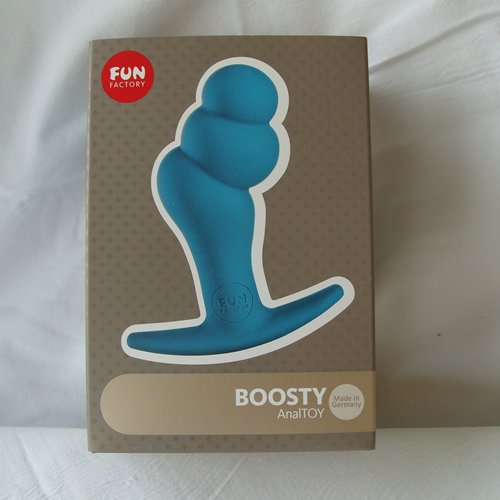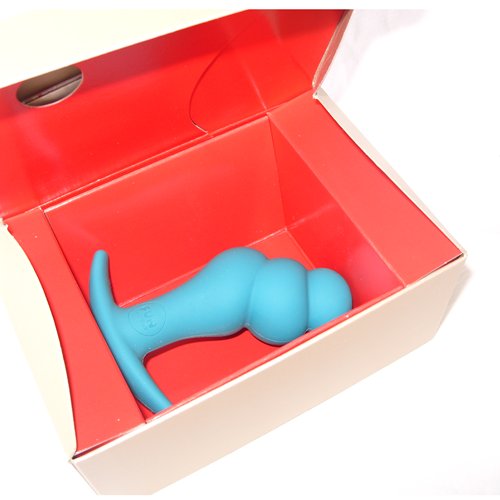 I am one of those people that initially I try to keep the toys in their packaging but this usually fails about after the 3rd or 4th use then they end up in baggies just because of my laziness. The I know which toys I haven't used a lot because they still live in their packaging.
The size of boosty lends to easy traveling and packing. TSA may know what it is, but really, do we care about what they think and they will never see us again.
Experience
As far as anal toys go I am more at an intermediate stage and the Boosty is a great toy and worked for me. I have had glass toys that I cannot insert at this point and time. The flexibility of the silicone makes it easier. I am not in anyway knocking the glass, every material has it's sensations as well as good and bad aspects. I like this one!! I will continue to try with my glass because I like the sensations of that one too!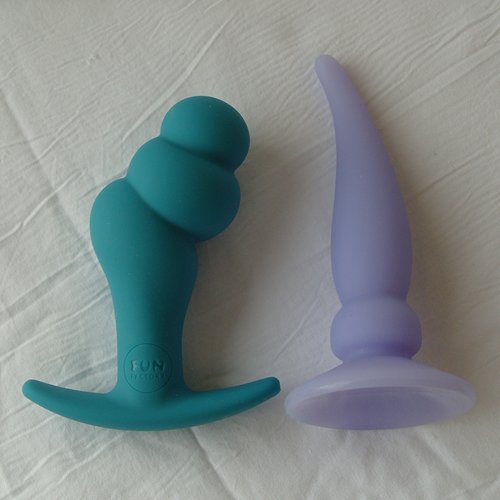 Picture is a comparison of one of the pieces to the Beginner anal Kit from Eden Fantasy.
Follow-up commentary
4 months after original review
This one really is my absolute favorite play toy, it has give to it for comfort with insertion and wearing. You can wear this one for extended periods of time. cleans up easily. I would suggest this one for everybody!!
This content is the opinion of the submitting contributor and is not endorsed by EdenFantasys.com

Thank you for viewing
Boosty
– butt plug review page!