Aluminum Revolution
Overall, the Alumnia Revolve was a great introduction into the world of non-vibrating toys for me. It's easy to care for and can be combined with other parts of the Alumnia line to make A SUPER DILDO. [or rather, one you may enjoy all around.]
Published:
Pros:
Easily cleaned, can be used with other Alumnias
Cons:
Bit on the weighty side
The 411
The Alumnia Revolve is a interchangeable body-safe aluminum [aeronautic-grade] dildo. If you were lucky enough to pick up the other parts in the Alumina line, they are able to play along with the Revolve via unscrewing whatever part you want to take off the Revolve and add on parts from the Alumnia Flow and Motion dildos. This creates a customizable toy to your liking. It is shiny and more pinkish in color. Unfortunately my camera didn't play all that nice with it and made it out to be purple-y. Keep in mind that this aluminum is very rigid and has no "give". You're not going to be able to squish it like you would a soda can.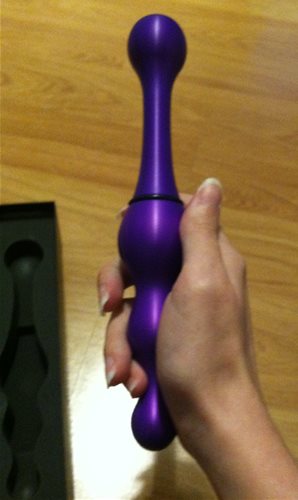 The dildo's got some weight to it, and might even work out as a weapon if you need it. *wink* It is 8 1/4" total in length with 8" of it being insertable. The diameter of the larger bulbous end is 1 1/8" while the diameter of the graduating "bubbles" end is 3/4", 7/8", and 1 1/4" (listed smallest to largest)
The Revolve is temperature play friendly, and holds onto heat and cold well. I found it even held on to my own body heat upon removal from my cunt. Revolve is both vaginal and anal friendly, but it does not have a flared base. Make sure you are keeping a grip on the toy when playing anally.
Packaging
The packaging of the Revolve is in a few words: reusable, pretty & minimal.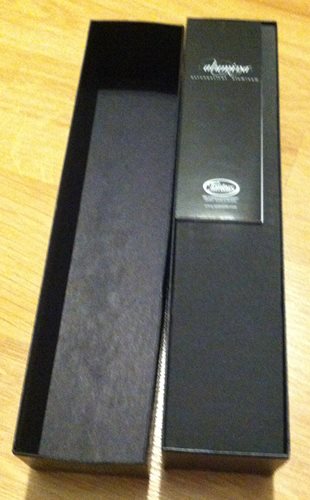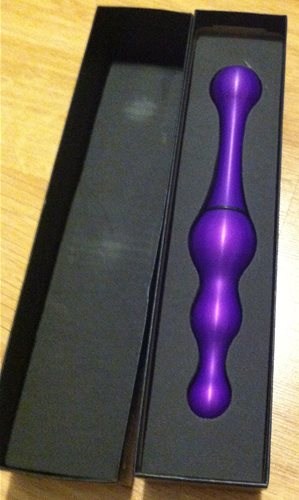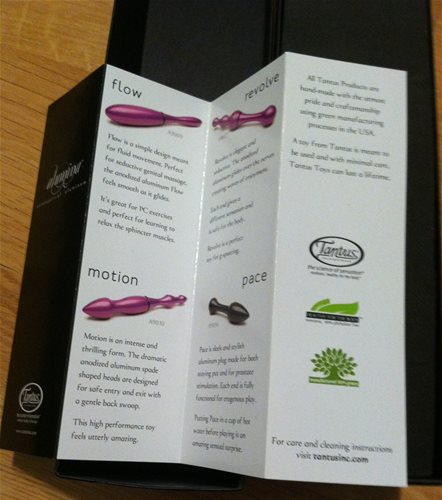 A outline of the toy is on the top of the case, so it is not discreet at all. Lifting the case exposes a small folded booklet of the other toys in the Alumina line and a small blurb from Tantus about the Alumnia line itself. Picking up the foam cover reveals the Revolve nestled in a foam cut out.
Classy!
This packaging is also good enough to keep around as a storage unit for the toy to keep it from being bumped around by anything else you may have.
Care & Feeding
Care & Feeding of the Revolve is pretty simple, being it is non-porous and made out of aluminum, you have a few choices. You can clean it with warm water and anti-bac soap or place it in your dishwasher's top rack, without dish soap of course.
Revolve is friendly with all lubricants so choose your favorite and go to town!
Functions / Noise
The Revolve has no vibrating or moving parts, there are no functions to play with nor does it make any noise. This would be a discreet toy in regards of playing with others around.
Experience
The Alumnia Revolve was my first dildo ever. I come from a long line of using vibrating toys to get off so this was definitely a change of pace for me. I quickly learned that like a lot of women, internal stimulation is unlikely to get me off as the sole player. I found the single bulb end extremely underwhelming. It was like pop it in and..."That's it?" and I really didn't feel it after that. The "bubbly" end had more texture and feeling and really enjoyed playing with that end. To get off though, I had to pair the Revolve with my
Fairy Rechargeable
. Not a huge deal. Being the Alumnia line is now no longer in production by Tantus, I'm kind of sad I will not be able to get my paws on Flow or Motion to try out other Alumnia parts. I do however, feel pretty rad owning the last Revolve in existence.
This content is the opinion of the submitting contributor and is not endorsed by EdenFantasys.com

Thank you for viewing
Alumina Revolve
– dildo review page!