Blue Balls in a "Frame" Without Claim to Fame
This set of flexible, yes somewhat rigid TPE beads have an unusual shape that some may like and others will not. The beads are very close together, and the gaps do not stretch, so no "popping" sensation will be felt. The set is rigid enough for thrusting, which many enjoy. The strong handle is a plus, but material and pointed penetration bead may not be comfortable for some.
Published:
Pros:
Sturdy Handle, Will not break, no string to transfer bacteria
Cons:
"Frame" structure uncomfortable, TPE somewhat porous, no "Pop" when withdrawn
This set of anal beads from Cal Exotics has a different style than many other anal bead sets. The beads are set close together, and there is a ridge up one side of the set. This ridge looks as if the beads were free spinning on a frame of some kind. Although it might feel great, I cannot imagine the cleaning nightmares if the beads on this set
were
free moving. The beads and frame are, thankfully, all one piece. The set is all one translucent color and material and look different than the picture in the product page.
The set is about 8 inches in length, with about six inches of this insertable.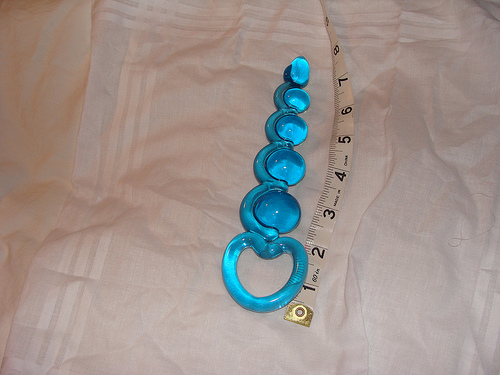 The beads are graduated in increasing size as you insert the set. The first bead, which is slightly pointed, is about 2 inches in circumference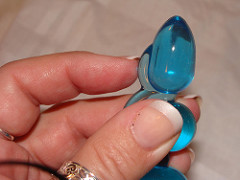 and the largest bead is almost 5 inches in circumference.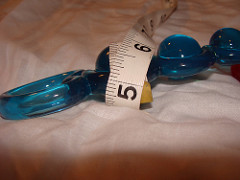 The beads have a sturdy handle, in a pretty heart shape at the end of the set. Large or small hands will have no problem fitting into this handle and keeping a good firm grip on the set of beads. The set is fairly rigid and although flexible, does not stretch
between
each bead. However, thrusting is possible with this set, which is not with more floppy beads. Those who enjoy thrusting more than "Popping" during withdrawal may prefer these beads to others.
This set of anal beads is made from TPE (thermoplastic elastomer) They are translucent, have a hardness somewhere between silicone and hard plastic. TPE is more porous than silicone but less so than rubber or jelly. If this toy were to be shared between partners or if one wanted to try vaginal penetration
after
any anal penetration, even if the toy was washed, a condom should be used to prevent contamination or transfer of bacteria. My blue set was first washed with Cal Exotics Toy Cleaner then with hot water and soap before the first use by me. I find that hot water and soap is the best cleaner for most anal toys, with toy wash a good second, as long as the toy is cleaned with soap and water before being stored or used again. Due to material and many crannies in this toy, thorough cleaning is recommended after each use.
I store my beads wrapped in a cotton handkerchief, then placed into a large toy chest. I don't like my toys to touch each other, because of both contamination issues and due to possible problems with materials breaking down when in contact with other, similar materials and the issue of color transfer with some materials. The product comes in a rigid, molded clam shell plastic package. This is an easy open snap to close package and may be used for storage of the toy.
I use only a water based lubricant with this particular set of beads. TPE is often a proprietary blend of plastics and I don't want to take chances with silicone, oil or any other lube except water based.
As this is an anal toy, lubricant is absolutely necessary to prevent tearing or harm to the anal tissues. Vaginal use is probably going to be prohibited or at least uncomfortable, due to the pointed end of the beads and the length of the beads. Also, the girth of the first few beads one would be able to insert may not be satisfactory.
Experience
I found I could, personally, only insert about 3 to 4 of the 5 beads on this string. The material not only gave a lot of drag, even when well lubricated, but the "frame" along one side of the set made smooth insertion difficult.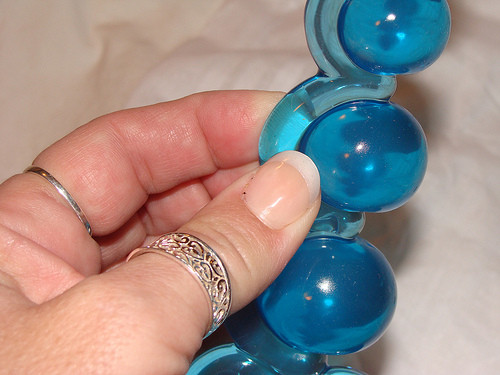 The beads were very close together, they were not actually touching each other, but with the "frame" holding the beads together, there was not as much relaxation of the anus between each bead. I find one of the most thrilling aspects of anal beads is the difference in sensation between the stretching to let each bead in and then the body relaxing as the space between the beads allows. Also, when beads with space between them are withdrawn, there is often a perceptible "Pop" that is quite arousing. Unlike
Beaded Probe
the set below
X10 Silicone-TPR Beads
, also by Cal Ex, has the spacing and stretch and thus "Pop" sensation I am describing.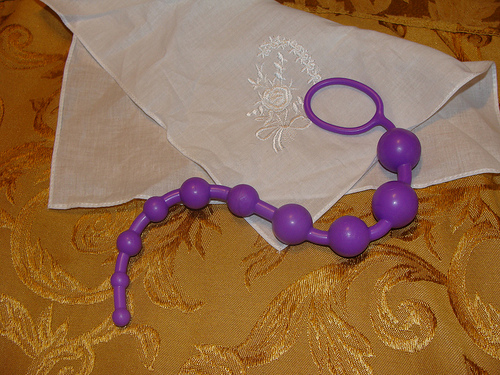 I prefer this other set.
The frame part of these beads, plus the pointed tip were not terribly uncomfortable during use, as some reviewer found them to be in their trials, but I did find myself slightly tender after use, which is not common for me after usage of toys of this type. Usually, I know if a toy is going to be uncomfortable during use, and the discomfort afterward surprised me a little. My guess is it was a combination of the pointed end of the first bead and the rather strange configuration of the "frame" structure going long one side of this set.
The TPE of this toy is very pretty, and reminded me of a set of jelly beads I no longer use, but I really prefer silicone or other nonporous materials for anal toys. Also, in my opinion, these beads would probably be more comfortable if the "frame" wasn't present. However, the handle was very satisfactory, the length and size of beads was good for most intermediate to advanced anal players, and even those new to anal play could probably use only the first bead or two with comfort, with of course a good dose of lubricant and plenty of warm up.
I will love to give these beads a 2.5 rating, due to material and the rather uncomfortable frame, plus the lack of stretch and "Pop." I'll be generous and give these a 3.
Remember that these beads, due to material, which if firm, lack of stretch between the beads and the frame structure holding the beads together, feel larger than they look. One should take ones' time with these beads as one should with any toy, particularly anal toys.
Follow-up commentary
4 months after original review
Sadly, this Beaded Probe sits at the bottom of one of my toy chests, lonely and awaiting the day when I may want to be probed or poked by it.

The lack of space between the beads left me rather unimpressed, as I like the sensation of relaxation between beads, as well as the classic "Pop" when beads are extracted. This set did not provide either sensation.

Also the "ridge" along the side of the toy. shadowing each bead, was found irritating and only added to the difficulty in feeling the sensation of each individual bead, one at a time.

I think it's a pretty toy (if only I had the kind of home where I could display such item) and I like the handle, but a toy also has to feel good in order to bring something to bed with it. This one left me cold and is rarely, if ever used by us anymore.
This product was provided free of charge to the reviewer. This review is in compliance with the FTC guidelines.

Thank you for viewing
Beaded probe
review page!