Perilously Prickly Probe
I wanted to like this toy. It is made from a high grade material which is a plus. Also it looks really nice as well. Unfortunately that is where the positive side of things end. The shape is unlike other massagers and not in a good way but the worst part of the design has to be the nodes.
Published:
Pros:
Made of Silicone, has a handy finger loop to keep hold of during use.
Cons:
Far too textured, uncomfortable in use, my partner even found it uncomfortable when used vaginally.
-Packaging-
Having had a bit of experience with prostate toys in the last few months I was delighted to be chosen to review the Silicone Prostate Probe from Cal Exotics. The toy arrives in the type of packaging that several of Cal Exotics toys have arrived in lately. It is a clear plastic box with the toy displayed in the front and some specifications on the back. I am happy to say it was free from over the top crude imagery or language that can adorn sex toy packaging. It also mentions that the toy is endorsed by a "Dr Joel Kaplan" and features a picture of him. For me this was a bit of a bad omen as I previously tried a stroker from a range he endorsed and found it lacking.
-Material/Specifications-
The toy is made from silicone which is one of the best toy materials available. It is medical grade, non porous, hypo allergenic as well as being free of latex and phthalates. This makes it very safe as it doesn't absorb bacteria into it. This is a huge plus when it comes to anal toys as there can be a lot of bacteria involved with anal play. The feel of the material is really smooth and it has a fair amount of bend to it however there are several nodes running along a two inch portion of the shaft and some of them are quite pronounced. There is also a noticeable seam running the length of it. It has a segmented head and then nodes before some ribbing and finally a loop for a handle. My initial impression was that it was a slim toy and looked really good. My only concern was the nodes might be a little unforgiving internally because they have little to no give/softness. The specifications for the probe itself are as follows.
Overall length = 8 ¾ Inches
Insertable length = 8 Inches
Circumference at widest = 3 ½ Inches
Circumfence at slimmest = 3 Inches
Loop/Handle diameter = ¾ Inches
-Use-
Before I tried using it for the first time my partner said she wanted to try it. Being that it looked more like a dildo than a prostate toy, both she and I were curious as to how well it would work on a woman. As described by her, despite it being quite slimline it is extremely uncomfortable to use. While she had it inserted the nodes rubbed very uncomfortably against the vaginal walls. The head did provide a little stimulation but this was more than offset by the discomfort of the heavily nubbed and textured shaft.
As for use anally.... Well I as I mentioned above I have had a fair bit of experience with prostate massagers/stimulators lately. This is unlike any of them. For starters there is no curve to it at all. Nor is there any kind of bulbous head to it. I started off by lubricating it with a water based lubricant. It is important to only ever use water or oil based lubricants as silicone lube on silicone material can break it down over time. I tried to insert it slowly and with plenty of lube but once in past the nodes it is a little uncomfortable. While it did stimulate the prostate a little bit the distraction of the nodes detracted hugely from it. In the end I had to reach for a better massager. I wanted to like it but sadly I just think the design is flawed.
-Care-
Once finished with a silicone toy cleaning should be simple however the design of the toy makes it very difficult. The ribs are very deep and tend to hold onto dirt and lube. Hell even the nodes accumulate dirt. I tried washing it with warm water and soap as I have done countless times with my partners smooth silicone toys however when I dried it I found a lot of residue both in the ribs and around the base of the nodes. The only way I found of cleaning them is to use a cotton bud/q-tip to get into the hard to reach places. Being that this toy is designed primarily for anal use I think having a lot of little nooks and crannies for dirt to hide is a bad design. Being that this is silicone you can boil it to sterilise it and it is also top rack dishwasher safe.
For storage we find a zip-seal style sandwich bag works best as it keeps it from attracting dust (which all silicone seems to do). Additionally this keeps it from reacting with any other materials or toys.
Experience
-Summary-
What I think it might be useful for is some style of bdsm play. While that sounds strange the nodes are actually uncomfortable enough to hurt a little and might be nice if you like that sensation. I wouldn't consider myself an advanced anal player or anything but both my partner (vaginally) and I couldn't use this toy comfortably. I have to say given the material it is good value but not great for its intended use. Added to that it is difficult to clean I can't really say I would recommend it. Perhaps there is a body type out there that this would suit but it isn't me. For my money I would say if you want a good silicone prostate toy and don't want to break the bank the
Lux LX2
Massager works infinitely better.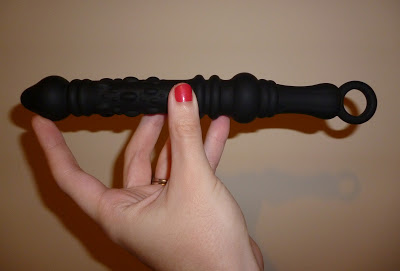 This product was provided free of charge to the reviewer. This review is in compliance with the FTC guidelines.

Thank you for viewing
Silicone prostate probe
– prostate massager review page!