Hit, Miss or Maybe
The Eupho Syn is the latest offering from Aneros' line of prostate toys. Designed with customer input, this makes a welcome change from the usual plastic massagers, and the silicone covering together with more flexible perineum tab make for a pleasurable experience on paper. While this doesn't feel bad once it's inserted, it's not going to give the instant thrills that some might want from an anal toy.
Published:
Pros:
Silicone, Good for beginners or advanced, Easy to care for
Cons:
Hard to get immediate results, Lint magnet
I've had a kind of on-off love affair going on with Aneros ever since I first discovered the company through EF. On the one hand, I like the erotic side of anal play, so big, forceful toys are a definite no-no, meaning that the Aneros products seem to be perfectly suited to what I like. On the other hand I'm interested in making sure I stay healthy 'back there', so anything that helps the prostate should really be a double blessing. The problem is that while Aneros make some wonderful items, not one of them have done very much for me.
The Eupho Syn is my third Aneros purchase and will almost certainly be my last. Having already bought both the
Tempo
and
Peridise Complete Set
, I found myself falling for the hype that is the 'Super O' - the elusive, Earth-shattering, body tingling Nirvana that Aneros claim can be reached with their toys. The problem is that it seems to take a lifetime of study perched alone on a rock in Tibet before you actually reach this point.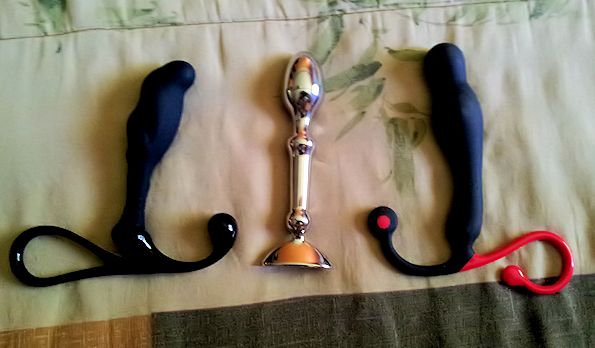 Janus anti-shock, Aneros Tempo, Eupho Syn
With an insertable length of 4" and a width that measures from 3/4" at the top to 1" at the mid (widest) point (and a mere 1/8" at the stem), the Eupho Syn is somewhat like a longer, slimmer version of another toy I own, Zini's
Janus Anti-Shock
. The Janus has proved to be a great buy as something to wear during sex but is a little too short to reach my prostate, so I was really hoping that the Syn would be even better since it has the extra length. Unfortunately it's not.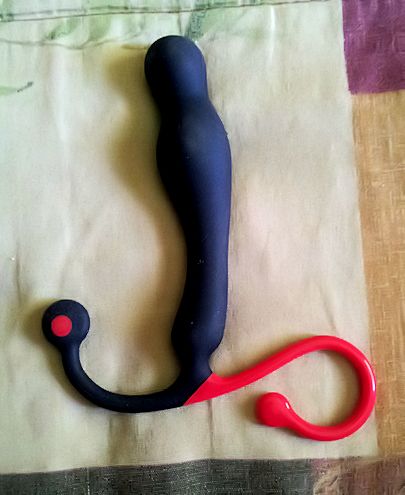 The Syn's internal core is ABS plastic, which provides the firmness of the toy. The black silicone outer has a very nice feel to it but it's a sort of rough, velvety texture rather than smooth. It reminds me a little of the top of the thumbpad on a Playstation controller. It's not what I expected, but it's very touchable - if you're holding this in your hand you just want to stroke it. You're still (obviously) going to need water-based lube with this. As with many of our silicone anal toys, Sliquid's Sassy Booty has become our go-to and it does a great job with this. The Syn is slim and unassuming enough to be good for newbies too, since it's about the size of a single finger.
Experience
There are some features that DO make the Syn stand out over the Janus though. The slight increase in length is one, as too is the silicone coated plastic that has a little more give to it than the Janus. Thirdly - and very importantly for me - is the fact that the perineum tab on the Syn is a lot more flexible and doesn't apply as much pressure. In fact that little ball on the Janus is probably the biggest let down for me since it quickly gets annoying (so much so that I've come close to just cutting the thing off). Thankfully the Syn's tab is far more comfortable and is actually a lot 'springier', which means you can focus more on what the toy is doing internally. While the tab is comfortable, both it and the looped handle mean that wearing this for extended periods can be a little difficult. I've found this to be more suited to alone time or a long masturbation session than as a butt plug. It
could
work as that, but it's going to get a little uncomfortable if you need to sit down.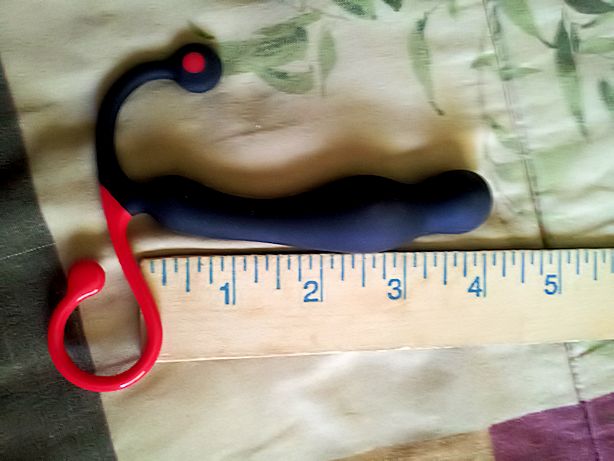 For some reason, Aneros seem to always suggest that the smaller/slimmer versions of their toys are for more advanced users. I think their idea is that larger toys are more likely to fill you or stimulate your prostate on their own, while the smaller ones require you (and your muscles) to learn how to work. The problem for me, as I've mentioned in other reviews, is that I can work my muscles very well but still can't get a result. Actually that's not strictly true, I can get a result from most anal toys but Aneros' products seem to be the exception. The irony is that although these aren't butt plugs, that seems to be the only way I can get the most pleasure from them.
This content is the opinion of the submitting contributor and is not endorsed by EdenFantasys.com

Thank you for viewing
Eupho syn
– prostate massager review page!