How Inciteful!
The smoothest, most ergonomic prostate or g-spot massager I've ever encountered, coupled with a sensual close-range leather flogger---not a combination I would have thought of, but it presents the best of two lovely worlds in one beautiful, responsible form. The handle provides lots of leverage for applying internal pressure, and it's well-balanced for throwing the heavenly falls. I can't think of a single improvement for this sensual sculpture.
Published:
Pros:
Beyond ergonomic design, responsibly sourced gorgeous wood and supple leather, best of two worlds
Cons:
Nothing---it's fully worth the price.
USE
The most sensuous and most finely constructed of all worlds---that's the NobEssence Incite (aka P-Spot Flogger). The incredible pressure you'll be able to apply to the p-spot or g-spot in your world with the wooden end is matched only with the sensuous thud your back muscles will accept at the hands of the twenty-eight soft leather falls. When administered by a gentle hand, the falls of the flogger feel like the most caressing, yet somehow discrete, back massage. Wielded by a hard-hitter, well, I can't tell you myself because I'm not that heavy of an impact player, but you can always ask
Kayla
.
I set my sights and saved up for the Incite flogger because, after falling in love with my
NobEssence Romp
, I really wanted to try their
Intrigue
, which is sculpted in a similar pressure-friendly form, but is balanced by a longer handle for additional leverage. Sadly, EdenFantasys discontinued the Intrigue---fortunately, the same shape I had been lusting after was still available, and for only $40 more, it comes with a supersensual second function! The discontinuation of the Intrigue was a blessing in disguise, because I've fallen hard for this flogger.
CONSTRUCTION
NobEssence sculptures are made of wood---no, you won't get a splinter. Before the wood winds up in NobEssence's skilled hands, it is responsibly sourced and harvested (you can read up about their practices on their website) so you may rest assured that you're not deforesting unique ecosystems for personal pleasure---and in fact, your pleasure is improving the ecosystems that the raw materials come from.
Once the wood is delivered to the workshop of NobEssence, master sculptors fashion the raw materials into brilliant designs. They display a better understanding of human physiology than any other company I can think of, because their designs are not only attractive, but somehow apply light pressure in exactly the most important places. Incite's gently gradual tip grows politely to a modest 1.5" at the widest, and then narrows again to let the muscles of your sphincter relax as you apply pressure within.
Once NobEssence's ingenious design is imparted to the wood, it is sanded to a silky smooth finish and coated with their trade-secret "Lubrosity" finish, which is hypoallergenic, body-safe, waterproof, odorless and tasteless, and completely splinter-proof. Because the finish is watertight, your personal moisture will never seep into the wood. If there was no coating, moisture would cause swelling and splintering over time, so this coating is very important---and even though NobEssence pieces are odorless instead of having the delicious scent of fresh-cut timber, it's worth the lack of scent to know the sculptures will last a lifetime.
NobEssence's Incite and
Provoke
floggers are made with the supplest leather falls I've ever felt. Finished on one side and sueded on the other, the divine smell and the soft, gentle, strong leather is the stuff of daydreams. The falls are collected and held inside the sculpture, and I can't see the retaining mechanism, or any telltale signs of it. The falls feel very secure. The falls of my Incite are 19", making this a good close-range flogger.
FLOGGING PERFORMANCE
Call me fanciful, but this MSRP $220 flogger is actually my first. It's not the first I've been flogged with, but it's the first I've owned, and the first I've ever thrown. This means I haven't thrown it at anything except my own shoulder-blades and a few pillows, so my flogging analysis won't be half as in-depth as
Kayla's
. I certainly was not striking hard enough to break skin or draw blood, and to be honest I'm not sure whether or not that would be possible with these soft leather falls. I would characterize the sensation as more thuddy and not-so-much stingy. If you prefer a sting, the Master Sculptor at NobEssence let me know that the falls are made with an extra inch of length, so that users can cut tips to suit their own stinginess desires. He suggested an \ angle cut, /\ v-cut, and \/ forked cut. I love mine so much as is that I'll be keeping the blunt tips.
I can say, from my limited experience, that Incite is the most sensual flogger I've ever been struck with (and that includes frayed silk rope, leather, faux-leather, rubber, suede of different weights, duct tape, and some others). Striking my own shoulder-blades was like giving myself a massage with perfect slappy pressure wrapped in a cashmere sweater. The gentle collision of the leather with my skin... in such a perfect pattern, making such a fitting sound...
It's going to take plenty of practice to become a master of this beauty, but as pleasurable as practice seems to be, I'm willing to invest a whole lot of time.
P-/G-SPOTTING PERFORMANCE
Applying pressure to prostates and g-spots is a realm
Experience
I can claim more mastery in, and as someone with a lot of g-spotting experience under her belt, it takes something special to make me shudder with bliss the way Incite can. Incite was sculpted with the same spot-seeking shape as the
Romp
, which means it is the most intuitive, logical, brilliant p-spotting shape imaginable. It is crafted basically as a truncated inverse image of the entry inches of the rectum, so you get pressure every place that matters. The tip is made in a teardrop shape for easy insertion, and the firmness of the wood coupled with the kind shape means Incite will make its way gently but surely.
When compared with the Romp, Incite actually has an even more gradual taper (though the pressure applying surface is the same size)---this makes me confident to say that as long as the receiver is comfortable with digital anal play, Incite might be a good first choice for a prostate massager. Here my (light/bambooo) Romp and (dark/teak) Incite are shown side by side.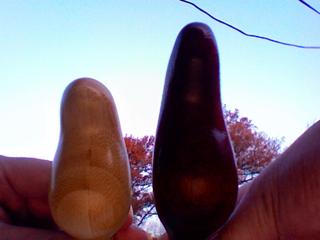 For g-spot application, the more elongated tip doesn't really serve any particular function, but it doesn't get in the way, either. As it sort of curves downward, it's pointing toward the PFE zone, and in me doesn't bother anything as I rock the bulge into my g-spot. Though, when I'm rocking the bulge into my g-spot and the inflection point nuzzles my clit, I don't think anything in the world
could
bother me.
CARE
NobEssence sculptures usually rest in a luxury box, but my P-Spot Flogger arrived wrapped carefully in thin white packaging paper. I didn't mind this---not being forced into a box meant my falls weren't crumpled upon arrival. To keep leather falls in good condition, they should be hung---I emailed NobEssence wondering which wood I'd received (your wood variety, while they're all beautiful and responsibly harvested, is pig-in-a-poke at EdenFantasys), the sculptor mentioned a leather sling should have come in the package. He offered to mail me one, so I'm impressed with NobEssence's customer service---but I went through the recycling and found the sling had been included afterall. It's very clever and convenient!
As far as cleaning, the Lubrosity-coated wood can be used with any lubricant, and easily cleaned with soap and water, or it can be carefully dipped in a mild bleach solution for sterilization (should you decide to switch to g-spot pleasure after having used it for p-spot pleasure, for example, or to switch partners). Take care not to get the leather falls wet or bleached. Happily, the inflection point in the wood keeps lubes and fluids away from the falls during use, so a little planning during washing should prevent any problems.
Leather can never be sterilized, so either keep Incite's falls away from fluids, or dedicate it to a single partner. Leather can be conditioned occasionally with a conditioner such as
Huberd's Shoe Grease
to keep it moisturized and supple. The leather falls of Incite are unfinished, and the suede undersides of the falls are prone to a bit of shedding.

FINAL THOUGHTS
I am so, so very happy with Incite. Pardon me while I go experience g-spot ecstasy, and then lull myself into a blissful afterglow with a sensuous leather massage. Oh---and I don't even have to let go!
This product was provided at a discounted price in exchange for an unbiased review. This review is in compliance with the FTC guidelines.

Thank you for viewing
P-spot flogger
– prostate massager review page!