The Most Wonderful Romp.
Perfect extended-wear anal plug, ideal dual-stimulation vaginal plug, gorgeous work of art---is there anything the Romp can't do? Handcrafted of responsibly harvested exotic wood, and coated with a body-safe, splinter-proof coating, Romp is a plug that will last a lifetime, and give you an immeasurable amount of pleasure with each use. After just one (long!) vaginal use and one (even longer!) anal use, Romp made its way into my Top Five Favorite Toys---and it's only getting better.
Published:
Pros:
Unparalleled material, brilliant design, vaginally and anally versatile, perfect for extended wear.
Cons:
Perineum bulb interferes with DP with a partner.
USE
The Romp is a magnificent creation from NobEssence. It is designed as a butt plug, but it can be used as a vaginal plug to great effect as well. The oblong teardrop shape is perfectly designed to stay in, applying perfect pressure to each of your spots, while the asymmetrical handle anchors Romp safely outside, gently massaging your perineum or clit. Not only does Romp feel like the best shape you've ever had inside you, it's a gorgeous work of art. Since I've had mine, I've been continually torn between slipping it inside me for the wonderful sensation, and taking it out to gaze upon its beauty.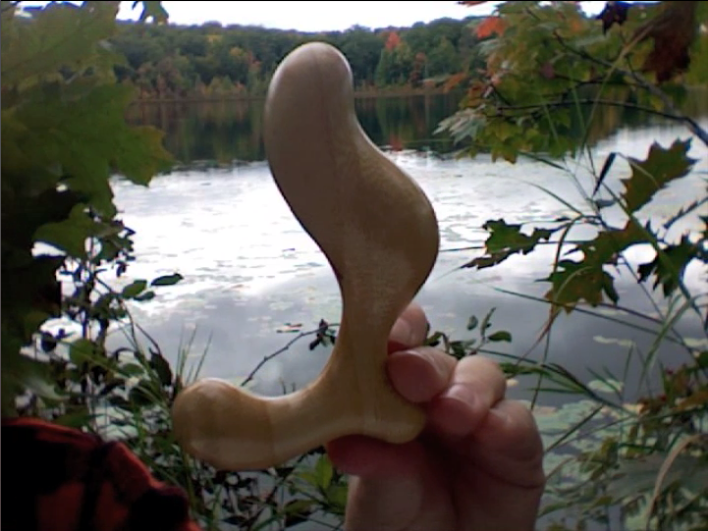 CONSTRUCTION
NobEssence sculptures are made of wood---no, you won't get a splinter, and I'll explain why. Before the wood winds up in NobEssence's skilled hands, they responsibly source and harvest it (you can read up about their practices on their website) so you may rest assured that you're not deforesting unique ecosystems for a little anal pleasure---and in fact, your anal pleasure is improving the ecosystems that the raw materials come from.
Once the wood is delivered to the workshop of NobEssence, master sculptors fashion the raw materials into brilliant designs. They display a better understanding of human physiology than any other company I can think of, because their designs are not only attractive, but somehow apply light pressure in exactly the most important places. The shape of the Romp, in particular, stands out for slipping resolutely yet gently into the rectum, where its shape (1.5 in. at the widest) matches the interior. Once in, it will stay in until removed, but will not go in further than you want. The handle also is perfect for applying gentle pressure, but it's short enough that it won't be felt when you sit down, nor will it be seen under clothing. The light weight of wood is perfect for an extended wear plug, as your anal muscles will not tire from holding the thin neck even across many hours. (I've worn it for eight, no sweat.) Somehow this shape is excellent as a vaginal plug as well---the neck is slender enough not to interfere with pubic bones, while the leading edge of the teardrop provides a light pressure to the g-spot. The perineum bulb tucks itself cozily but unobtrusively between the labia and rests just under my clit (I've got a low-slung clit), so that if I'm sitting I can rock forward for clitoral stimulation.
Once the master sculptors* at NobEssence have imparted their design to their raw material, it is sanded to a silky smooth finish and coated with their trade-secret "Lubrosity" finish, which is hypoallergenic, body-safe, waterproof, odorless and tasteless, and completely splinter-proof. Because the finish is watertight, your personal moisture will never seep into the wood. If there was no coating, moisture would cause swelling and splintering over time, so this coating is very important---and even though NobEssence pieces are odorless instead of having the delicious scent of fresh-cut timber, it's worth the lack of scent to know the sculptures will last a lifetime. Lubrosity can even be rinsed with a mild bleach solution for sterilization, though it should not be boiled.
My Romp is bamboo. At EdenFantasies, you get a random wood selection---and bamboo is my least favorite of the woods NobEssence offers (my
Seduction
, in padauk, is so rich and deep...), but I'm still impressed with its beauty. My padauk piece is carved out of a single block of wood, while the bamboo was carved of a laminate of 13 slices of bamboo.
*I emailed the company with a question, and their customer service was impeccable. The senior sculptor was the one to answer my question!
Experience
FINAL THOUGHTS
I'm pleased as can be with my Romp. I realize that this review sounds more like an advertisement than a review---maybe that's because I can't think of anyone who
wouldn't
like Romp (except for people who don't enjoy penetration). This plug is the best thing that's happened to my body since the
Seduction
and the
Medium Pure Plug
. The Seduction (aka "Smooth S Shape") is a dildo, though, not a plug, so it's hard to draw a comparison. Looking at the Romp and the Pure Plug, though---I have to say I'm growing to prefer the Romp for extended wear thanks to its lightness and its versatility to be used as a vaginal plug. I still love the Pure Plug though, and it's not going to be pushed to the back of the drawer---I think Romp and the Pure Plug will be sharing the spotlight where the sun doesn't shine. The one arena where the Pure Plug clearly stands out is for double penetration with a partner (romp-anal, partner-vaginal mode), because Romp's bulbed handle would interfere with a partner's shaft. When your partner doesn't mind (say your partner's the
Tantus Mark..?
), Romp does an admirable job nudging the dildo up into your g-spot. Romp does perform well for Romp-vaginal, partner-anal DP. For a male plug user, I can't think of a single drawback.
Invest in a Romp. Your body will thank you.
This product was provided at a discounted price in exchange for an unbiased review. This review is in compliance with the FTC guidelines.

Thank you for viewing
Romp anal toy single
– anal probe review page!