Pure eNjoyment of My Medium Plug.
Pure Plugs are the paragon of ergonomic butt plug design, and they're a joy to wear for extended use or for intercourse. The industrially sexy sleek steel construction is flawless, the weight is stimulating, and the handle goes unnoticed until you need it. The Medium size is perfect for use in double penetration or for those who like to push our butts' limits only as far as the average cock.
Published:
Pros:
The paragon of ergonomic butt plug design, sexy material, great for DP and extended wear.
Cons:
Cold insertions unless you remember to warm your Plug up.
USE
Njoy's Pure Plug series are the ultimate butt plugs. Their stainless steel construction and their ultimately ergonomic form, polished to a mirror finish, are the paragon of industrial chic. They feel amazing in your butt, too, both during insertion and while worn---whether you're wearing yours during intercourse or just out picking up the groceries. The shape is perfect for men and women---the gradual bulge slips in easily, the thin neck lets your sphincter close tightly while the head of the plug rests inside you securely, and the handle makes removal a breeze while also nestling closely between your cheeks. I don't notice the handle when I walk or even when I sit down---it anchors the plug outside my butt with no discomfort at all.
MATERIAL AND TEXTURE
All the Pure Plugs (the
Small
, the Medium, and the
Large
) are created of a supremely hygienic material (boil or bleach to sterilize, soap and water to clean) with great skill and attention to detail. Stainless steel of grade 316 is used for superior corrosion resistance and the ultra-sleek look that will send shivers down your spine the moment you pick yours up. (These are much prettier than a milk tank, even to someone who thinks bulk tanks are aesthetic.) The unforgiving texture makes for an incredibly smooth insertion---relax your muscles and the Plug will make its way. The Plugs are as smooth as glass, and insertion is a piece of cake even unlubricated (though you may use any preferred lubricant, from silicone to water to oil bases). The weight of stainless steel is another asset---the 200 grams of my Medium Plug are the perfect silent reminder as I walk through my day of the steel treasure inside me.
The only downside to a stainless steel plug, for me, is that the room temperature that the plug settles to is downright chilly when slipped into the ass, so I have to remember to bring mine to the shower with me in the morning. If you enjoy temperature play, of course, the specific heat of steel is an asset---warm or cool to your tastes in a bowl of water, and let your ass shiver or melt. To me, it's a small hassle, but one well worth surmounting for the amazing feel of the plug.
PACKAGING
I'm not typically one to keep my toys in their original packaging, but I do keep Njoy's stylish yet sturdy black matte box with a formed, satin-lined cradle for the Plug around. It protects and showcases the Plug nicely.
DESIGN AND SIZE
In my opinion, the Pure Plugs are the ultimate butt plug design. Tapered for insertion, tapered for removal, but satisfyingly secure due to the short slim neck. The handle does exactly what a handle should---it goes unnoticed until I need to use it. I've worn this plug for 8-hour stretches, and never experienced chafing, whether I'm sitting, standing, walking, or even exercising. It stays in well for me during intercourse and orgasm (as a female) and can even help to nudge my partner's penis into the g-spot. A male should be able to wear the Pure Plug during sex as well. Every position I've tried has been a success.
Now, on to the big question. I visited a brick and mortar shop to compare the Pure Plugs before I was ready to make my purchase, because I couldn't tell (even from the "View Real Size" pictures) whether I wanted the Medium or the Large. Seeing them side by side immediately answered my question, and while I know hearing it second-hand isn't quite the same, we don't all have access to brick and mortar shops. So here's what I saw, and why I chose the Medium:
Experience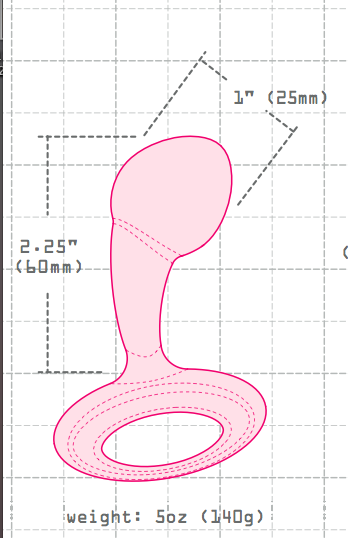 The Small is very small. If you are new to anal penetration but you want the highest quality toy, this should be your choice. The bulb is about the size of a finger, though. Personally, if you ever intend to work past finger-sized insertions, I would advise you to work up with lesser toys and then buy an Njoy in a size that you know will last you a lifetime.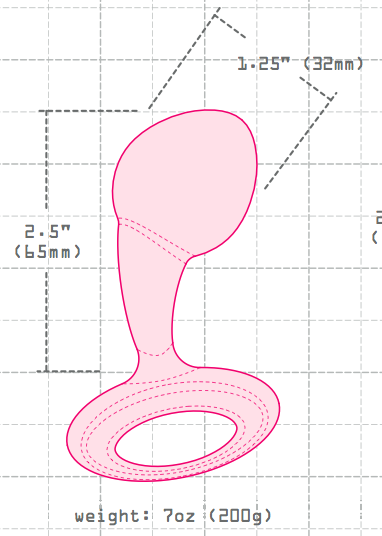 The Large and the Medium are closer in size---at least it looks like it, when you see the pictures of all three plugs together. But in person, they're really quite different. Both are for people who have had things in their butts before, whether beginners' plugs, fingers, or penises. Both should easily be accommodated by anyone who has received anal sex before. Personally, I'm able to take the Medium with no warmup, but had I chosen the large, I would find it necessary to work my way up with a finger before each use. I would say that the Medium is similar to an average cock, and the Large is similar to an above-average cock.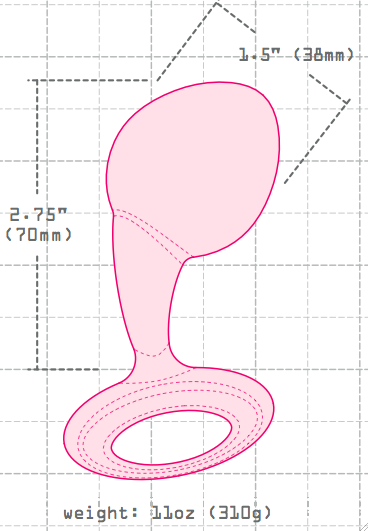 If I wanted a plug only to wear out and about, I might have chosen the Large. I have a personal preference, for no real reason, not to use anal toys that are much larger than an average penis, though, so I might have defaulted to the Medium regardless. But the biggest reason I chose the Medium is that I wanted to be able to wear my Pure Plug during sex. No other reviewers of the Medium or Large had addressed this, but it was the biggest concern I had before I made my purchase. When I saw the Large in person, I knew that vaginal penetration while the Plug was in would be way too cramped. I didn't want to deny access to my partner just because I had a plug in, so the Medium was definitely the only way to go, for me. If you're a size queen, whether vaginal or anal (and then you might want to look at the
Pure Plug 2.0
), the Large might work for penetration for you. Personally, I can't handle more than 1.75 inches vaginally and only slightly less than that anally, and to have 1.5 inches of an unforgiving material at the same time as a penis just wouldn't have felt good. And I really wanted to feel good---so Medium it was, and boy howdy! does it feel good.
(Images are from Njoy's website.)
PERFORMANCE
The Medium Pure Plug is the final word in butt plugs, for me. I may never need to buy another one, because this suits me perfectly for extended wear, for use during sex, and in terms of owning such a purely sexy chunk of steel. If you enjoy hard materials, and you enjoy anal play at all, you should not be without a Pure Plug, in whichever size suits you. I know I'll never let mine be far from my side (or insides!)
Follow-up commentary
7 months after original review
I can't imagine my life without my Medium Pure Plug. I don't think I'll ever need to graduate sizes, as this one is perfect for
very
extended wear, and for use as a double penetration plug.
I've shown my Pure Plug off in several other reviews---I tried the
Love Pacifiers Teardrop
, and was reminded of exactly how perfect the handle of the Pure Plug is. It nestles between the cheeks and is completely unnoticed during use. By contrast, the handles of some plugs prevent sitting down or walking around:
I have another plug which I love, the NobEssence
Romp
. Both the Pure Plug Medium and the Romp have a place in my heart and ass, but the Pure Plug comes out much more often when double penetration is on the menu.
I will recommend this to anyone and everyone, male or female, as a first plug (after you've warmed up to finger play, of course). The construction is immortal, the design is perfectly suited to the human body---the Pure Plug Medium does everything right, and I love it.
This content is the opinion of the submitting contributor and is not endorsed by EdenFantasys.com

Thank you for viewing
Pure plug medium
– butt plug review page!