Shed A Tear Over This Handle.
While the tapered tip and beautiful bulge of the body-safe Teardrop feel wonderful for insertion and removal, the handle makes this Love Pacifier uncomfortable for long term wear. This silicone plug is well-made: with no seam and an ideal firmness for an anal toy, the Teardrop would be perfect if only the base was less ostentatious.
Published:
Pros:
Romp-shaped, firm body-safe silicone, tapered for insertion and pressure.
Cons:
Base too big for sitting or long term wear; lube skitters off; one color.
USE
Of all of California Exotics' body-safe silicone Love Pacifiers line, the Teardrop appealed to me most because its shape is similar to the NobEssence
Romp
. Though the Romp looks fantastically ergonomic for anal play enthusiasts with and without prostates, is on the expensive end of the spectrum. The pocketbook-friendly Teardrop struck me as a great way to find out if I liked the shape, and it has turned out to be quite a nice plug in its own right---except for the obnoxiously large handle.
Though the Teardrop is thoroughly enjoyable, it is not a master-of-all-trades like the
Njoy Pure Plug
. Its large base with perineum bulb is noticeable in use---which means I recommend the Teardrop only for uses where you won't mind a handle. Even when a pillow is used for cushioning, sitting with the teardrop is not very comfortable. I feel the base as I walk, as well, and though there's no seam to chafe, it's not the most comfortable sensation in the world. If you really want to use this particular Love Pacifier for extended wear, it's certainly possible, as the handle is not visible under clothes. As a female, I need to take the plug out before I can use the bathroom, though, and that might dampen the extended play enthusiast's excitement. For all the base's drawbacks, it does serve the important function of preventing the plug from being ejected or sucked in during orgasm. Sadly, for me, the perineum bulb does not actually make contact with my body---it just kind of hangs out in space. A male might find it to work well, but for me, it might as well not exist.
Because of the large base, the Love Pacifier Teardrop is best suited to partnered play, or for wearing during sex. A giving partner can easily insert and withdraw the Teardrop for a receiving partner resulting in pretty nice sensations. I enjoy the Teardrop best when worn during sex or when using a dildo, though because the handle is bulky I like it better in 'passive' positions than in 'active' ones. I assume that a man wearing the Teardrop would prefer to be ridden as well, though your mileage may vary.
CONSTRUCTION
Silicone can be a hit-or-miss material for anal toys, for me, because if a plug is too flexible or too squishy, insertion becomes a headache instead of a pleasure. The Love Pacifier Teardrop did not let me down for insertion---the silicone is firm, and I can not compress it with my fingertips at all. Insertion of the Teardrop is incredibly pleasant---the nice taper up to the 1.25" bulge of the teardrop eases your muscles to their task, and the thin (0.5") neck gives them something to grip once the Teardrop is inserted. Removal actually felt nice and natural, as well, which is not always the case with butt plugs. The only difficulty I had with removal and insertion of the Teardrop was that the neck between the teardrop and the handle is rather bendy (only because of the slim diameter). It was not possible to hold the handle to push the drop in---you have to apply pressure at the bottom of the drop itself.
To help compare sizes, here is the Love Pacifier Teardrop next to my Njoy
medium Pure Plug
. In the second picture, especially note how much longer the handle of the Teardrop is, from the neck down.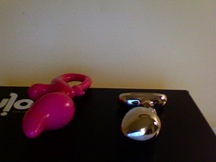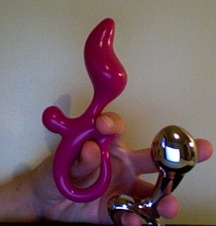 I was prepared for this Love Pacifier to arrive with a seam. I had a razor handy, and I was going to include before-and-after pictures. But, to my delight, the Teardrop does not have a tangible seam (and if it did, I would notice). You can visually see that a two-part mold was used to make the Love Pacifier, but it left behind no tactile evidence, so my ass is blissfully unaware of any manufacturing process at all.
I also gave the Teardrop the match test (the product page and some years-old reviewers doubted whether this was silicone), and my successful results from that, coupled with
the experiments done in this forum discussion
and California Exotics' assertions on the packaging lead me to be quite confident that this Pacifier is pure silicone. It does have a very faint odor similar to that of red Twizzlers. The scent didn't put my off my dinner, though, and I think most users won't even notice it.
Experience
CARE AND MAINTENANCE
As a pure silicone toy, care for the Love Pacifier Teardrop requires only common sense. It can be rinsed with a 10% bleach solution or boiled for sterilization (and occasional sterilization is a good idea with anal toys), or it can be washed with soap and water between casual uses. I've found that the silicone of the Love Pacifier is less of a lint magnet than most silicone. Water-based and oil-based lubricants are both compatible with the Love Pacifier, but I found that water-based lubes did not hold on to the material very well. A drop of lube added would quickly skitter down the insertable part of the toy and drop to the floor, which I thought was a shame. I haven't had trouble inserting it with the minimal droplets of lube that remain, or with no lube at all, but users who need lubricant for anal play might want to pick up some
Boy Butter
.
The Love Pacifier Teardrop comes in clear flimsy plastic packaging, which is not particularly discreet (the product is visible) but it is free from lascivious images. Looking at the packaging, I thought that it would be an ideal small gift at a bachelorette party, or in any door prize capacity at a gathering of open-minded adults. You could even get the whole series (Love Pacifiers come in
Beginner
,
Advanced
,
Beads
, the Teardrop, and a
Duo
option) and let your guests trade.
FINAL THOUGHTS
The Love Pacifier Teardrop is quite a nice plug for use during sex, and it should be usable by all but the most timid of anal players. The low cost makes me happy to have tried this despite its limited range of usefulness---it really does feel swell during insertion and removal. I am happy enough with the construction of the Teardrop that I wouldn't hesitate to buy other plugs from the Love Pacifier line, and would recommend them to friends---though I will only be recommending the plugs with smaller handles so that extended wear is possible.
This content is the opinion of the submitting contributor and is not endorsed by EdenFantasys.com

Thank you for viewing
Love pacifier teardrop
– prostate massager review page!