Jingle Balls
This was my first experience with anal beads and I have to say that I love them! They are large enough to be filling without being overwhelming, and the latex coating makes insertion very easy! While not best for the beginners in anal play they are a great step up into intermediate play. The only problem I saw with them is that latex isn't super hygienic and the finger loop on the nylon chord isn't coated leaving it open to bacteria.
Published:
Pros:
Easy to instert
Easy to Clean
Inner Ball for Vibration
Cons:
Not Entire String Latex Covered
Not Great for Sharing
The Power Balls by Cal Exotics are five 1 1/4" balls connected by a nylon string and then dipped, string and all, into a latex coating. The entire string of balls reaches nearly 12" total length. These are perfectly safe for either vaginal or anal use, the latex coating making them very smooth and easy to insert and clean. Simply coat them liberally with a latex safe lube (I like to stick with water-based lubes but silicon is also suitable) and insert them gently one by one into the orifice of your choice. Some prep work may be needed for anal play as these are not terribly small; these are more of an intermediate size for most anal users. Inside each one of the Power Balls is a smaller free moving ball (I believe outer ball is plastic and inner ball is metal, although it's hard to tell for sure as they are totally coated in the latex) which will bounce around as you move creating a strong vibrating feeling.
Some special attention to detail with cleaning these would be wise as latex isn't the most hygienic of materials. If you're not sharing them then simple antibacterial soap and warm water should be fine, being sure to clean carefully around and between each ball. After thoroughly washing and drying the toy it would be best to store if in a plastic bag so as to protect the latex from being punctured. As for sharing, I do not advise it with this toy at all as it is a highly porous material and NOT able to be sanitized by means of boiling or use of any household chemicals such as bleach. It's advised that you use a condom with all toys that are to be shared, however due to the nature of this toy it's very difficult to successfully use a condom on it during play.
This toy came is some not so discreet packaging, the balls can be plainly viewed from front or back through the clear windows and there is a picture of a scantily clad woman baring her ass of the front and full description of the product as well as directions for vaginal and anal use on the back of the package. There is NO question as to what this contains! Once outer hard package is opened the balls are wrapped safely in a clear plastic bag. I would not save either of these for storage as the bag cannot be re-closed and the rest of the packaging is just far too big.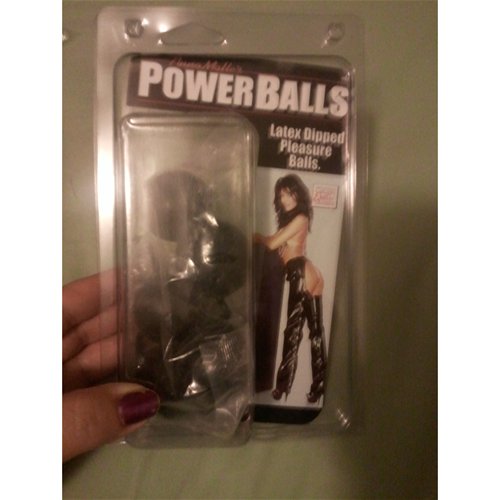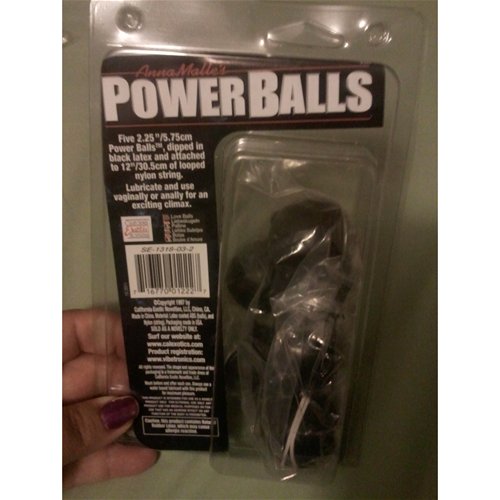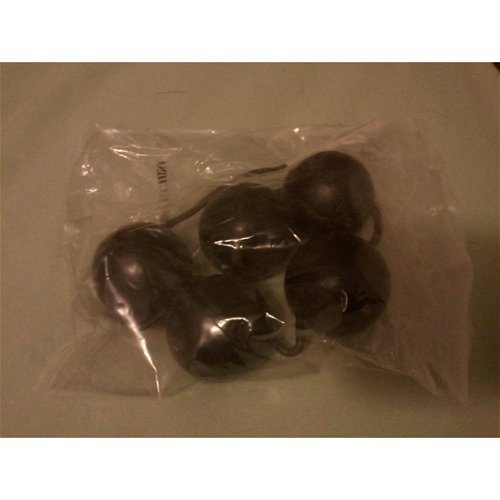 Experience
I tried these vaginally first to kind of get a feel for them, size wise. I was only able to get 3 in successfully before I was feeling full and slightly stretched, they felt great! And the vibrations from the inner balls were very strong helping to bring me to a strong orgasm. These would make a great kegal exerciser for someone looking for something more advanced, you can insert as many as you need to increase intensity and any balls left outside the body will add weight and pull.

Later, after some prep work and plenty of lube I attempted these anally. After I got the first ball worked in the next couple went in fairly smoothly, again I was only able to accept 4 of them at this time at least before I felt very full. The balls stayed securely in place even when walking around, and the inner balls moved around in each bead freely as I moved. After my mister thoroughly enjoyed himself penetrating me vaginally while they were still in he then began to pull them out. This was a little harder than I'd thought! But once the first one slipped free the rest followed without as much trouble. We will definitely keep these handy for future use!
Follow-up commentary
8 days after original review
I still think these are great, however it seems I have an allergy to the material. And since this are made from an unsterilizable material they wont be given to anyone else to use. I love them otherwise though and hope to find a similar product but with a different material.
This product was provided free of charge to the reviewer. This review is in compliance with the FTC guidelines.

Thank you for viewing
Power balls
– anal balls review page!