Love/Hate Relationship
Plush, soft and lovely this toy is perfect for the next step in anal exploration. It can be quite challenging to play with because it is so soft and bendy but it also won't cause your bum to tighten up in fright! It is high maintenance due to the materials but might be worth it if you are looking for a soft forgiving anal toy. It can be turned into a great vibrating toy with the addition of a bullet.
Published:
Pros:
Soft, perfect size, versatile
Cons:
Porous, high maintenance, might be too soft and bendy
When some of us start our anal exploration we begin to wonder if we will ever be able to relax and just enjoy what's going on! We may begin to reason that a full sex life doesn't HAVE to include anal play. Then it happens, the day that you realize that your tiny little toy has gotten you all worked up but just isn't, quite, enough. That's when an intermediate toy swoops in and saves the day!
I thought that a soft toy that is just a touch larger than my regular toys was exactly what I was looking for. Enter the Plush Intermediate from Cal Exotics. It is soft, squishy, just slightly larger than my favorite novice anal toy. It looked perfect!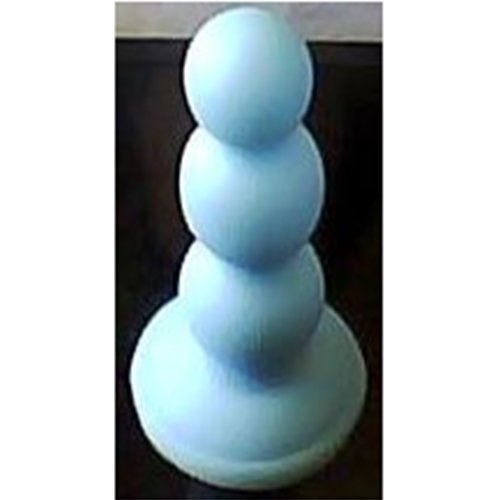 Let's get the hard facts jotted down, first, and then we can get into why I have this love/hate thing going on with this toy.
The Plush measures almost 6 inches in total length and three bulges before it swells out into a round base. The first bulge is the tip of the toy which measures 1.5 inches in length and about 4 inches around before it forms a neck leading to the next bulge. The second bulge measures almost 2 inches in length and about 4.5 inches around before it, too, forms another neck leading to the next bulge. The last bulge measures about 1.5 inches in length and about 5 inches around before it forms the last neck on the toy before the base of the toy. The base of the toy measures 3 inches across which is significantly larger than any point on the rest of the toy making it a very safe toy for anal play.
The base of the toy is hollow allowing for a fairly long bullet such as the
Slimline Bullet
to be inserted for some extra sensations. The soft futurotic material that the toy is made of carries vibrations very well throughout the toy.
This toy is very soft and plush, very soft! This can cause problems with inserting the toy, especially if you are like me, and have a butt that doesn't, quite, believe me when I insist that anal play is exciting and fun.
I find that to use this toy I need to be really excited or have a partner that can, sort of, maneuver the toy so that it can be inserted. Since I do most of my anal explorations solo this is a major drawback. So this is one point that becomes a love/hate juncture. I love that the toy is soft and yielding so that I don't have the sort of stretching that makes my butt tighten back up but it is so soft that insertion is very difficult.
Now you come to the second point where my love/hate relationship shows, the toy is made of futurotic material which is amazingly porous. It is lovely, soft and has a matte finish that slicks up with just a few drops of lube. Now we come to the crux of the problem; the material is porous, which means it cannot be cleaned thoroughly. It also sucks up lube meaning the user will need to be aware, during play, of the need to re-lube often. I solve most of the bad effects of the toy with a condom covering the toy. The condom sort of stabilizes the bendy nature of the toy and it stops anal nasties from invading my toy! It also extends the useful life of my toy and keeps the smell to a minimum.
Futurotic material is compatible with water based lubes almost exclusively. The surface of the toy can be marred by silicone or oil based lubes. If you simply MUST use a silicone lube then test a small inconspicuous area of the toy a few hours before play.
Cleaning this toy is problematic at best given it's porous nature. Hot water and soap is my choice but it could be boiled, washed in a dishwasher, or spritzed with a commercial toy cleaner. It tends to pick up lint so rinsing it before and then cleaning it after play is recommended. This isn't a toy that is built for sharing but you could safely share it as long as it is covered with a condom with every use.
Given the soft nature of the toy I would recommend storing it out of direct sunlight and away from other soft toys, such as jelly. A dusting of cornstarch will keep this toy from turning sticky. It is not recommended that you use talc type powder. A zip lock baggy filled with a small amount of cornstarch, or the original plastic clam shell packaging make excellent storage for this toy.
Experience
I do like and recommend this toy but at the same time it can be so difficult to play with and takes so much maintenance that I am kind of confused. It works so well for anal play, and for vaginal play that I can't being myself to stop using it! As I said, I truly have a love/hate relationship with this toy.

The toy is comfortable for sitting on and can't be easily sucked up by a hungry butt. The user should remember to reapply water based lubricant to the toy frequently if it is to be worn for long periods of time. The round base might have been a bit uncomfortable between the butt cheeks but the softness of the futurotic material makes it perfect.

Wearing it during sex is also easier than some firmer toys that might bruise either partner. It feels good against a swollen or sensitive prostate but doesn't do much for a G spot. It is too soft to apply any form of pressure, though it does carry vibration well.
It can fit most harnesses and lies flat against the skin with those harnesses that are minimalistic.
The base of the toy can be attached to a table top or a shower wall and it stays put very well. Using the Plush while it is attached to a table top can help with the bendy softness of the toy.
Follow-up commentary
10 months after original review
I am still working up to using this toy as an anal toy but I do love it as a vaginal toy for the time being. It hasn't begun to degrade and I think this will last for quite some time.
This content is the opinion of the submitting contributor and is not endorsed by EdenFantasys.com

Thank you for viewing
Plush intermediate
– butt plug review page!