Lucky 13
Icicles 13 is another amazing piece in the Icicles line from Pipedream. Although it is unforgiving Pyrex it is still smooth and gentle for anal play, and the curved shaft works well with the pin point head. This adds great stimulation to whatever area you want.
Published:
Pros:
Beautiful,smooth, great for anal teasing, size, can be used vaginally or anally, pyrex
Cons:
Might not be the best choice for beginners
*Use
Icicles 13 is yet another fantastic product from
Pipedream's
Icicles line. It is intended for anal use and has a lovely handle for thrusting. The odd shape and pointed tip make for good anal stimulation, and since it can be sterilized this can double for vaginal use as well.
*Safety Warnings*
Care should still be taken when using this toy anally, especially for the novice, so you don't hurt yourself. Go slow and stop if it hurts. Use lots and lots of lube and be careful! This is my first anal toy and it is the only thing I have used, but I learned real quick that you need to be careful not to hurt yourself!
Since this is glass it can be used for temperature play. Do NOT put this in the oven to heat, and be sure to test the temperature before using it on any sensitive areas to ensure you do not burn yourself. Do NOT use this fresh out of the freezer, unless you want to replay the flag pole scene from The Christmas Story.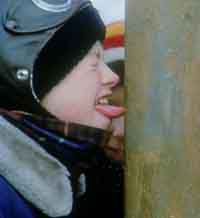 To use for temp play is is suggested that you soak in a bowl of hot/cold water and test out on your elbow before using in any sensitive areas!
Lastly, condoms should always be used when sharing toys like these, and though it can be sterilized, this should be washed and sanitized
before
switching to other people or orifices.
*Design/Size*
13 is about 6 1/2" long with about 5" insertable. It is slightly curved where the handle is, and this handle is looped and acts as sort of a flared base to prevent the toy from getting lost anywhere.
The tip is an odd tapered shape, and is somewhat pointy which is different than any penetrative toy I have used. It bulges out further down the "shaft" to form a sort of pop during thrusting.
The diameter of the tip starts out at about an inch, then expands to an inch and a half at the bulb in the middle of the shaft.
*Material/Care*
As stated above, 13 is made of
Pyrex Glass
therefore it is extremely safe to use hygienically. It can be sterilized by boiling for a short time and is non porous. Pyrex will not break very easily, and if it does it will cleanly break into large chunks as opposed to shattering.
This toy is compatible with all lubes and can be used along side other toys, or shared during play(refer to safety warnings above for info on sharing).
It can be stored pretty much anywhere you want to put it, but its shape isn't very discreet.
Experience
This is the first and only thing I ever tried to used anally. I started getting pretty curious a few months back and I decided to give this a shot as my first anal toy.

Now I know glass wouldn't be the best for beginners, but its smaller looking size and the fact that it's an icicle sold me. It has actually worked pretty well. I have been able to use it, slowly, anally, but I use it more for vaginal warm up than anything.

Vaginally - It isn't the greatest as far as girth goes but the curved tip does give some pinpoint stimulation to the g spot if you rock it right.

Anally- I actually enjoy just playing with the tip inside of me, and once in a while I can work up to getting the rest in, but it still feels great.

Overall I give this 5 stars because although it is glass, it was very gentle for my first anal toy and works vaginally as well. It can be sterilized, and as with the rest of the Icicles, it is beautiful!
This content is the opinion of the submitting contributor and is not endorsed by EdenFantasys.com

Thank you for viewing
Icicles No. 13
– probe review page!