Lucky #13
Yup, 13 is my new luck number. Beautiful to look at and awesome to use the Icicles #13 is a great addition to my collection. Unique shape and a safe, easy to hold base allows this probe to be used in any place you decide to put it. Temperature play as well as some hands free use place this in my top three toys to use for prostate massage.
Published:
Pros:
Fits my prostate like a glove, easy to use and clean. Can be used for P or G-spot stimulation.
Cons:
No pouch to store it in.
For those that do not watch the video,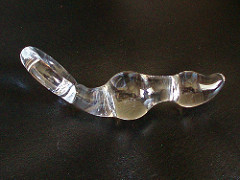 feast your eye's on this
Is that a Pipedream?
Well yes and no, you see this fabulous anal probe of crystal clear
Pyrex glass
probe is made by the fine folks at Pipedream. This is the Icicles #13, part of a bunch of new additions that are being offered here at Eden. This one is for anal play and does a fine job at it too, although I truly believe it would work just as good for vaginal play as well. Add some hot or cold temperature's for some extra stimuli, and you may find 13 IS a lucky number.
The number 13, it's funny, for some it is bad luck, for some it is good luck. I am here to tell ya, this one has brought me nothing but good luck. Just looking at the toy in your hand you know it is capable of stimulating any area of your choosing.
The water drop shaped head glides effortlessly into the orifice of your choice. At the tip you can see that pointy end of the water drop is bent towards the top. This allows for some pin-point stimuli. At one inch in diameter even some newcomers to anal play could enjoy this part of the toy. At 1 1/2" from the tip the toy narrows down to a 3/4" wide X 3/4" long neck. Not much difference than the head but there is a definite "plop" as it settles into my ass. This space inbetween allows for some nice probing or thrusting to be done. Next we have nice 1 1/2" diameter ball that tapers evenly to the handle, here the diameter is back to 3/4". The handle is 2" across and is 1/2" thick.
Really cool is the unique shape of the #13. The tip and second ball look like they bent the tip away from the handle. So on the top the neck is shallower than the bottom. If you put a straight edge on the top of the ball's; on the top I get 3/16" and the bottom about 1/2". As you can see this provides some interesting feeling's and I find it makes thrusting the tip a bit easier. Also note the bend at the base of the handle, this helps so much to give me better control. The handle is also offset somewhat to the shaft to the left. Funny but this make is more comfortable to use with my left hand than the right. You can kind of see it in this pic;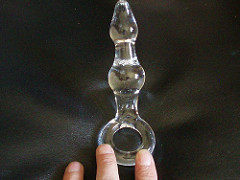 I should note that these are all hand crafted, so the one you get may be slightly different, but really that's what is so nice about glass from a company like Pipedream.
So there is not really a "G or P-spot" curve to it, but I had no problem finding my prostate, top or bottom. Further more I think this would feel really good on the G-spot or possibly the A-spot. Oh ya, it works really good on soar muscles too. A bit of massage oil and you can really work the tightness away.:)
There are not many better materials than glass, really, I swear. Use any kind of lube you wish; water, oil, silicone or Crisco, lard? (OK maybe not lard) What ever flips your Frito. I found that not much is needed, about half what I normally use. To clean simply use soap and water, a toy cleaner or you can boil it. Easy, eh?
The #13 comes in a very classy looking cardboard box. There is no naked body's but the toy is pictured on the front, so it is not the most discreet but is nice. The front has a flap that is held closed with magnets, open this flap to see the #13 nestled in foam through the clear window. Inside the flap and on the back you will find info on the toy and how it is made. Here is a picture so you can see;
front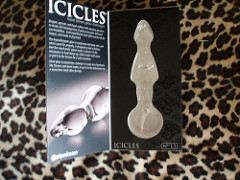 inside flap.
The box is suitable for storage but I use a toy pouch like these [https://www.edenfantasys.com/sex-toy-accessories/sex-toy-storage/toy-pouch]
Experience
#13 has become my new bath buddy, a small dollop of silicone lube and I am set. I like to run a hot bath and let the 13 sit and absorb the heat from the water as I settle in. This does make it a bit to warm, so I will pull it out of the water for a bit, add a bit of lube and let the fun begin. The bath water keeps the toy temp warmer than my body so the heat can be felt during the hole (pun totally intended) session.

When I first looked at it I almost wished it had more curve to it, but I quickly found out that there is no need. During the first use I probed around just using the first bulb. This really got me worked up and felt oh so good, so I figure that it was time to really get the full feel. About half way on the second bulb the top of the first bulb started to apply some nice pressure to my P-spot. When my ass swallowed the last bulb it was like the 13 was made for my ass. The tip was caressing the top area of my prostate and the second was getting the bottom part. After that wave of pleasure I flexed the ol sphincter muscles to find a handle pressing against my butt cheeks, I thought, "crap that could get uncomfy or try to make the toy turn" so I let my ass relax. That is where I was instantly hooked on #13. I can just sit and flex and the toy works hands free to really massage the prostate, just like an Aneros. I do have to keep it from turning but that allows for some variation to the angle. Damn it feels good. Oh ya turning it feels freaking good to, even though there is not a texture to it, the sensation is quite nice.

The #13 can also be used as a plug if you turn the handle to fit between the butt cheeks. This brought a tremendous orgasm from the depths of my prostate while having sex with the wife, ya I had two smokes after that.

I think that this might be good for a person looking to move up from beginning sizes. The tip is small and easy to insert for some warm up and the second bulb slides in easy as well. Just note that glass does not give so this will feel bigger than it looks. Furthermore because it is hard, care should be used so you do not bruise delicate inner tissue's.

Play safe so you can play again later. :)
Follow-up commentary
3 months after original review
Ah, luck 13. What a fun toy to play with. Great for use during sex as it stays in very well and the stimulation is heavenly. I also used it on the wife vaginally using just the first section. It did not provide the greatest G-spot stimuli but she did enjoy the feel of glass.

Kindred, in his review of the No. 14 talked about using it for body massage. So naturally I had to try the 13 for it. It works great and the point does wonders for deep tissue massage.

I did experience my first bit of pain using a glass toy anally. It poked something during one occasion, not sure what. Thankfully there was no long term pain or blood. It has not happened again. Just goes to show that care should be used when using hard materials.

This product was provided free of charge to the reviewer. This review is in compliance with the FTC guidelines.

Thank you for viewing
Icicles No. 13
– anal probe review page!