Once you go glass...
Want to get hooked on glass? The Icicles #14 is a fantastic introduction to anal glass. Body safe, and totally lube compatible, it makes for a delightful experience.
Published:
Pros:
Fantastic shape and size!
Cons:
No storage bag. Most likely too large for beginners.
After reading some of the other reviews on the Icicles series, I decided to take the plunge. When I purchased this, I had a couple of butt plugs but none of them were really doing it for me at that point. So I gave the Icicles #14 a shot. Now the #14 is a glass plug made from Pyrex glass. This makes it great for smooth P-Spot play as well as temperature play.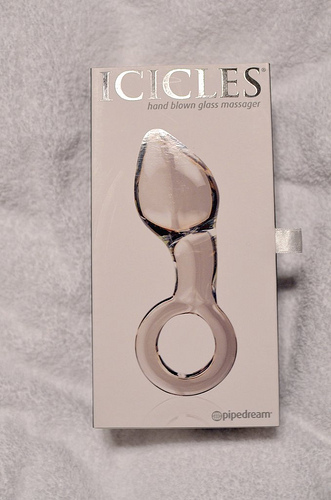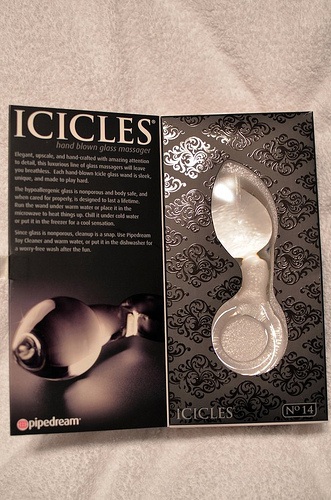 The Icicles #14 comes in a elegantly designed cardboard box which magnificently shows off the toy both in pictures and when you open up the flap on the front of the box, displays the toy through a clear plastic window. Opening up the box, you remove a piece of styrofoam that the toy sits in. The entire container makes a fabulous storage container. All of the instructions and details about the toy are clearly labeled on the box. Upon removing the #14 from the box, the first thing that stands out is the weight. Though it may not sound like a lot, it weighs 7oz and it feels quite weighty. The #14 measures 6in. in total length, with 4in in total insertable length. There is a large 2in handle on the end which is fantastic because it makes it quite a bit harder to have any total insertion mishaps. At a maximum diameter of 1 5/8in in diameter or 5 1/2in in circumference, as well as it's firmness makes it a toy for more advanced anal toy play. The head tapers off to a 7/8in diameter neck.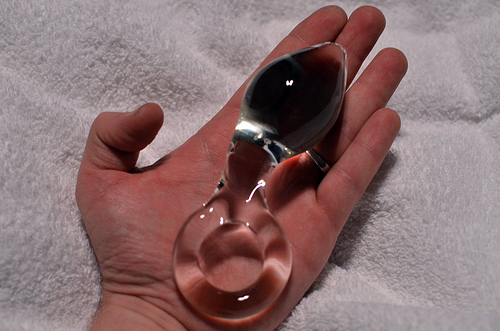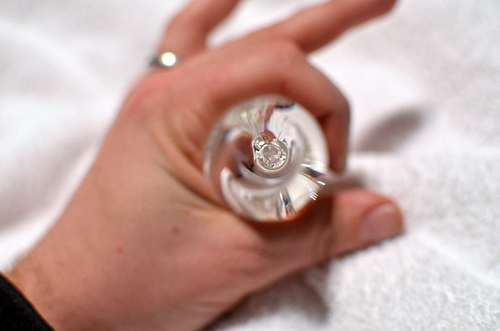 Care for this plug is super easy! You can wash it with hot water and anti-bacterial soap. You can boil it (3 minuets). You can use a toy cleaner. The toy unfortunately doesn't come with a pouch, so the box makes for great storage, or you may want to consider getting a different storage bag, or you can use a zip lock bag. You probably want something with a little padding incase there is a drop while getting the toy or putting it away. The #14 also is compatible with water-based, silicone or oil based lubes. I would recommend a very thick water based or silicone lube. Again because of the firmness and size of this toy, you probably want to make sure to use lots of lube. Also, I would highly recommend that you check the toy before each use for cracks or chips. I haven't had any on mine, but you are always better safe rather than sorry.
Experience
When I bought this toy, I thought I was ready for it. I had taken larger toys, like Vixen's Lone Star and Johnny Vixskin. Boy was I wrong. Even with warming up with the fore mentioned, it was very difficult the first time to take the #14, and frankly not super comfortable. So the next day I decided to try it again. With a much longer warm up session the #14 went in and it was quite delightful. Though because of the extreme difference between the neck and the head of the toy, I did a number of slow insertions and removals to get my self used to the difference in size. Once inserted I felt a great firm pressure on my prostate. Now I have to say that I am a big fan of anal vibration, and of course this toy does not have any built in. So I really enjoy holding the JeJoue MiMi up against the handle. It makes for a divine feeling. The other thing that is awesome about the #14 is that it stays in! During intercourse, walking around, pretty much anything. Now I have sat on the bed with the #14 in, I can't say it was particularly conformable. I definitely would not use this toy for long term wear, especially when sitting on hard surfaces could be involved.
The Icicles #14 was my first introduction to glass, and I have to say, am hooked! Glass is a fantastic material, and if you are considering getting into a glass piece, particularly for anal play I totally recommend this piece.
Here is a comparison of plugs. (Vixen Tristan 1.5, Icicles #14 and the Butt Boy from Rocks Off)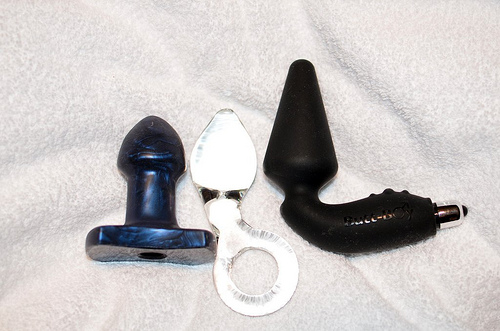 This content is the opinion of the submitting contributor and is not endorsed by EdenFantasys.com

Thank you for viewing
Icicles No. 14
– butt plug review page!