Plug 'er up! (in the shade of red!)
If you are like me and you are new to anal play, but want something that will provide a somewhat full feeling in comparison to the size, this plug is a great bargain. Decently priced and coming in a selection of 3 different colors!
Published:
Pros:
Small enough for beginners yet still filling. Easy to insert and remove
Cons:
Porous, difficult to clean material that does not smell pleasant!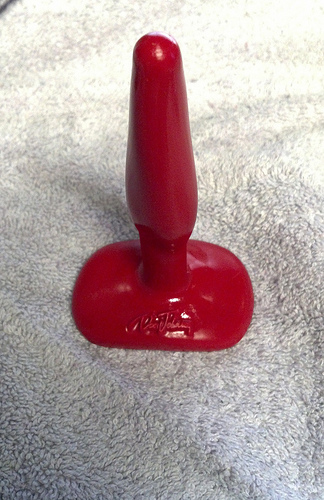 The
Slim Butt Plug Junior
was my very first butt plug and the second attempt I've ever had at any type of anal play on myself. The toy is manufactured by
Doc Johnson
and comes in red, pink, or mauve. It can be used by anyone with an interest in anal play, and is a great way to prepare yourself for more serious play as well.
This plug is fairly inexpensive and great for beginners (such as myself) due to its size and shape. It is thinner than many of the similar
butt plugs
on the site and far less intimidating than some!
The tip of the plug is thin and rounded, making it easy for insertion into the anal cavity. It tapers outward getting wider and wider up until a sudden "drop" in width. At that point you have a small space between the main part of the plug, or the body, and the base. The base is flared, making this very safe for anal play. Toys that are not flared at the base or do not have a handle can be unsafe for anal play as the toy can become lost inside of you. There is a logo on the base, which you don't really feel while wearing the plug, but if you run your fingers across it, it is slightly rough and feels like it would be bothersome. Others may notice it, but I certainly didn't.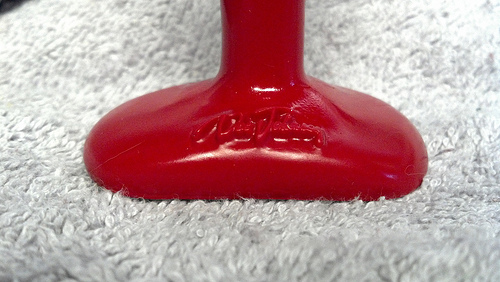 The entire length of the toy was just over 4", but only 3.5" of that can be inserted. The rest of the length is included in the base, and at the widest insertable portion of the toy it measured 3".
The part about this toy I dislike the most is the material that it is made out of. It is made out of
rubber
, which rates very low, at a 3, on the safety scale. This is because of a few reasons: the toy is very porous, making bacteria easy to become trapped in crevices, it cannot be sterilized, and although it has nothing to do with the safety scale, it tends to smell.
That's right folks, rubber smells pretty strong typically. And it isn't a pleasant smell, either. More like an
odor
.
Also, with this toy you will want to avoid using the wrong type of lubricant. You will only want to use a nice
water or silicone based lubricant
to preserve the life of your toy. You may also want to consider adding a
condom
to your play to keep your toy as clean as possible.
To clean your toy you will want to use either toy cleaner or a toy wipe or stick to warm water and
mild
soap. Use of a condom also helps make the cleanup a whole lot easier as well! Once your toy is cleaned and fully dried you can store it in the location of your choice. I choose to keep mine in a black lock box that my girl uses for some of her toys as well. You will want to keep your toy away from extreme temperatures, but aside from that there aren't many storage restrictions! It is, of course, not a discreet toy. One could look at it and if they are even somewhat familiar with sex toys, they might guess what it is and where it has been! That said, storing this toy out of public view might be best, unless you don't mind the questions.
Rubber does not hold heat or cold well, so this is not something you will want to use for temperature play, however, you can feel free to take it in the shower or tub with you since it
is
waterproof. You also won't have to worry about this slipping out of your hands because it does have a better grip when wet than some toys do. Even if it does slip, it won't break like some toys might.
As for the packaging, it was a simple plastic shell with paper inserted in there to give some toy information and company contact info. Nothing special, but it at least gave the important information. It isn't really the best for permanent storage, though, because of its size in comparison to the toy. I just keep mine in a little pouch that my girl bought me.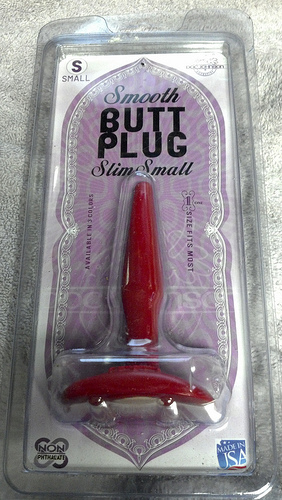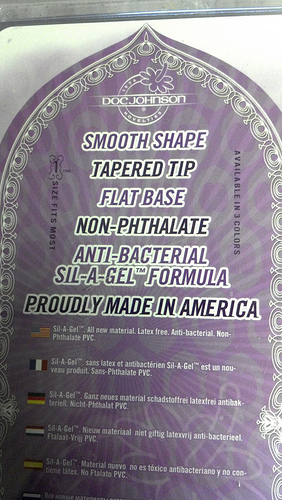 Experience
As I mentioned in the beginning of the review, this was the second time I'd ever attempted any type of anal play. My first experience was okay but not exceptional, including a small set of beads. The second time around, I was a bit more prepared, and a whole lot less anxious. This time, I was prepared for what I was going to feel and experience, so the anxiety of the first time was gone.

The smooth texture made it easy to slip the toy inside with my favorite water-based lube. The first couple of times I tried to insert this toy, I didn't get it in all the way, despite how small it was. I just wasn't quite used to the sensation just yet. My partner did help me to insert the toy all the way, and it fit nicely. The smaller size made it feel filling yet not overwhelming for my first butt plug.

Once we got it in there the first time, it was smooth sailing. I had no problem inserting it and knew what to expect. I plan to use this plug just to get used to having the feeling of being full and to prepare for future anal play. We have been talking about "pegging," which will include her wearing a harness and dildo, and fucking me from behind, anally. This plug is perfect for preparing me for that feeling and would be something that I might want to wear prior to more rough play such as that.
This product was provided free of charge to the reviewer. This review is in compliance with the FTC guidelines.

Thank you for viewing
Slim butt plug junior
review page!