Shake, Shake, Shake
For a lovely introduction to anal play with vibration you can't beat the Rump Shaker small. While you may outgrow it fairly quickly it will remain a very nice warm up toy. The vibrations are buzzy but not weak and the toy is about middle of the road in terms of volume.
Published:
Pros:
Slim,
Good vibrations speed/strength,
Good cord length
Cons:
Rubber materials,
Buzzy Vibrations,
Not Waterproof
When I was starting my exploration of all things anal I found, and used, several soft and small dildos of various materials and softness. I knew I liked vibration on my anal sphincter to sort of relax everything but most of my vibrators just weren't built for anal play. Then I stumbled across the Rump Shakers Small by Doc Johnson.
The toy consists of a small rubber plug, and I do mean small plug, connected to a thin wire. The wire is connected to a little plastic control pack. Nifty, compact, and totally one of my favorite vibrating butt toys!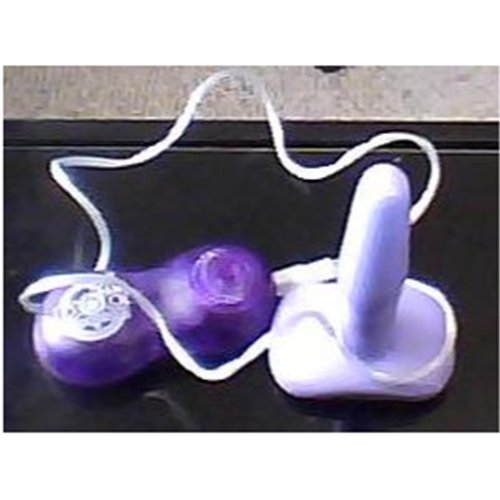 The plug itself is long and slender and composed of rubber with a bullet embedded in the tip of the toy. It measures in at 4.75 inches with 4 inches being insertable. The toy has an elongated bullet shape and it is really, really thin. It only measure 3 inches around at the widest part and 2.50 inches both before and after the bulge. Really what the shape does is gently open the sphincter slowly and carefully before letting the anus rest at the base of the toy. This toy totally changed my opinion about anal play!
The base of the plug measures 2.75 long by 1.5 inches wide. This means your butt is not going to misinterpret the base as another obstacle to be overcome, unless your ass is WAY less intelligent than mine. The base fits comfortably between the ass cheeks but it's not one you would want to sit on for long periods of time. The cord is connected on the base of the plug so that it won't interfere with play. The cord is firmly placed and won't pull out or break easily.
This is a rubber plug, meaning that while it is smooth and small it is also porous, incredibly porous! If you plan on sharing this toy cover it with a small size condom or a toy cot. It probably would be wise to cover it for every use to make clean up easier and, well, stop bacteria from proliferating all over your new toy.
The bullet is located about a half inch from the tip of the toy and the vibrations are concentrated in this area. The vibrations are vigorous but extremely high pitched and buzzy. I find that this is perfect for relaxing my uptight butt where a deeper vibration does nothing much in terms of relaxation.
The control pack has a thumb wheel to control the level of vibration meaning that you can customize the level of vibration you desire. It starts at a pretty good clip but is still not very powerful. The vibrations don't ever quite make it into the jackhammer level but they are quite powerful. The real problem is that although they are powerful they are also very high pitched and buzzy. Even my moderately sensitive clit finds these vibrations to be to much, on the higher settings, but my ass loves it! Sigel finds that the vibrations are amazing on the prostate though the plug is a bit too small to provide much in terms of pressure to the prostate area.
The cord measures 28.50 inches which, in my opinion, is plenty long enough whether you are playing solo or with a partner. It plugs into the control device firmly so you don't have to worry about disconnecting the cord during play. The toy is, regrettably, not waterproof.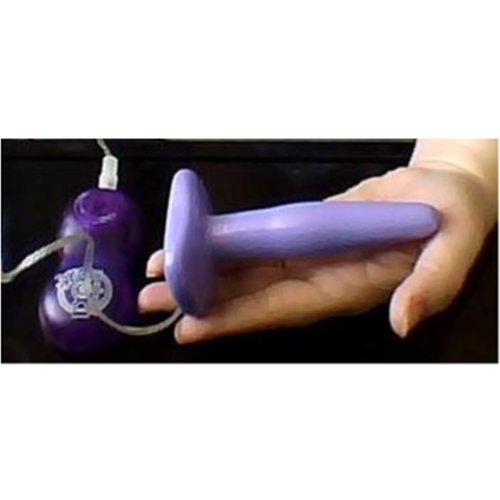 As with any type of anal play you will want to use plenty of good quality lube. This particular plug gets very slick when lubed and has a tendency to slide on out. There's really nothing for the anus to grab onto to hold it in place! I have found that if I can manage to get the toy nestled between my butt cheeks I can hold it in place well enough but using this toy for double penetration is difficult if not impossible.
The rubber doesn't seem to pick up lint but it can pick up some funky smells. I find washing it in some dish detergent and then letting it air dry in the sun takes away lingering traces of ass. When you get the toy it has a sweetish smell that isn't horrible, fades over time and doesn't transfer to the hands.
I store my Rump Shaker in a box I made for it but it could be stored in a bedside table or in a sock drawer.
Experience
While I outgrew this toy fairly quickly it has served as a great little warm up toy for many months. I love the higher pitched and buzzier vibrations when playing with anal toys so the Rump Shaker is a perfect fit for me. I haven't noticed any ill effects from the rubber plug but, then again, I don't wear it for long periods of time.
I feel pretty confident recommending this for shy anal novices and warn them, with a smile, that they will, most likely, be ready to move on to the medium and even the large sizes pretty quickly.
Follow-up commentary
9 months after original review
This has become my go to toy when I am looking for sensory overload. Rumbling rump, clitoral vibe and a G spot vibe and I am transported! The motor is still working well and I have no complaints other than that I will be outgrowing this one soon enough!
This content is the opinion of the submitting contributor and is not endorsed by EdenFantasys.com

Thank you for viewing
Rump shakers small
– anal vibrator review page!