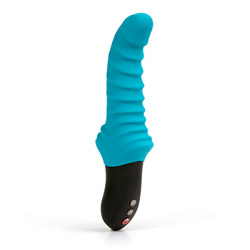 Stronic drei
Pulsating G-spot vibrator
by Fun Factory
The Drei-th Time is the Charm!
There are a few toys that are truly great, the Stronic Drei among them. Unlike traditional vibrators, the Drei moves back and forth, thrusting on its own - essentially a small, portable, handheld fucking machine. The sensations are unique and thrusts powerful, all the while remaining relatively quiet. Whether you are bored of your old toys, wanting to try something new, or just curious about pulsators, the Drei deserves your consideration.
Published:
Pros:
Intense pulsations
Gorgeous color
Wonderful ridges
All-around-incredible toy
Cons:
Lack of a storage pouch
Long charge time
Charger can cause problems
The Fun Factory Stronic Drei, or 'Three', is the third of Fun Factory's line of pulsators - toys that, instead of vibrating, thrust back and forth. Unlike the other two, the Drei features ridges and a pronounced g-spot curve, answering the prayers of many for whom the other two Stronics were not appealing.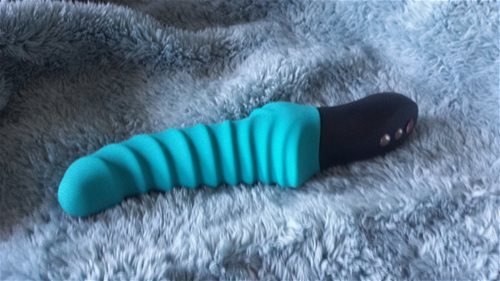 There are many uses for the Drei. Although its main purpose is vaginal use, it can stimulate external regions and is also safe to be used anally. The sensation of pulsating is unique and quite unlike vibrators, making the Drei a very "different" type of toy - perfect for those bored with their current collections. There are also a variety of positions in which this toy can be used hands-free, as illustrated in Fun Factory's
guide
on the topic. Personally, I prefer holding it with a single finger to keep it in place while letting it thrust on its own.
As a word of caution, be careful when storing this toy and keep it away from electronics because of the Click 'N' Charge system. I briefly kept mine in the drawer of my desk and could not, for the life of me, figure out why my relatively new laptop's wireless card was acting up. Likewise, if you have a pacemaker or any type of metal implants, I would consult your doctor about whether or not it is safe to be around strong magnets.
DESIGN
The Drei is about 9" long, 4 1/2" of which are insertable. The tip is slightly tapered, aiding insertion, and the shaft measures roughly 1 1/2" in diameter and 5" in circumference. It is difficult to provide exact measurements due to the nature of the ridging, but it does start off at slightly smaller than the measurements provided and ends slightly larger. I never get to experience the clitoral bumps due to the length of this toy, as I only insert it until it reaches my g-spot.

This toy is made out of smooth, high-quality silicone. Thankfully, unlike the Stronic Eins, the Drei is smooth rather than grainy. This material is hypoallergenic, non-porous, medical grade, odorless, latex- and phthalate-free, and overall very safe. The silicone coating is slightly squishy, but otherwise the toy is relatively firm. The tip will conform slightly to your anatomy when inserted, but other than that, do not expect flexibility.
There are ridges covering much of the shaft. I initially found these intimidating but quickly found that there was nothing to be worried about - they simply provide additional stimulation to the interior of my vagina. If you are not a fan of ridges, this might not be a toy for you, but the softness of the silicone might make them be more pleasant than you expect.
Comparison Image: Stronic Eins, Stronic Drei, G4 Tiger

FUNCTION
As mentioned before, instead of vibrating, the Drei thrusts back and forth. These thrusts perform very well even when the toy is inserted and are not dulled by the vaginal walls. However, learning how to hold the Drei can take some practice. If you grip too tightly, the thrusts will weaken, but if you hold it too loosely, the toy might escape. My solution was to use a single finger to steady it and keep it in place without actually gripping it.
Three buttons control the Drei - FUN, plus, and minus. The FUN button is essentially an on-off switch, which is convenient in case you are caught in the act. The plus and minus cycle through the various modes, illustrated below:

My personal favorites are the Perfect Start, Rattle, and Gallop, though I do enjoy them all. When you reach the last of the line in either direction, you will need to use the opposite button to cycle back and reach the others; they will not infinitely loop. Despite Fun Factory claiming that the Drei does not vibrate, some of the faster modes felt like very rumbly vibrations to me.
The Drei is fully waterproof and relatively quiet. It is not a silent toy, but it should not be heard through a closed door. These features make it fairly versatile and let it be used in more play situations.
Keep in mind that charging can be a pain and take quite a while (up to 22 hours in some cases!). Charges can last for approximately 3-4 hours. My Drei came pre-charged (which is unusual), but most will need to have a long initial charge. The Drei that EF sent me came with a USB charger, but, from what I hear, chargers are sometimes sold separately. If you have any Fun Factory Click 'N' Charge chargers lying around, you can use those instead.
My review will continue in the Experience section.
Experience
MAINTENANCE
To wash your toy, you can either use a toy cleaner or soap with warm water. If you would like to take it a step further, you can rub it with rubbing alcohol or soak it in a 10% bleach solution to sanitize it more. Silicone is non-porous, so you don't have to worry about any pesky bacteria taking residence inside the material itself.

Sadly, the Drei does not come with a storage bag. This is a pain, since the Drei is a lint magnet. I use a pouch from another toy to protect it. As I stated before, do not store this toy near electronics; the magnet can cause serious damage.

I'm sure that most of you know this by now, but do not use silicone lubricant with the Drei without a spot-test. High-quality silicone lubricants can be used with high-quality silicone toys, but always be sure to test it out first to ensure that there are no chemical reactions between the two. If you're not certain, just use a water- or oil-based lubricant instead.


VERDICT
It is difficult for me to express my feelings for this toy, but simply because the phrase "I love the Stronic Drei" is not quite enough to explain how I feel. If you told me that I had to downsize my toy chest, this would be one of the keepers. It prospered where the Stronic Eins failed, providing better g-spot stimulation and texture than its predecessor. The sensations of the ridges rubbing against my clit and that of the toy thrusting inside of me are intense and incredible - truly unique. Whether you are bored of your current toys, curious about the Stronic line, or just want to experiment with something new, this toy seriously deserves your consideration.
Follow-up commentary
4 months after original review
Months have passed since writing this review, but my views about the Drei have not changed. This remains one of my favorite toys. It holds up well with time; I haven't noticed any negative change in the toy despite extended use. Granted, the novelty of using it on my clit has worn off, but I still love the thrusting action while it is inserted within me. I'm actually pretty impressed that I haven't grown bored of it yet, but at this point I'm beginning to feel that I will not ever grow tired of this toy at all.
This product was provided at a discounted price in exchange for an unbiased review. This review is in compliance with the FTC guidelines.

Thank you for viewing
Stronic drei
– g-spot vibrator review page!