Universal Water Works, Works Wonders!
With this system you can safely (if not used too often) flush out your bowels before engaging in some hot and steamy anal sex. While this system boasts its universal use, it will not fit all showers, tubs, sinks or faucets, so be sure to check that out before buying because honestly, I don't think I'd pay full price for this again.
Published:
Pros:
Decently flushes bowels, Varied attachment sizes
Cons:
Cheap plastic hook-up and control box, Price
First Impression:
When we first got this enema/douching system for our shower, I was a little skeptical of how well it would work, let alone if I'd ever use it. I've come to like it for occasional use to my surprise.
Material:
The Universal Water Works System by California Exotic Novelties is made of hard plastic earning it a safety rating of 8. The plastic is non-porous, phthalate-free, latex free, has no odor and is hypoallergenic which means it will most likely be safe for everyone to use with, I'm sure, a few exceptions.
The best lubricants to use with the insertable nozzles is water, oil and silicone, but I'd suggest not using water-based lubes since the water from your shower or tub will just wash it away. Oil or silicone will work the best with this system, but be sure to clean thoroughly.
Color & Texture:
The Water Works System only comes in a silver/black combination negating the need to choose a color. The material is firm and smooth, does not grab on skin easily and is most often found to be cool to the touch.
Controls & Shape:
A long 6 foot hose attaches on one end to the black control box that is 2 1/2" by 1 1/2" and has a button on the side of it. The hose attaches on the other end to the multi-directional valve box, which in turn hooks up to your shower, sink, tub or faucet. On the black controller box is a threaded hole where you screw in the insertable nozzles.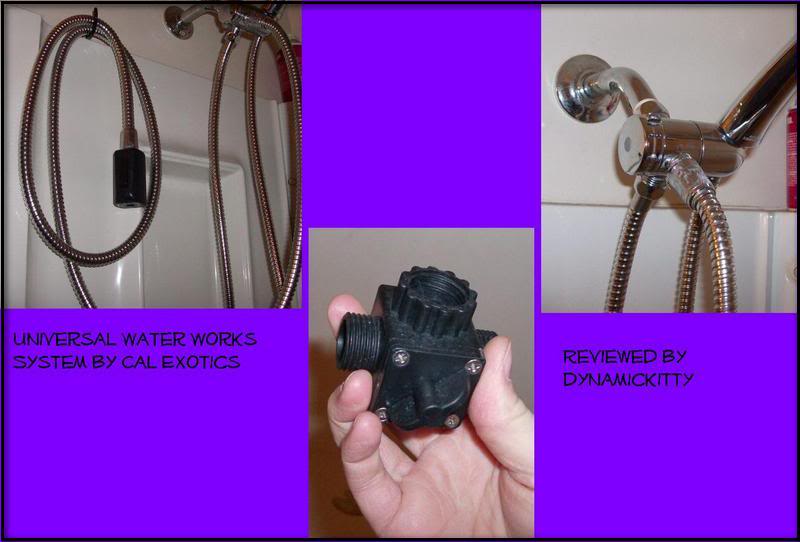 There are three different nozzle attachments for the Water Works System. The small pointed nozzle screws into the threaded hole and holds the wider, bulged nozzle because it's not threaded like the others, by sliding it over the smaller nozzle. The bulged nozzle has a corona shape on the tip with two holes in the end for water to spray out. The rounded tip nozzle is threaded and has eight holes around the end just before the tip.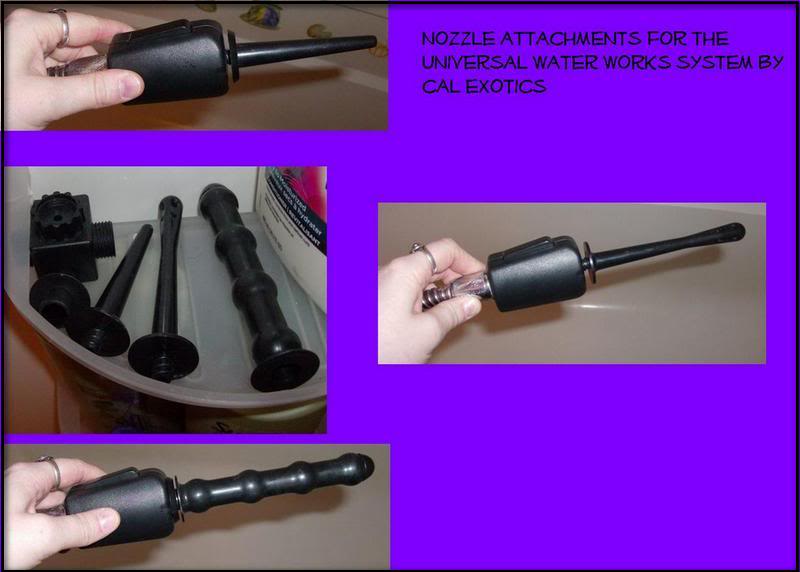 Measurements are as follows:
Length: 5 1/2"/ 5"/ 3 1/2"
Insertable Length: 51/2"/ 4 3/4"/ 3 1/4"
Circumference: 2"/ 3"
Diameter: 1"/ 5/8"
Weight: 1 lb.
Traveling with this system would probably be somewhat cumbersome.
Noise & Power:
Using the Water Works System can be quite noisy, but so is taking a shower, so it may not be noticeable while showering. But probably would be if you were to use it attached to a sink or faucet, so it's not really recommended for dorm use.
The power used for this system is your hands switching over the valve box and manipulating the button on the control box after inserting a nozzle. Also, the water coursing through this system should be counted as some power since it plays a part in cleansing out your bowels.
Cleaning, Storing & Packaging:
The plastic nozzles are easy to clean and can be submerged in water since running water through it is the main purpose of the Water Works System. To clean the nozzles, just soak in hot water or run hot water through them and use antibacterial soap or wipe them down with isopropyl alcohol. Boiling or putting the nozzles in the dishwasher is not recommended, so these cannot be completely sterilized.
To store the system, let the nozzles and hose dry completely after cleaning before storing in a drawer or on a shelf in the bathroom, since there was not an included storage pouch. The hose can stay attached to the shower if you don't mind explaining it, that's what we do.
The Water Works System came packaged in a paperboard box with a blue water droplet background and depicting the entire system on the front along with "Universal Water Works System". Also, "attach to shower, bath, or sink", the Cal Exotics logo, "Advanced water douche", "intimate water play", and "Massaging Pinpoint Hydro-Power Action". I'd say this box is not discreet at all, horrible for storage and should be wrapped if gifting.
There were instructions for hooking it up to your shower, etc. But no other booklets were included.
Use:
The Water Works System is designed to flush out your bowels using water before anal play to make it a cleaner, more enjoyable experience for everyone involved. Anyone can use this system as long as the valve attachment fits properly on your shower or bath. It's easy to use once it's all hooked up, just slide one of the nozzles (with lubricant of course) in your ass and push the button to start the flow of water.
This system is made to be used by anyone who's interested in cleaning out their bowels, beginners, advanced users, men and women alike.
Experience
Personally, I've used this system here and there before anal play and I have never had a problem with water pressure being too weak while using it, but the black control box with the button does tend to leak quite a bit. Now maybe that's due to our insane water pressure in our shower, but honestly, how strong could a little plastic box be?

You may notice in the photos that we didn't use the black multi-directional valve, but that's only because we were lucky enough to have found a double-headed shower head system so we just removed one shower head and attached the Water Works System hose to it. So we leave this in our shower all the time and really haven't had many people ask about it.

Be careful using the small tip nozzle by itself as it tends to do nothing but poke and scrape. I prefer to use the rounded tip nozzle myself with plenty of lube so it slides in easily and never scrapes or pokes in a harmful way.
Follow-up commentary
2 months after original review
It still leaks but it gets the job done when it's needed. Other than the leaking it started out with it hasn't shown any further signs of damage and still works as intended.
This content is the opinion of the submitting contributor and is not endorsed by EdenFantasys.com

Thank you for viewing
Universal water works system
– anal kit review page!