Well Hello Duo!
The Love Pacifier X-10 duo is a great idea for anal fun. If they could just get rid of the seam, it would be near perfect for just about anyone.
Published:
Pros:
Silicone, 2 different ends, interesting shape
Cons:
A bit flimsy, seam
USE:
The Love Pacifier X-10 duo is a pretty ingenious little toy. It is essentially 2 anal toys in one made of safe silicone. One end has a bulbous shape and the other has graduated beads. It would be great for those just starting into anal play as well as those that are pretty advanced because of the variety it has.
It is listed as a prostate massager, and although I did buy it for the Man, he has not gotten his hands on it yet. My greedy little hands got on it first. I will post his commentary on it in a follow-up.
Because of the shape, it is not really something for long-term wear, but it is fun in the moment. It is also small enough that it can be easily hidden or tossed in a bag for travel. Its different shape does not scream "Hi! I go in your butt!" either unless the onlooker knows what these things are for.
MATERIAL/TEXTURE/DESIGN/SHAPE/SIZE: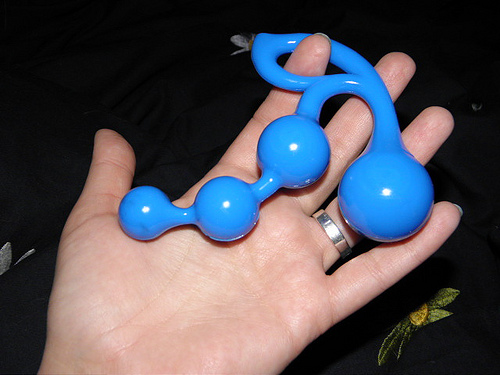 So, the X-10 Duo is this sort of V shape. One side of the V has a single bulb with tapered neck. This bulb measures 4 inches in circumference. The other side of the V has 3 beads. From the top, the first measures 2.5 inches around, the second is 3 inches, and the third is 3.5 inches. Where the V meets, there is a loop for easy retrieval. The tapered neck is a good enough length and width that it does not shoot out when you do not want it to. It stays put until you pull it out.
The entire thing is made of glossy silicone. It is lovely, smooth, and slick in use. It does have 2 flaws. One is that it is pretty flimsy and it could benefit from just a bit more strength so that it does not try to bend over on itself during insertion. The other is a very prominent seam that runs around the entire toy. This is annoying. It did not cause me pain but I could feel it a bit going in. More of an irritating feeling that I intend to attack with a nail file or something to get it away.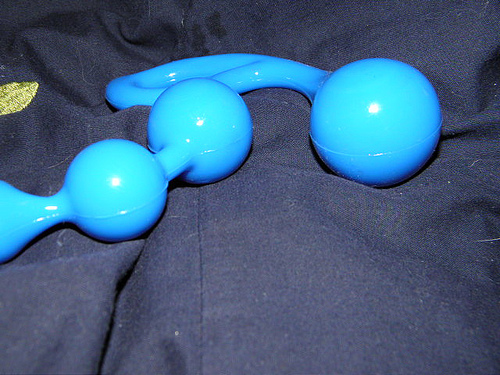 CARE AND STORAGE:
The CalEx team got it right with this one making it 100% silicone so clean up and sterilization is a breeze. Wash with warm water and soap or your favorite toy cleaner. Sterilize it with a 10% bleach solution, boil it, or just toss it in the top rack of the dishwasher.
Make sure to use water based lube with this toy and although you could store it in the plastic box it came in, I just store it in a small satin bag I picked up. Keeps the lint off and makes for less bulk in the toy drawer.
This toy can be shared if the proper care is taken. Always be sure to sterilize this toy between partners and uses to keep your playtime safe.
HOW DID IT WORK?
With the exception of the very annoying seam, I really liked this toy. The beaded end was quite fun to slowly pop out one at a time and the bulbed end really gave that nice full feeling. I will be attempting to find a way to get rid of the seam. And I will post my (hopefully) successful results.
This product was provided at a discounted price in exchange for an unbiased review. This review is in compliance with the FTC guidelines.

Thank you for viewing
Love pacifier X-10 duo
– prostate massager review page!