A Perfect Replacement, No Matter How You Use Them
So to summarize all that... These pads are a much better value than the ones I was getting and they are stickier and therefore last longer than my previous 2 brands! I will be buying more of these for my unit!
Published:
Pros:
Super-sticky
Cons:
Can't think of any
Let me begin by saying... I do not own the
Fetish Fantasy Shock Therapy Kit
. However!!! I own a TENS unit that was prescribed to me by my chiropractor. My unit uses 4 pads at a time and I can buy replacements for $8 a set of 4 pads. I could get about 8 hours out of a set from them.
All of that to say... I saw these & decided it would be well worth my money to see if they worked just as well as the prescription ones. I figured if I spent twice the money and got 3 times the product that worked as well as the ones the doctor gave me, I was still on the plus side!.
I was in for a big surprise!
These work better!!
If you are not familiar with how these work, let me break it down.
The machine (sold separately) sends an electric current to the end of the wires. If there was nothing at the end of those wires, you would get 2 pin points of electricity. That is where these pads come in. The lead wires that are sold with the machine have fasteners on them (like the snap on kids' jeans) that you press these pads onto. These pads spread the electricity out over a larger area. The pads are sticky on one side to make contact with your skin. The sticky serves 2 purposes. 1) to keep the pad stuck to your skin 2) to even out the electric shock distribution.
Since they are sticky (and boy they are super sticky) that means the will stick... to anything! Not just your skin. If you accidentally drop one of the pads on your bed before it makes it to your skin, you just picked up every hair, speck of dirt, dust or lint that was on that 2.5" x 1.5" space! If you stick them to a hairy section of the body, you will have hair stuck to them when you peel them off. If you have dry skin, you will have dead skin stuck to them. All of these things will reduce the life of the sticky pad.
If the pad is not sticky enough, it will start to pull off your skin at the edges during use. And let me tell you... you REALLY do not want that to happen. The electricity will start to hurt (and not in a good way) if the pads are not sticky enough. So replace them as soon as they start to peel off your skin at the edges.
Even though the tops are made out of vinyl, which is only a 2 on the safety scale, this product is not really made for sharing in the way that the safety scale rates things. Although, if you do have 2 people using the same unit, I would suggest using a separate pair for each person.
They come 12 in a box, packaged in sets of 2.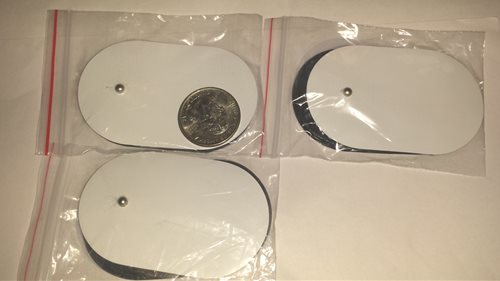 The metal brad sticking up is where you attach the pad to the lead wire.
You take them out of the tiny ziploc bag that they come in and they each have a plastic shield over the sticky area.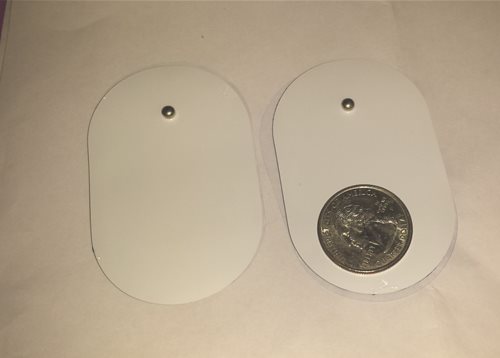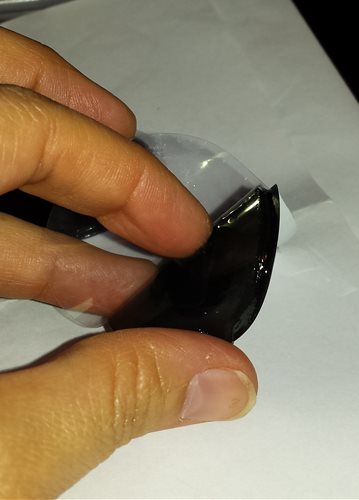 They are very flexible, so they can contour to most body parts you decide to stick them to.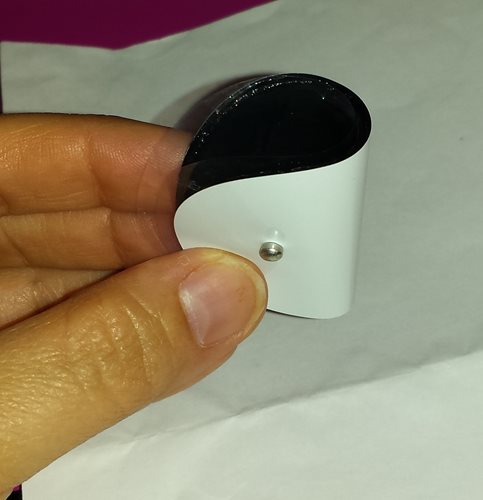 I tried to get a picture of how they are sticky, since it is a hard concept to explain if you have never handled an electrode pad...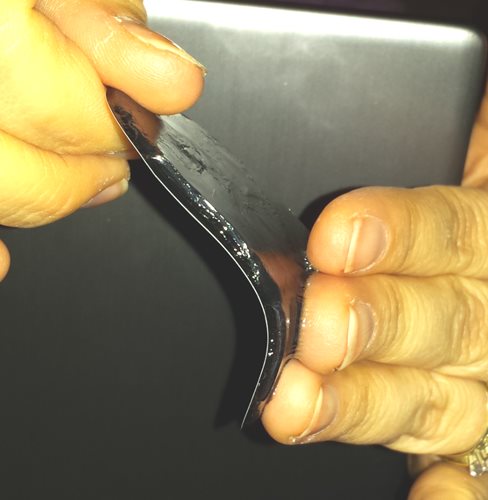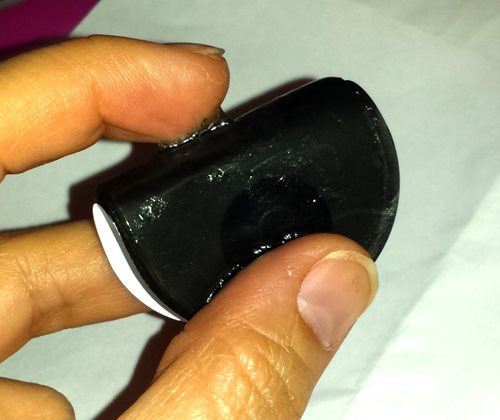 When you are done using the pad, you peel it off of your skin - and if you are going to save it for another use, you reapply the clear plastic shield to the sticky part and put it back in the ziploc bag so that it does not pick up extra dirt during storage.
You have to use 2 pads at once to complete the circuit of electricity. The life of each pad depends greatly on several factors.
1) How long you use each pad per session. 30 minutes? 3 hours?
2) How much you move around while wearing it. The more you shift, the more extra oil and dust the pad can pick up.
3) If you use lotions. Do you have dry skin?
Under perfect conditions (If you be lay still and do not move around and do not have oily or dry skin) you can use one set 5 or 6 times before the stickiness runs out. If you are using it for play and will be rolling around, you may only get one use out of each set.
This content is the opinion of the submitting contributor and is not endorsed by EdenFantasys.com

Thank you for viewing
Fetish Fantasy shock therapy replacement pads
– miscellaneous review page!