Bite me Baby!
I love this bit gag, it's a lot easier for my girlfriend, who has jaw problems, to use than a ball gag. This silicone is shareable and sterilizable and this is great for people who like to bite down on something, either during pain or pleasure.
Published:
Pros:
Easy to clean, adjustable, not easily broken.
Cons:
Noticeable seem, a little large.
This silicone bit is
friggen amazing
.
I engage in a lot of BDSM play- mostly needle play and flogging. Both of these activities require a gag, or something for me to bite down on, and this gag works perfectly.
My girlfriend has jaw problems so she can't really bite down on ball gags, so this bit gag is perfect for her. I don't really have a problem with ball gags, but I prefer to hold my mouth in the least painful way as possible. As most of my activities are just made to handle pain, not control noise level, this bit gag works perfectly.
My favorite thing about this gag is the fact that I can bite down as hard as humanly possible and I won't leave any teeth marks. Trust me, I have tried. This gag is great, but I have a kind of small head and neck and the bit is a little loose. I would suggest just poking new holes into the leather if it's way to large, but the actual silicone bit piece may be a little long for some people if they have to do this.
The buckle, on the back of the gag, is made of metal and I assume it's non-allergenic. However, the product page doesn't state what type of metal it is. The leather is super soft and won't chafe your face.
Design / Craftsmanship / Material / Size / Fit:
Material:
Leather / Rubber
Color:
Black / Silver
Width:
6 1/2"
Weight:
1 lb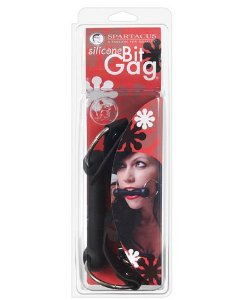 The Packaging
The packaging is absolutly ridiculous for this product, it's not very hardcore - with it's tiny flowers and plastic case. I wouldn't suggest gifting it in this case, unless you want to do it in a cutsie way.
My Partner's Reaction
I have jaw problems, so bits and gags are always hit or miss- I usually can't tolerate them for long. This bit was different, it was fairly comfortable for the whole duration of us. It was just soft enough for me to bite down on comfortably and I didn't have to open my jaw too wide to get it in.
Experience
This bit is extremely easy to clean. I love silicone because it is steriliz-able and share-able. If you want to sterilize your silicone, simply dip your silicone into a pot of boiling water for around three minutes. Because this bit is made of both leather and silicone, you will have to be careful to not accidentally dip the leather into the water.
This content is the opinion of the submitting contributor and is not endorsed by EdenFantasys.com

Thank you for viewing
Silicone bit gag
– mouth gag review page!