Breathable Ball Gag
The Breathable Ball Gag by Aphrodisia is a decent beginner gag. It is rather inexpensive and worth a shot if you are interested in getting into fetish play.
Published:
Cons
Ball may be too big for some
I have some difficulty breathing through my nose and am also quite vocal in the bedroom. I had never used a gag before and was looking for a simple beginner-friendly gag that was breathable and effective in muffling sound. The Breathable Ball Gag by Aphrodisia with its pickle-ball design and sexy faux-leather straps seemed like an attractive option to help solve my problem.
The gag arrived in a discreet brown shipping box, and inside was the toy packaged in a white box that had a picture of the product on it. At first, I actually thought I might have received the wrong product as the picture looked nothing like the picture I saw on the site.
Packaging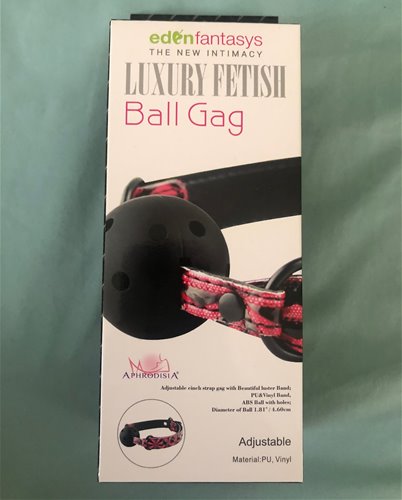 But after opening the box, the gag inside looked just like I was expecting. I suppose the photo on the box was simply another color option.
Inside the box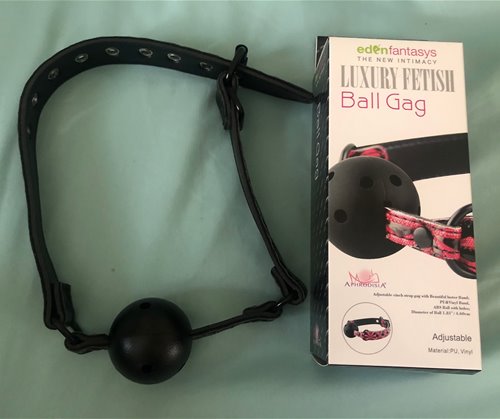 I gave the gag a quick spray with my toy cleaner and wiped it down before affixing the gag on myself. The ball is made of hard ABS plastic and had a distinct plastic taste. I was concerned the gag might be too loose on me, but the adjustable buckle made it easy to secure the gag around my head. The many belt holes can accommodate a wide range of head sizes. Unfortunately, the ball itself, at 1 7/8" in diameter, was too large for my small mouth. I could barely open wide enough to get my lips over and definitely could not get it past my teeth to bite down on. I imagine that ball-shaped gags may get hard on the jaw after a long period of use, but I can't say this from experience. I think that I'll either need a smaller ball or another type of gag such as a bit gag instead. This gag may be a stretch for some people or not even work at all, as was the case for me. Because I wasn't able to wear this properly, I can't say how effective it is in muffling sound or how breathable it really is when worn correctly. Generally speaking, I could only assume that the holes would help with the passage of airflow, making breathing easier, but at the same time, some sound may pass through, making it not a totally soundproofing gag. The good thing about some sound passing through at least is that it would make communication easier and potentially safer, especially for beginners like me.
This content is the opinion of the submitting contributor and is not endorsed by EdenFantasys.com
Thank you for viewing
Breathable ball gag
– headgear review page!