Crop It To Me!
When it comes to durability and quality materials, this crop fits the bill. This beautiful crop is wonderful for all users, whether they be interested in light fetish play or heavy BDSM. The shaft is flexible and gives easily without breaking, and it isn't stiff material. Everything is smooth and feels great against the skin, which makes it fun for teasing! I love the purple and black braided leather, as it was also very aesthetically pleasing to look at and to hold. Great job, EdenFantasys!
Published:
Pros:
-Gorgeous braided leather
-Durability, quality, flexible
-Flexible, smooth material, wont break!
Cons:
-Not vegan friendly
-Can be hard to store
So this isn't the first crop I've owned. I also had a red heart crop by Sportsheets a few years back, and that thing was such a piece a crap, it broke in half during one of its first uses. I kid you not, it did. So needless to say I was wary to try out another crop from EdenFantasys, but as it turns out, Eden did a better job at this crop thing than Sportsheets did!
This beautiful pure leather-made 29 inch crop has a flexible, sturdy handle. The whole thing flexes with you during light or rough play, has lots of give to it, and refuses to break. I know, because I gave it some rigorous testing, waving it around and smacking my own butt, and then trying it out on my man.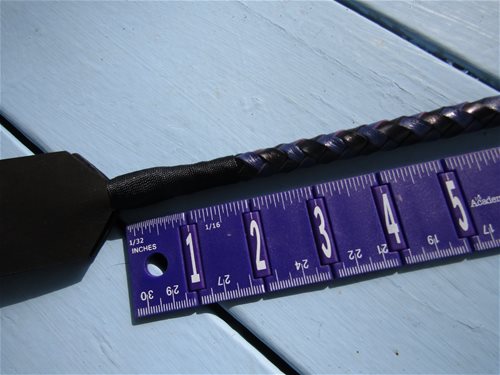 As far as what I like, and what I live to give him, we both prefer gentle play for the most part, even as both of us love switching roles and becoming dominant at different times. So we didn't use this hard during our actual play because that's not our style, but I have made sure that if we ever decide to use it for some heavy BDSM play, it can do the job right!
Now I found that I must use hard swings to leave a mark, on myself or on him (I tested it on myself mainly). But if you give it a really hard thwack, it will leave a light mark. This makes it perfect for BDSM users of all levels.
Its evenly cut tip, or the "head" of the crop, is 2 inches wide and 3.5 inches long. The leather looks nicely cut and applied, and feels smooth against the skin. I found it quite enjoyable being teased with the tip of the crop while I was lying blindfolded on the bed. He would run the tip gently over my buttocks before a light or hard smack.
The purple and black leather woven around the 18.5 inch shaft is braided neatly and looks very attractive as a whole. I love the colors, and I really think they look great together. Both colors really bring each other out. The black string which is wrapped around the top/end of the crop is even and also very well done. It keeps everything neatly and firmly attached and really adds some nice detail to the overall look of this crop.
As for the handle on this crop (which is 7 inches long), it is easy to hold and feels comfortable in my hand (or his). It also includes a strap, which is helpful, although very thin. However, the strap does insist on staying put around the top of the handle, so it doesn't easily get caught on other things during storage or use.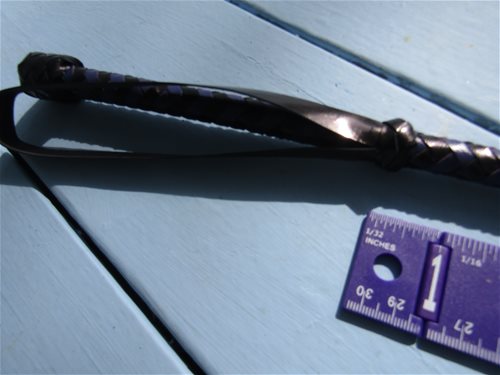 The item itself can be hard to store, as it is long and thin. It wont fit in the typical toy box so I had to improvise with mine by setting it on top of the sex toy tub for now. Floggers can be folded, such as the one I have kept in a Betsey Johnson bag for now, but crops must stay straight and be given some extra leg room. The good thing about crops being long and straight, however, is that they can be hidden behind furniture or in closets or drawers. Personally I hope to one day have a sex room with an armorer or closet just for BDSM gear to show it all off.
What a beautiful crop! Well done, EdenFantasys. You did a fabulous job on the materials, quality and structure of this gear. Someone could use this in a stable for riding horses and no one would ever know it was fetish/BDSM gear they'd bought at a sex shop!
A note: As this is real leather, and not faux or pleather, it is not vegan-friendly. As one who raises her own chickens and watches what she buys so that it can be as humane and environmental as possible, that is a disappointment. Yes, leather is beautiful, and smooth, and comfortable. But for those who are conscious of factory farming and environmental issues, this may definitely not be the crop for you. Most leather is made from cattle, which means that more than likely the cow(s) that this leather was taken from were born and raised in factory farms, and that is something that I do find unappealing about this crop.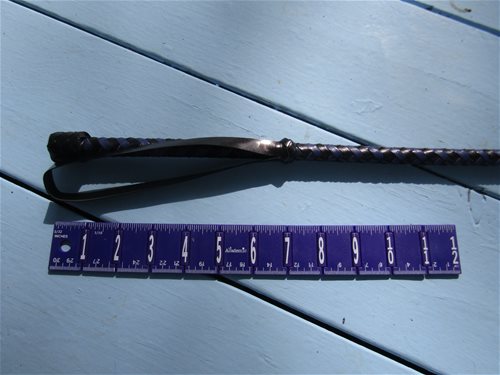 Experience
A note on cleaning: This is the kind of thing that a previous horse rider like me would think to use leather polish on and leave out in the sunlight if it were to get mold on it like my old Crosby saddle did. Luckily, most of the time I will not have to clean it at all, but in the case that I should, I will simply follow the cleaning directions on its product page, which state:

"Dirt adhering to the leather can be removed with a damp cloth, using mild soap if needed."

I think that's simple enough, and should work well enough too. Most of the time a damp rag should get whatever it is off that you're trying to remove.
This product was provided free of charge to the reviewer. This review is in compliance with the FTC guidelines.

Thank you for viewing
Eden leather crop
– flogging toy review page!