Easy Bondage Fun
This bondage tape is by far the best tape out there for binding someone up! It's so versatile and virtually pays for itself over and over again being that it would take a really long time to wear out just one roll. You don't even have to be a master of bondage to do some interesting binding with this tape! So grab a roll and start binding, I promise you won't be disappointed.
Published:
Pros:
Reusable, Easy to clean and use, Sticks only to itself
Cons:
Wrinkles, Only two colors, Less on a roll than regular tapes.
Use:
This versatile, reusable bondage tape was designed for binding your partner or yourself to enhance play or sex. Some ways to use this tape would be by binding wrists, ankles, or using it as a gag or blindfold by wrapping it around the head. If you had enough rolls of the bondage tape you could even use it to mummify someone!
This bondage tape is great for everyone because it is so easy to use and manipulate. It can be used during foreplay to "tie" someone up before teasing them or during sex to give the allusion of being taken against your will. You could even use this bondage tape by yourself if you wanted, but I'm not sure it'd be as much fun as with a partner.
Material:
The Fantasy Bondage Tape by the famous company Pipedream, is made of PVC which earns it a safety rating of 2 out of 10. So not the safest material, but still fun to use. PVC is light, water resistant and doesn't require much maintenance. There is a slight rubbery smell from the PVC, but it is not overpowering in the least.
Color & Texture:
The bondage tape comes in black and red, but I had chosen the black tape which is smooth and shiny and emits a slight static cling to skin, but is not grabby at all.
Shape:
The roll is about 3 1/2" across and the tape is 2" wide. The whole roll weighs 2 oz. Here are some photos to show the shape: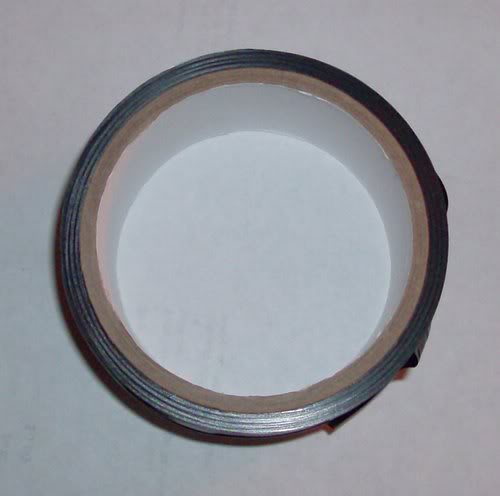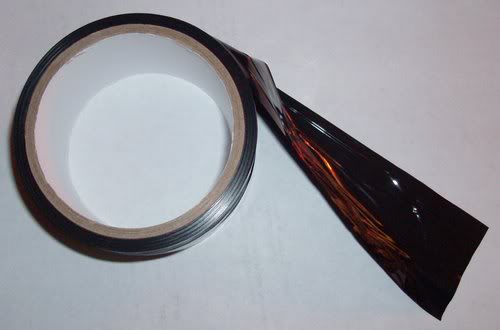 Noise & Power:
This particular kind of tape is not loud enough to be heard through closed doors. It does have a peeling tape sound when pulling it off the roll, but it is muted compared to something like duct tape, so it would be fine for using in a dorm situation or if other people are in the house. The only power involved in using this tape is that of your fingers grasping and pulling it off the roll to use.
Cleaning, Storing & Packaging:
This particular bondage tape is water resistant and can be submerged in water so clean up is a snap! It cannot be sterilized, so boiling it or throwing it in the dishwasher is not an option. Instead it is recommended to clean with warm water and soap, a toy cleaner or wipe it down with a damp cloth then just let it dry or wipe it dry before storing.
The bondage tape did not come with a pouch for storing it, so I keep it on a shelf with our other rolls of bondage tape and duct tape, but it does not touch other toys. You could throw this in a drawer or any other kind of container to store it, but I would keep it away from other toy materials just to be on the safe side.
We purchased this bondage tape a long time ago, so we do not still have the original packaging, but from the photo on the product page it looks like a simple plastic container with a cardboard backing that depicts a sensual lady with wrists and ankles bound in the bondage tape. Also, the backing says "Fetish Fantasy Series", "Pleasure Tape" and "Non-Sticky Bondage Tape Sticks Only to Itself!" along with the Pipedream logo on the bottom portion.
The packaging is not discreet at all and quite horrible for use as storage. Also, there were no booklets or instructions included but the tape is pretty self explanatory.
Experience
My husband and I like to play around with this tape because it can be used in so many ways. We like to use it as a gag or blindfold sometimes. Also, we'll use it to bind my wrists or ankles or strap my arms down by wrapping it around my body and over my arms at the same time.

Now for the sake of science, I totally submerged the tape while wrapped around my wrist in cold and hot-ish water for a few minutes each. In the cold water the tape still stuck to itself and seemed to tighten slightly, but not enough to cause a concern about cutting off circulation. In the hot (hotter than just warm) water, the tape still stuck to itself but seemed to loosen slightly. I also noticed that after messing around with it in the water, when I took it off and reapplied it, it still stuck to itself pretty well even though it was wet all over.
Follow-up commentary
2 months after original review
We still enjoy playing with this versatile bondage tape and we have about the entire roll left since it's reusable. It can get a little stretched out depending on how you use it, but it's to be expected.
This content is the opinion of the submitting contributor and is not endorsed by EdenFantasys.com

Thank you for viewing
Fantasy bondage tape
– restraints review page!