Feather foreplay.
The Tantra Feather Teaser is a beautiful tickler that comes in three different colors. LELO was able to take something so simple and give it a luxury spin. It does not matter if it is for you, or someone else. They are going to feel special. The teaser feels amazing when it is ran across your body, and can make any love session that more special. I just love this, and do plan on ordering another.
Published:
Pros:
Lite Weight, Beautiful, Travel Friendly, Soft, Makes the perfect gift,
Cons:
The box is too small
I love ticklers. I love the softness against my body. It just gives me goosebumps! I only have one other tickler besides this one, and this one by far is my favorite. I should have known I was going to love it. I mean it is a LELO product. I debated ordering it. I do not know why, but I did. When I finally got the tickler home, I opened it up and screamed "Babe, Look what I got! Now, lay down and let me tickle you" He gave me a side way look, and obeyed his master. HAHAHAHAHAHA.
When you get the tickler, Just like all of lelo products it comes in this pretty yet very discreet box. The outer box has a tickler of the ticker and some information on the back. This would be the perfect gift for a new couple, or a couple who want to spice things up. When you open the outer box, You will see that there is another solid black box.

.
The box has no information on it. All it has is the LELO logo on the front. You could even give the tickler in just the simple black box if you like. When you open up the box all you see is this white paper. The paper is textured. When I first seen it, I thought it was just normal paper. When you touch it, it has an odd texture. I actually like the paper.

Now for the tickler.
It is so beautiful and soft. I was surprised it was so small, but that did not bother me too much. The tickler is very full. Now, that was an even bigger surprise. I thought it would have been a little thinner. I worried about the tickler already being too thin, and becoming thinner as time went on because the feathers start to fall out. It is thick enough so if you even did lose a couple of feathers it would not affect your tickler at all.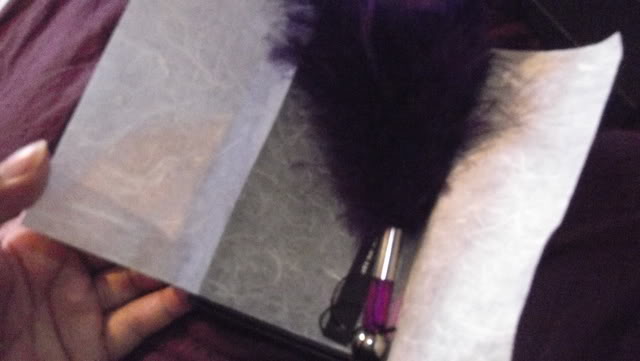 The tickler is purely made up of feathers. Feathers are one of the epidermal growths that form the distinctive outer covering, or plumage, on birds. There are also feathers made from synthetic fibers. These feathers are synthetic, so no animals where hurt in order for us to have this lovely product. The feather are supposed to branch out, but because they are laying in a box, the back does not seem to fluff out as it should. The fathers are really sensitive, and you should not man handle it. Treat it as if you were touching beautiful, soft skin. If you are too rough, you can and will pull out the feathers.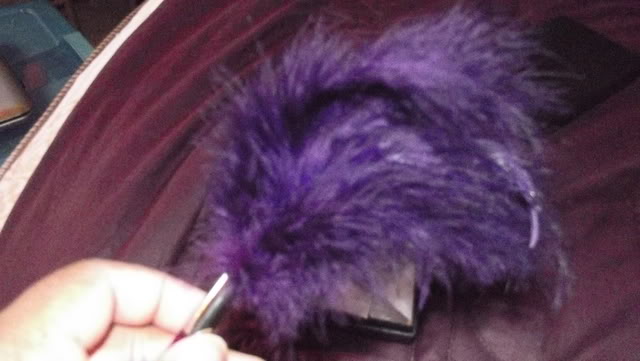 From the tip of the feathers to the holder is about 7 inches. You will get about 7 inches of feathery goodness. The tickler also has a really nice handle, its a mixture of metal and acrylic. When my boyfriend held it, the first thing he said was "This is heavy" It is not heavy, but it does have some weight to it. It has enough weight that you do not forget your holding it. The handle is rather short. It is about 2 1/2 inches in length. It gives it that "I spent good money on this" feel.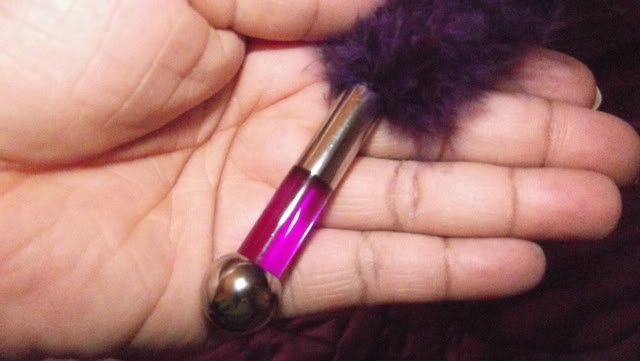 The tickler is the perfect addition to anyone's collection, whether your single or in a relationship. When it comes to taking care of it, you do not have to worry about washing it. You should never allow it to come in contact with any type of lube or body oil. You should not wet it or try and wash it. This will ruin your feathers. You should always make sure that it is being used on a dry body. I was not willing to ruin my tickler for this review. Hahaha. I would assume if you did mistakenly get it wet. When, it does dry the feathers will most likely clump together. They will never be the same. Try your hardest from getting it wet at all.
Experience
Continue..
When you are not using it, You should place it back into the black box. I have to admit the box is rather small. You will have to curve the tip of the feather, when putting it away. Your feather will develop a slight curve to it. The side that the feather lays on also seems to be flatten. It is not too much of a problem, but it is something you do notice. You can use something else to hide your tickler. You do not need to use the box. I think it would be best to use the box. Using the box keeps bug, sunlight, and other outer elements from ruining it.
You can use this tickler on just about any part of you or your lovers body. It is best used when running it along the curves of your lovers body. You can not use it to smack the body. This can cause the feather branches to snap off. So, this is best used for sensual, slow, soft teasing.
Experience..
I loved this damn tickler. I do not have much experience with ticklers, but I highly recommend this to someone new to them, or someone more advanced. When I first got it home we played around with it for a little, but not too much. We really played with it. I loved playing with this with a blindfold. When my eyes are covered, and I do not know what expect. The soft feathers send a rush of extreme feeling though my spine. I do not know if it is just me, but things feel 10x more intense when it is unexpected. I had to remind my boyfriend that he can not be too rough, or he could mess up the feathers. This forced him to be genital and slow. I loved that. He too loved the way the fathers feel on his body. We did not think he would like it too much. He is so ticklish. This did not cause him to flinch, or tell me to stop because it is tickling him. I'm just madly in love with this tickler, and I'm tempted to order the other colors.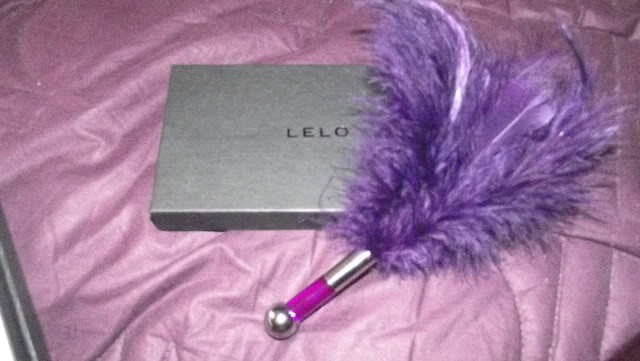 Follow-up commentary
3 months after original review
The Tantra feather teaser by LELO has to be one of my favorite body ticklers. I haven't had any problem with feathers falling-out of it. I've been keeping it away from water, and other liquid items such as lube. I love that it's compact and doesn't take up any room. It's still soft to this day. I do someday plan on getting this in the other colors, just so that I have backups.
This content is the opinion of the submitting contributor and is not endorsed by EdenFantasys.com

Thank you for viewing
Tantra feather teaser
– tickler review page!