Tease and Please
Feathers are a wonderful tool for sensation play. Lelo offers this luxurious feather with their usual style and quality. The weighted handle makes it easy to wield. The feathers are vivid in color and soft in texture. Teasing and tickling has never been so much fun.
Published:
Pros:
Great Construction
Weighted Handle
Fluffy Feathers
Cons:
Doesn't quite fit in the storage box
Price
This Tantra Feather Teaser is a companion piece to the Lelo Sensua Suede Whip. I have had the whip for a couple of years, and it is one of my top used sensation toy. I've been eyeballing the feather for a long time and finally scooped it up. The pair are very cute together. The feather is much smaller, but they have matching handles. I have a purple set. Both pieces are also available in red or black.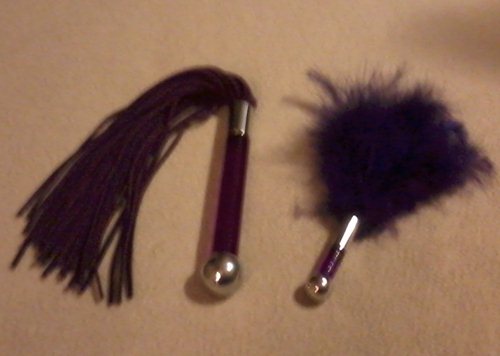 Uses
Feathers are wonderful for ticklish sensory play. The small size of this is great for close up intimate play. Caress the body slowly taking in all those deliciously sensitive spots- breasts, nipples, lower back, neck, feet, legs, arms. Tease with short or long strokes or twirl it around. You could even trace designs or letters. Never underestimate how erotic a feather can be. A blindfold adds more eroticism as does alternating it with other sensory toys. A sadist could tickle a ticklish (willing) victim. It's small enough to travel easily. As far as sex toys go, this is discreet enough to leave out. Everyone should have this simple tool in their toybox.
Design/Construction/Materials
The Tantra Feather Teaser is about the size of my hand. From metal ball to the tip of the feather it is approximately 7 inches long. The feathers are thick and poofy. At the poofiest point they are 3 inches wide. So, it's not a big toy at at. It's a great size for tickling when close up. You won't be too far apart when using this toy.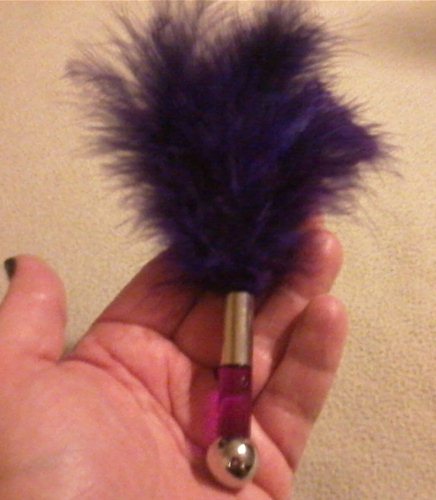 The feathers are a very bright purple color. Some of the inside feathers are straight flight feathers and the outermost feathers are softer down feathers. I believe they are artificial although that information is not specified. The feathers are attached very securely to the handle. They don't come out even with a good yank.
The 2 inch handle is composed of a metal band near the feathers, transparent acrylic in the center, and a metal weighted ball at the end. The Lelo name is stamped on one side of the acrylic. The ball gives it a nice weight making it easy to hold and maneuver. The handle isn't as big as the handle of the sensua suede whip, but it is still manageable. A wrist strap would make this better but I'm not complaining too loudly.
Care/Maintenance
Feathers should be kept away from water, lubes, massage oils, and bodily fluids. it's best to use them before action gets too hot and heavy. Wet feathers could ruin the toy or at least hasten its demise. You should also try to keep it dust free. Dust can be brushed away with hands. The handle can be wiped down easily.
The feather is packaged in its own classy black box that Lelo is known for. It's a nice touch. Unfortunately the box is too small for the feather to rest in without bending the feathers a bit. I want to keep the feather nice for a long time, so have opted not to keep it in this box. I wish the box was just a wee bit taller and wider.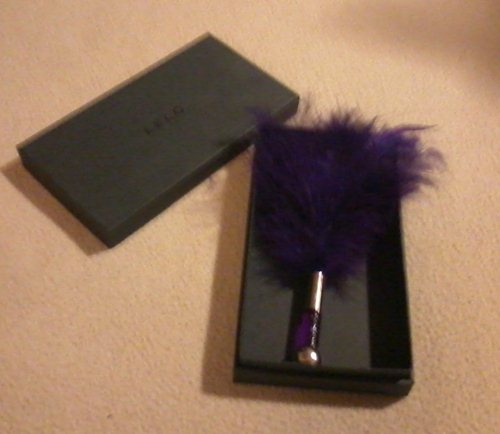 Product Comparisons
We enjoy lots of sensation play and have amassed a nice little collection of feathers.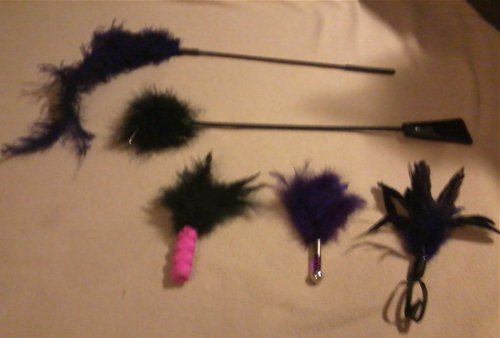 We have an ostrich feather, Fetish Fantasy Feather Crop, Tantra Feather Teaser, Fear No Evil Teaser, and the Pleasure Feather. (Yes, I know my 4 year old Ostrich Feather has seen better days.) The Lelo feather with it's poofy feathers and quality handle is the nicest of the smaller feathers. Of course the ostrich feather is nice for play from a bit of a distance- Lelo can't compete with that. The Feather crop adds some nice versatility with its spankable side. It's definitely better than the other two smaller feathers. Granted the Tantra Feather Teaser is the most expensive of these toys. What can I say? It's a Lelo and comes with the Lelo price tag. I picked it up on sale and don't begrudge the price. It's cute, luxurious, and durable.
Experience
Sensation play is a regular part of our foreplay. The Tantra Pleasure Feather fits right in with our style. Even though I am very ticklish, feathers never give me the willies. Somehow feathers give just the right light sensation to calm and arouse me at the same time. I especially like the feather when alternated with other sensory toys like the
sensua suede whip
or the
chain ball tickler.
I use it on my husband as well, but I like being on the receiving end of this the best.
I am very happy to have the Lelo whip & feather set. They both have the quality I expect from Lelo and will bring many happy hours of play.
This content is the opinion of the submitting contributor and is not endorsed by EdenFantasys.com

Thank you for viewing
Tantra feather teaser
– feather tickler review page!